Low on effort and high on flavor, this pan-seared chicken is redolent with the flavors of pomegranate molasses and za'atar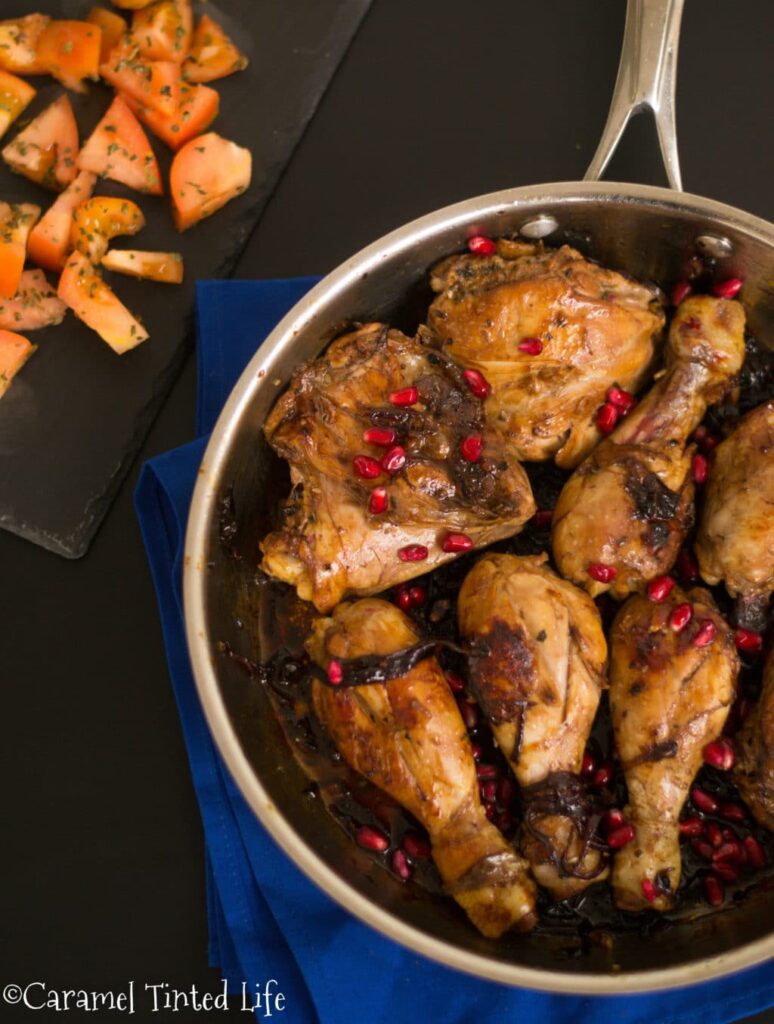 I have always liked to cook in a spontaneous, off-the-cuff manner. For the longest time, weeknight dinners were a result of foraging in the fridge, looking for ingredients and then waiting for inspiration to strike. But for around a year now, I have tried to add some structure to spontaneity, and I think I have found my sweet spot in meal-planning.
I usually plan my meals on a Monday morning, and the later part of the day is then reserved for grocery shopping. While meal-planning sounds like a very non-creative and fairly boring way of going about meals, what works for me is that very often, I allow myself to deviate from what the script (the entry in my planner) dictates, and I let myself be spontaneous and go with what I feel like cooking that particular day.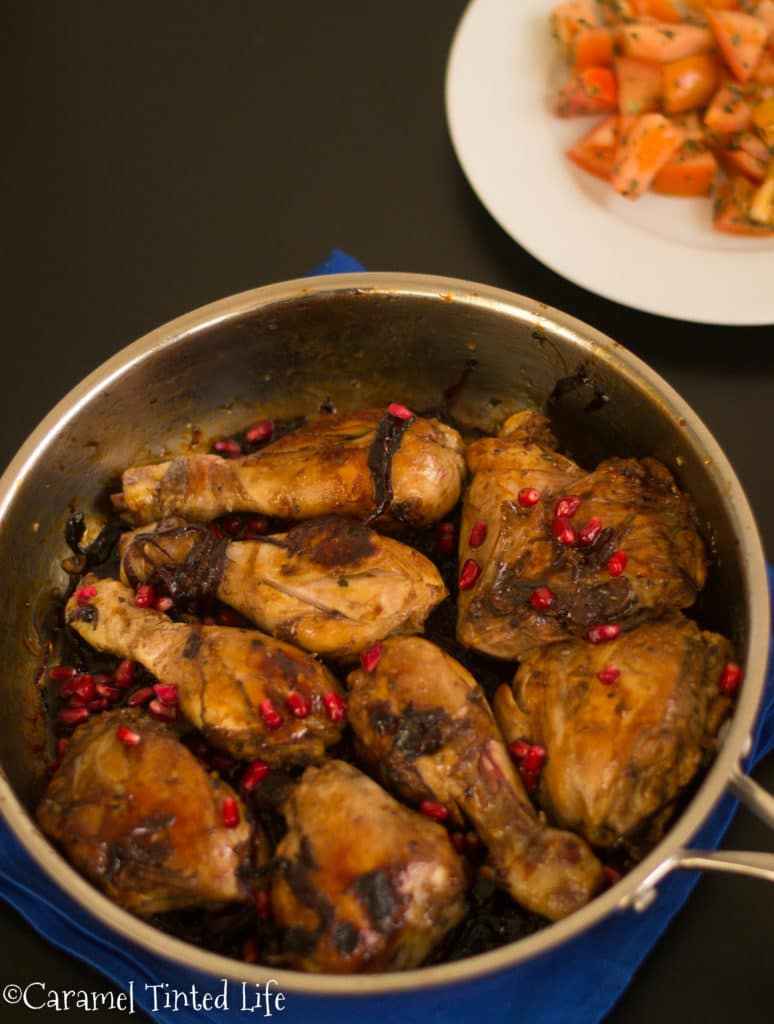 The no-military-precision approach to meals lets me have an organized week night, for those days when I'm in a rush to cook, and then leave for German class, and gives myself the freedom to just let inspiration strike and have some fun in the kitchen.
This recipe is the result of one such day, I took one look at the pomegranate lying in the fruit bowl, and the chicken that I had planned to transform into a coconut based curry, and decided that I would pair these two ingredients with some middle eastern spices, some balsamic and serve that with a salad and pan-fried potatoes.
What comes to mind when you think of middle eastern food? In my mind there is always an explosion of colors and fresh salads. Think ruby red pomegranate arils, red and yellow cherry tomatoes, the flavors of lemon, saffron and a generous garnish of mint leaves. And also, meat with bright and robust flavors, slow cooked legs of lamb, grilled chicken with a fair amount of char on it.
In keeping with the imagery of chicken and pomegranates I had in mind, I pan-seared some chicken marinated in middle eastern spices, giving it some caramelization and a nice bit of char. The addition of za'atar, an aromatic spice blend that contains sumac and sesame, is what adds a distinctive taste to this dish. For an extra depth of sweet and sour flavor, I added some pomegranate molasses to the marinade. The result was a delicious dinner that was low on effort, high on flavor and definitely one that my planner will see every now and then, earmarked for a weeknight.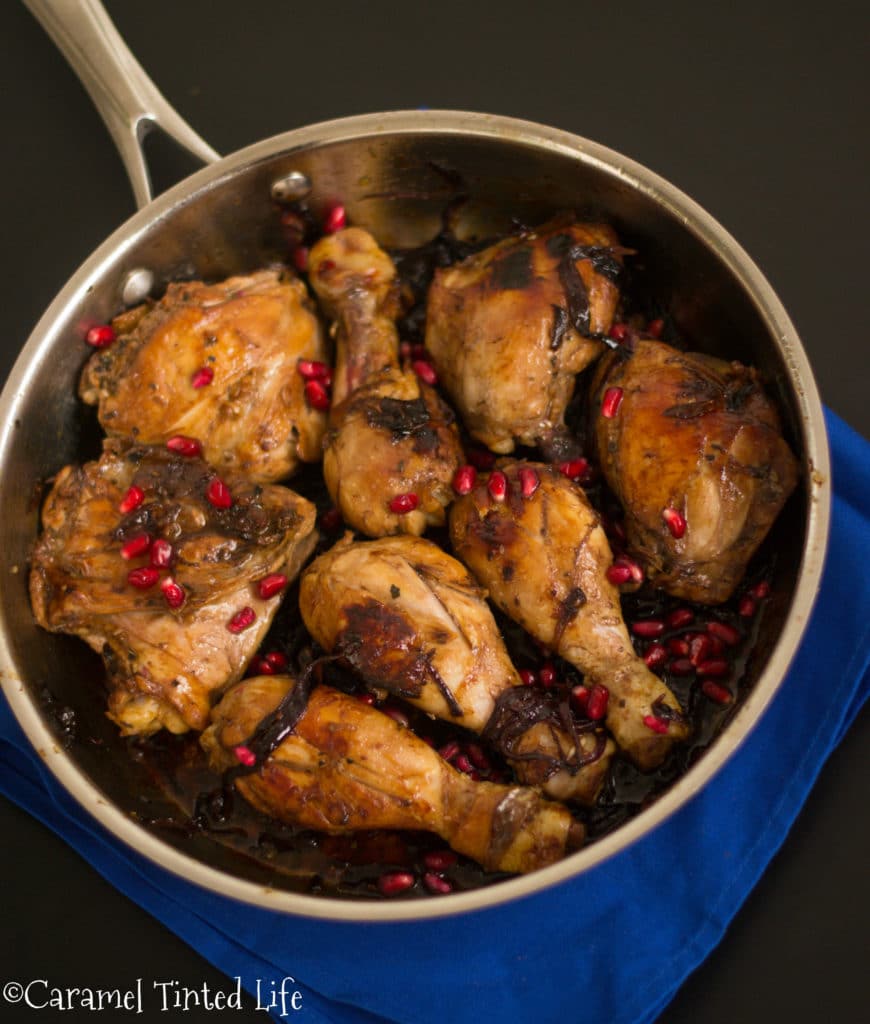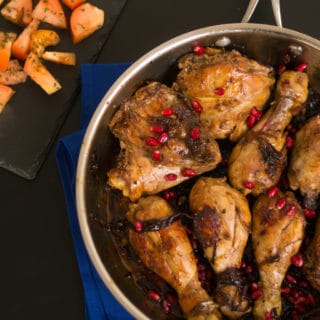 Chicken with Za'atar & Pomegranate Molasses
Low on effort and high on flavor, this pan-seared chicken is redolent with the flavors of pomegranate molasses and za'atar
Ingredients
800

gms Chicken thighs and legs

2

cloves

of garlic

minced

2

tsp

chopped parsley

I used dried parsley

2

tsp

pomegranate molasses

1

tsp

za'atar spice

1/2

tsp

cinnamon powder

Salt for seasoning

1

tsp

oilve oil

1

large red onion

sliced

1

tsp

balsamic vinegar

Pomegranate arils for garnish
Instructions
To prepare the marinade, mix together the garlic, parsley, pomegranate molasses, za'atar spice, cinnamon powder, salt and salt with the chicken and keep this aside for at least 30 minutes.

In a skillet, heat the olive oil and add the sliced onions

Saute until the onions are soft and lightly browned

Add the balsamic vinegar to the onions and lower the heat

Stir the onions in the balsamic, and add a little water to deg-laze the pan

Add the marinated chicken pieces and let it cook in the open skillet on medium heat for around 5 minutes

Turn the pieces over every 5 minutes or so to ensure it is cooked evenly

After cooking for around 20 minutes, the chicken should be done and the balsamic should be reduced

Turn off the heat, add the pomegranate arils and let it rest for 5 minutes at least before serving

I served this with a side of pan roasted potatoes, which I made by first par boiling potatoes cubes and then pan roasting then with some sea salt and paprika and olive oil. I also made a quick tomato salad with tomato cubes and a parsley and lemon juice dressing
Notes
1) You could substitute pomegranate molasses with regular molasses. Add some cranberry syrup or a tart fruit syrup to regular molasses if you have these at hand
2) You sould also de-glaze the pan with red wine and some chicken stock once done, and serve this as a sauce on the side
If you liked this recipe, pin this for later!