Beet, Potato and Pea Vegetable Patties are inspired by a popular snack served on the Indian Railways. Also known as vegetable cutlets, this version makes for a great snack option for children and adults alike!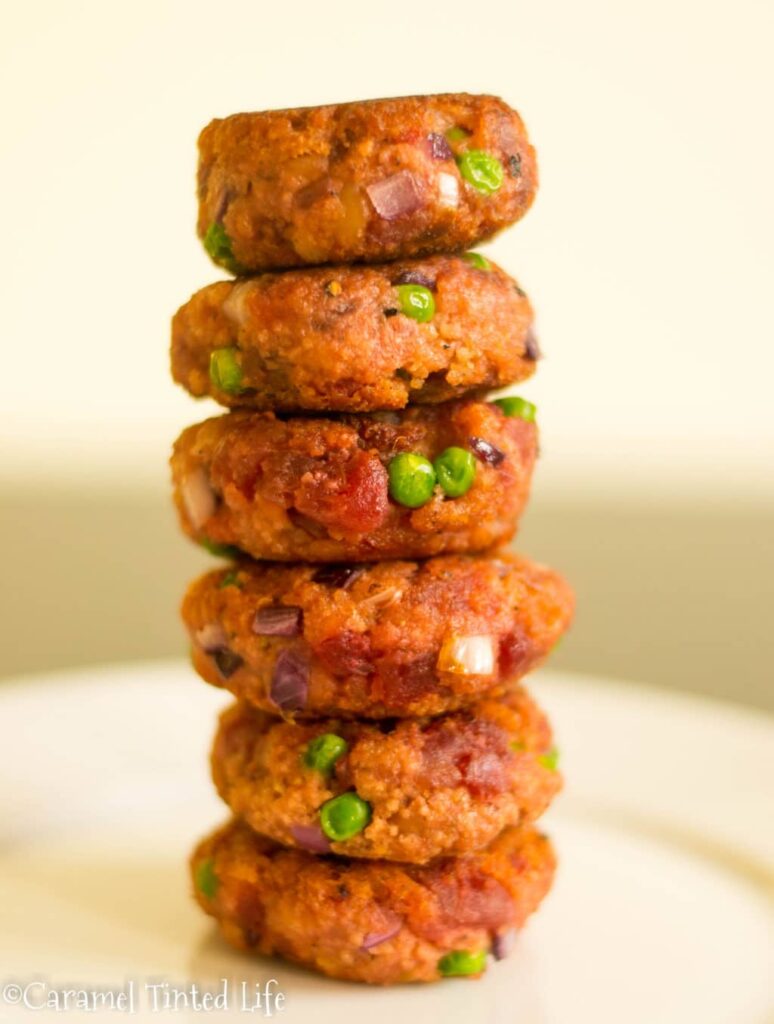 Snack time in our house is a big deal. Given a choice, I would have snack-sized portions of meals through the day, every day. My son takes after me in this regard. A portion of fruit, granola or yogurt would make many kids very happy at snack time, but the gourmet in my 3 year old comes to the fore around 5 pm.. our regular snack time, and there are very often demands for his favorite snacks, a smoothie, a sandwich, or these beloved beet, potato and pea vegetable patties, also known as vegetable cutlets.
I'm actually very happy that my son loves these veggie patties and requests for them, because it brings back memories of railway journeys of my childhood. The great Indian Railways is nothing like the synthetic, sterile train journeys that one is used to in Europe. A train journey in the Indian Railways offers a veritable 'slice of life' experience, where one gets to see people in all shapes and sizes, people chatting in several dialects, travelers making space for other travelers without a reservation, playing card games, singing songs, opening up packages of food and sharing them, fixing up a sleeping berth at night time, and then climbing into it for the night.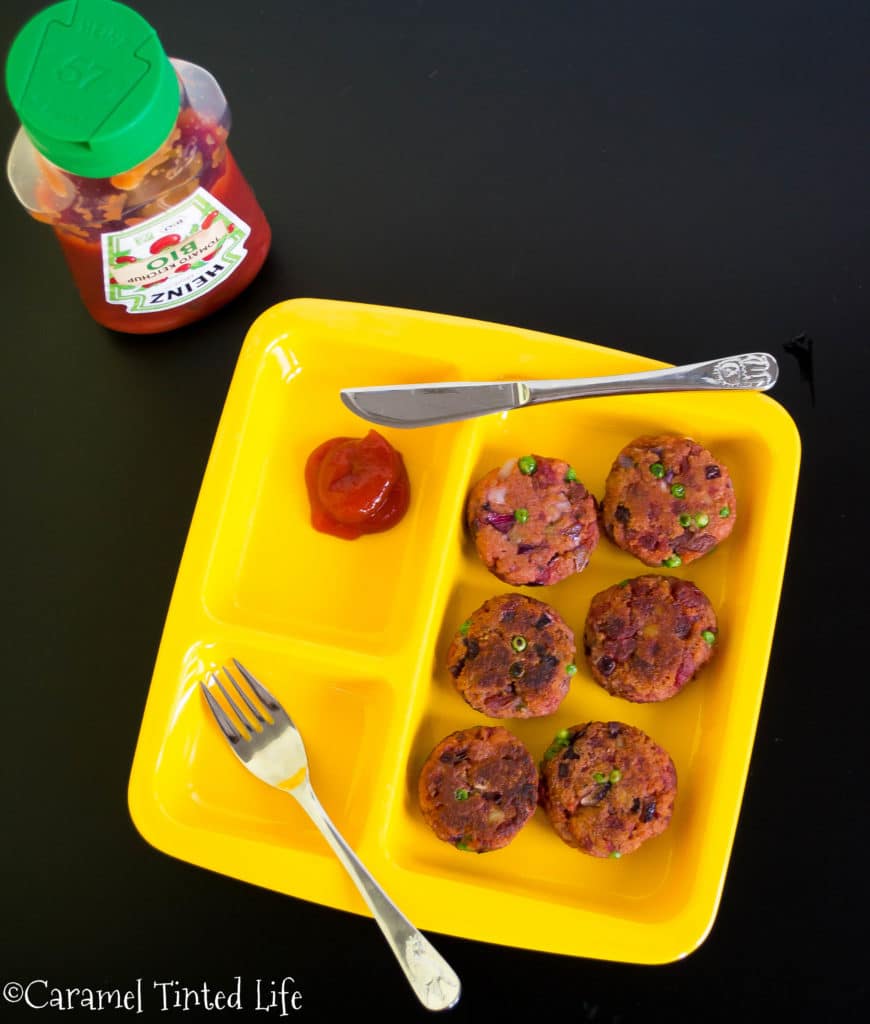 Train journeys of up-to 48 hours in a sleeper coach are not out of the ordinary. Bathroom breaks in the wee hours, lining up for the sink in the morning, and then brushing your teeth to the view of rivers and lush trees whizzing by, these were all part of the rail experience. Personally, my favorite bit of rail journeys was always the night, after lights out, when I would clamber into the highest berth, switch on the reading light and read through the night.
Imagine, then, the charm of eating railway food on such a journey. The Indian Railway canteen had a limited menu, however it made up for this with a steady stream of vendors who would walk the aisles doling out coffee or tea from a stainless steel container. Most stations had their own canteens and vendors selling all kinds of snacks and meals, which would vary depending on the state you happened to be in. So in the south for instance, vendors sell deep-fried vadas with savory chutney and sambar, skillfully wrapped in plantain leaves, or deep fried banana fritters, and as you travel northwards, the food changes along with the landscape. In the northern and central states, pooris (deep fried flatbread) with potato curry, samosas and potato vadas are very common.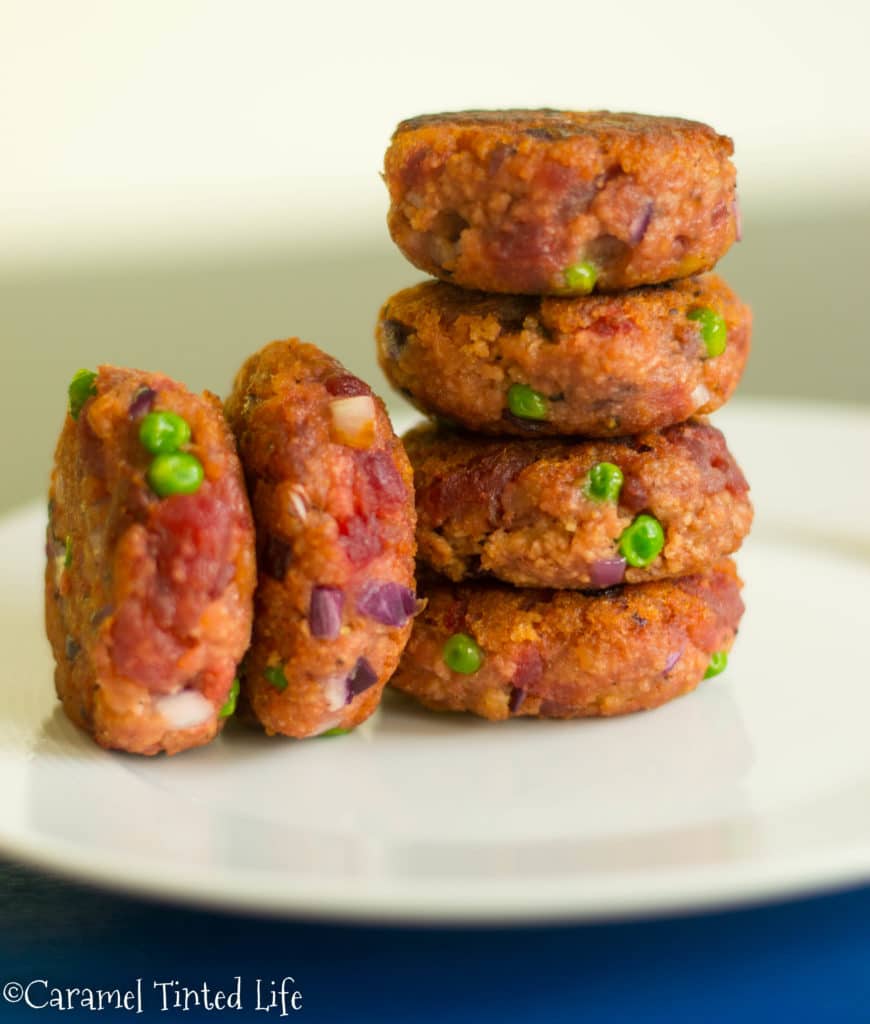 A very popular fixture on the India Railways menu is the ubiquitous vegetable cutlet. This, along with tomato soup and egg biryani were staples of the railway menu. These vegetable cutlets are crumbed, deep fried patties made of potato, carrots, beet and peas, and often came shaped like a heart, 2 pieces to a plate, accompanied by a sachet of ketchup, and sometimes, two slices of bread with butter in a sachet, presumably a make-your-own-sandwich kit.
What you will love about these Beet, Potato and Pea Vegetable Patties:
These vegetable cutlets, very often served a long time after they are made, tend to be soggy, its deep fried crispness a thing of the past. Which is a shame, because served fresh, and piping hot, these make quite the treat. I have made several versions of these cutlets or patties, and the recipe here is one that doesn't take too much effort in prepping and cooking.
They are packed with beets, potatoes and peas and you could chuck in some grated carrot and grated cauliflower as well. This is one of my favorite ways of getting veggies into my child's diet. You could shallow fry them, as I do, or bake them to reduce the amount of oil used. Deep fry them if you are in the mood to reminisce train journeys of yester-years!

Pin this recipe for later: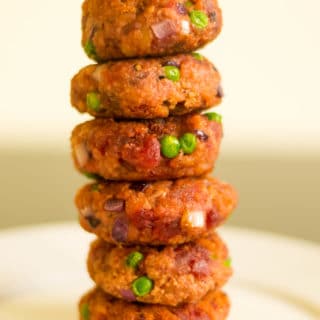 Beet, Potato and Pea Vegetable Patties
Beet, Potato and Pea Vegetable Patties are inspired by a popular snack served on the Indian Railways. Also known as vegetable cutlets, this version makes for a great snack option for children and adults alike!
Ingredients
1

medium sized beetroot

boiled, cooled and peeled

2

large potatoes

boiled, cooled and peeled

1/2

red onion

finely diced1 tsp garam masala (see notes on preparation)

1

tsp

dried ginger powder

1

tsp

chaat masala

see notes

1

tsp

paprika powder or freshly ground black pepper

adjust this according to your spice tolerance

1

cup

bread crumbs

Salt to taste

1/2

cup

of peas

I use frozen peas
Instructions
Using a potato masher, mash together the potato and beetroot

To the mashed vegetables, add in the finely diced red onion, all the spices, bread crumbs and salt

Using your hands, mix this well, untill the mixture is well combined, and can be easily shaped into patties

Add in the peas to the mixture and gently mix the peas into the mixture

Shape patties out of the mixture. I like to do this by wetting the palms of my hand before shaping the patties

You could freeze the patties for later, once shaped or fry them in a pan with a little vegetable oil

For a healthier, oil-free version, pop the patties into the oven and grill them at 180 C for 15 minutes, flipping them over midway.

Serve with ketchup or dip of your choice
Notes
A word on the spices used: I make my own garam masala mix, which is a ground blend of dry-roasted cloves, cardamom, fennel, cinnamon and mace. Garam masala is also available in Indian stores and most ethnic stores as are dried ginger powder and chaat masala.