Savory Corn and Spinach Muffins are perfect for kids' lunch boxes! An ideal back to school recipe for busy parents.
(this post was originally published in May 2017 and has been updated with new content)
This recipe is just the right thing for busy parents preparing for the new school year. I make these muffins very often, in a batch of 12 at a time and store them in the fridge, using them as needed.
These muffins are great as a snack on the go, little hands can munch on them without making too much of a mess.
I've made these muffins several times, and I always tweak the recipe a little, depending on what I have in the fridge at the time. This version is one of my favorites, it has corn kernels, spinach, bits of cheese mixed in and some chopped up preserved tomato for an extra dash of flavor.
Why you (and your kids) will love these savory corn and spinach muffins:
Perfect for a school lunch box or after school snack: These muffins are perfect for little hands to grab and eat, without making a mess. My kindergartner loves them in his snackbox, and very often, my husband and I will just grab these for a quick bite if we are in a rush to get somewhere.
Play around with ingredients: This is an easy recipe to play around with. Use veggies that you have lying in your refrigerator. You can add grated grated zucchini and carrots if you don't have corn, and these muffins will taste just as delicious.
Low on refined flour: This recipe is low on refind all-purpose-flour. I've swapped out 3/4 cup of all-purpose flour for whole wheat flour. You could substitute the refined flour entirely with whole wheat flour, if you like.
Make ahead: These muffins are a great make-ahead snack option. I make 12 of these at a time and refrigerate them and use them through the week, for my son's snack box. They freeze very well too. Keep them frozen for upto a month.
What is the best way to store these corn and spinach muffins?
These muffins can be made ahead and stored in the refrigerator or in the freezer and then used for school lunch boxes.
To refrigerate: Once the muffins have cooled down after baking, store them in a air-tight container and keep them refrigerated for upto a week.
To freeze: After the muffins have cooled down post baking, store them individually wrapped up in cling film and place them in freezer bags. The can be stored in the freezer for upto months.
To use, let the muffins thaw to room temperature. Optionally, you could just reheat the frozen muffins in the microwave or in the oven.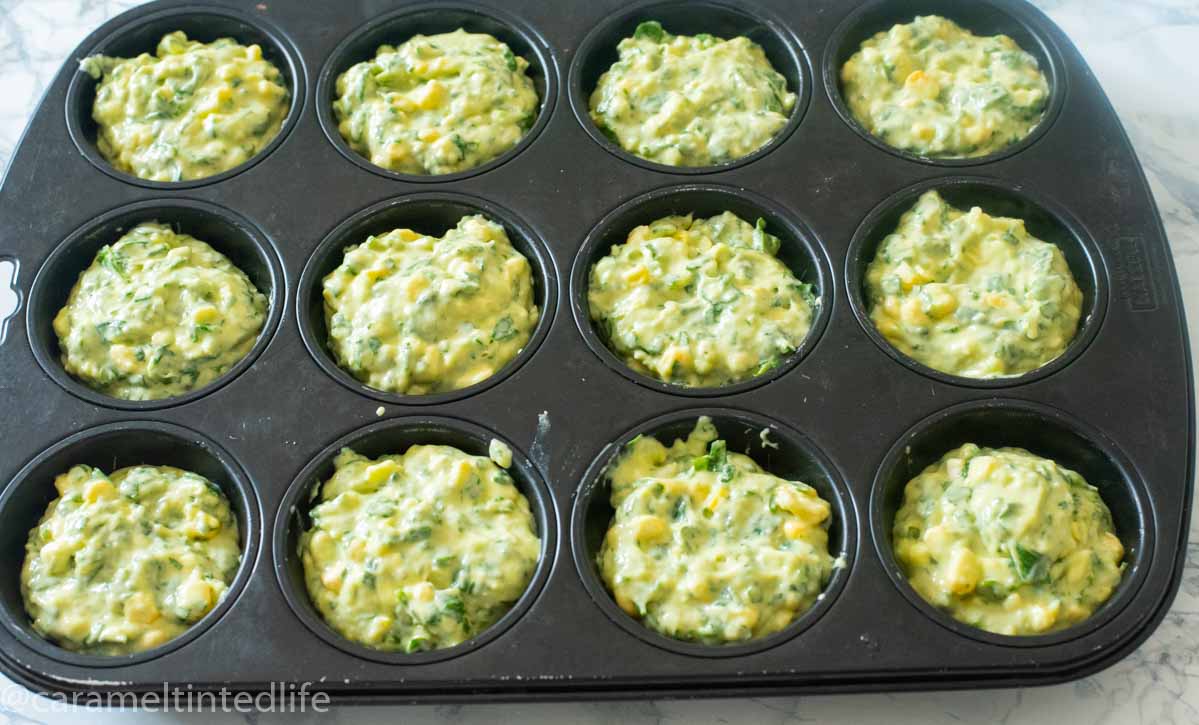 If you liked this recipe, you might like these back-to-school snack ideas:
Quinoa Patties
Savory Corn Muffins
Savory Corn and spinach muffins are perfect for kids' lunch boxes! An ideal back-to-school recipe for busy parents.


Ingredients
7

ounces

all-purpose flour

(200 grams or 1.5 cups of flour)

3.5

ounces

whole wheat flour

(100 grams or 3/4 cup whole wheat flour)

1

teaspoon

baking powder

1/4

teaspoon

baking soda

3.5

ounces

melted butter

(or 100 grams butter)

2

eggs

3/4

cup

milk

(full fat)

1/2

teaspoon

salt

a pinch of sugar

5

ounces

corn kernels

(approximately 1/2 a can of corn, or use fresh corn kernels)

1/2

cup

crumpled feta cheese

1/3

cup

chopped preserved tomatoes

2

cubes

thawed frozen spinach

(see notes)
Instructions
Preheat the oven to 180 C (350 F)

Prepare a muffin pan, by brushing the muffin tray with butter and dusting it with flour. Tap off the excess flour.

In a bowl, whisk together the all-purpose-flour, whole wheat flour, baking powder and baking soda. Set this aside.

In the bowl of a stand mixer, or using a hand-held mixer, beat together the eggs on medium speed. Add the butter, milk, sugar and salt and continue to beat until incorporated.

Add the dry ingredients slowly, in two additions, mixing on low speed until incorporated.

Next, add the corn, tomatoes, spinach, cheese, and mix on low speed until the ingredients come together in the batter, around 1 minute.

Transfer the batter to the prepared muffin pan, and bake for 20 minutes until the muffins are done. Check with a toothpick to see if the muffins are done, before taking them out.

Let the muffins cool before you serve them or refrigerate or freeze for later.
Notes
I use frozen spinach cubes as these mix evenly in the batter. You could also replace with 1/2 a cup of chopped fresh baby spinach.
Nutrition
Calories:
200
kcal
Carbohydrates:
23
g
Protein:
6
g
Fat:
10
g
Saturated Fat:
6
g
Cholesterol:
52
mg
Sodium:
296
mg
Potassium:
180
mg
Fiber:
2
g
Sugar:
1
g
Vitamin A:
358
IU
Vitamin C:
3
mg
Calcium:
75
mg
Iron:
1
mg