These spinach and feta muffins are so good for kids to take back to school! Packed with yummy feta, cheddar, spinach, and sweet corn, these savory breakfast muffins are perfect to start the day or for a mid-day meal at school.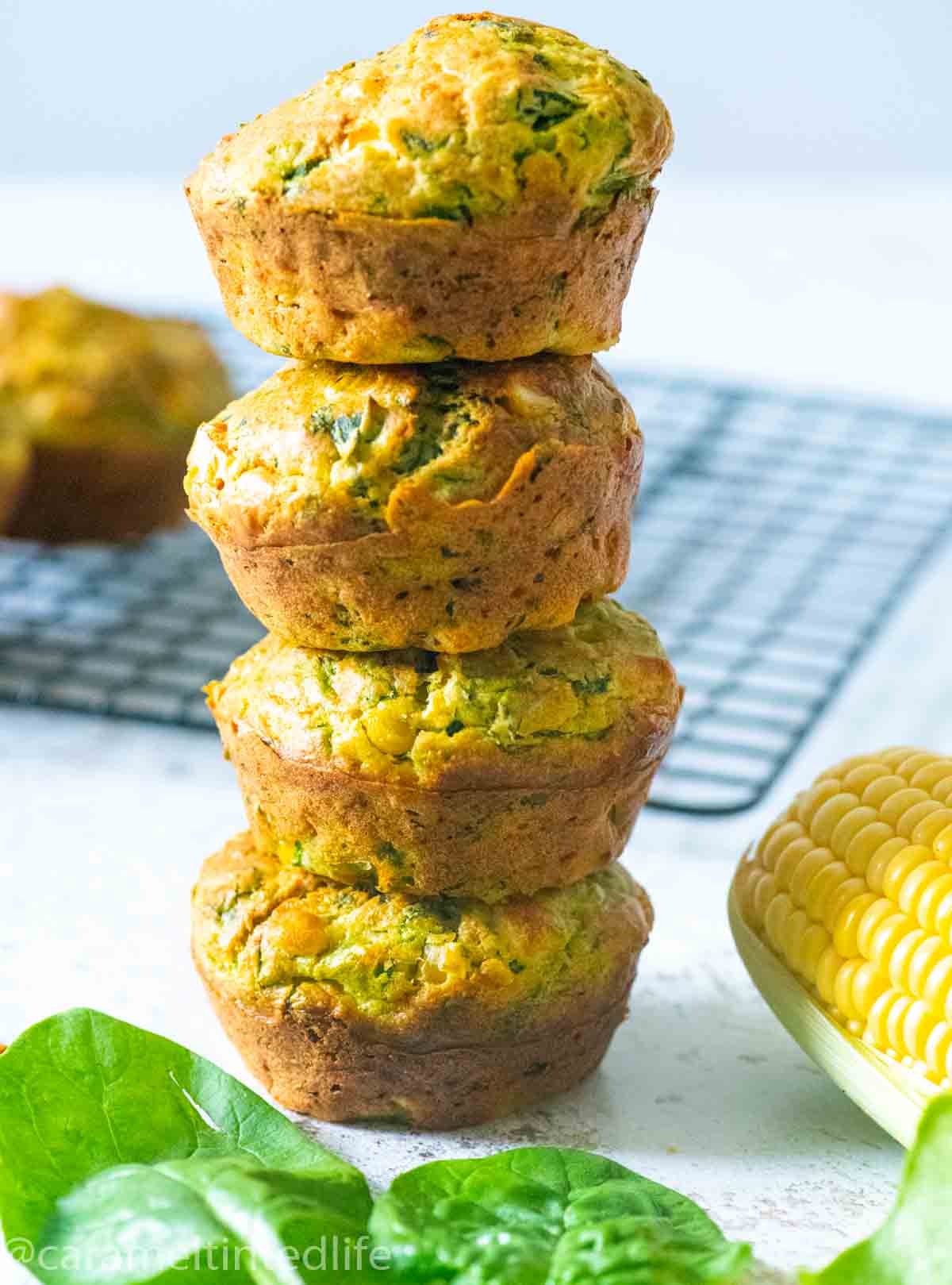 (This post was originally published in May 2017 and has been updated with new images and instructions)
Jump to:
One of our kids' favorite snacks is spinach and feta muffins with sweet corn. These muffins are cheesy, healthy, and so good to snack on! It is a perfectly balanced meal for kids – there is fresh corn, spinach, feta, and cheddar cheese all in a perfectly spongy and delicious snack-sized breakfast muffin.
This is a good meal for toddlers too – both our 7 year old and our 2-year-old love the flavors and you can definitely try it as an option for baby-led weaning as well. These muffins are great as a snack on the go, little hands can munch on them without making too much of a mess.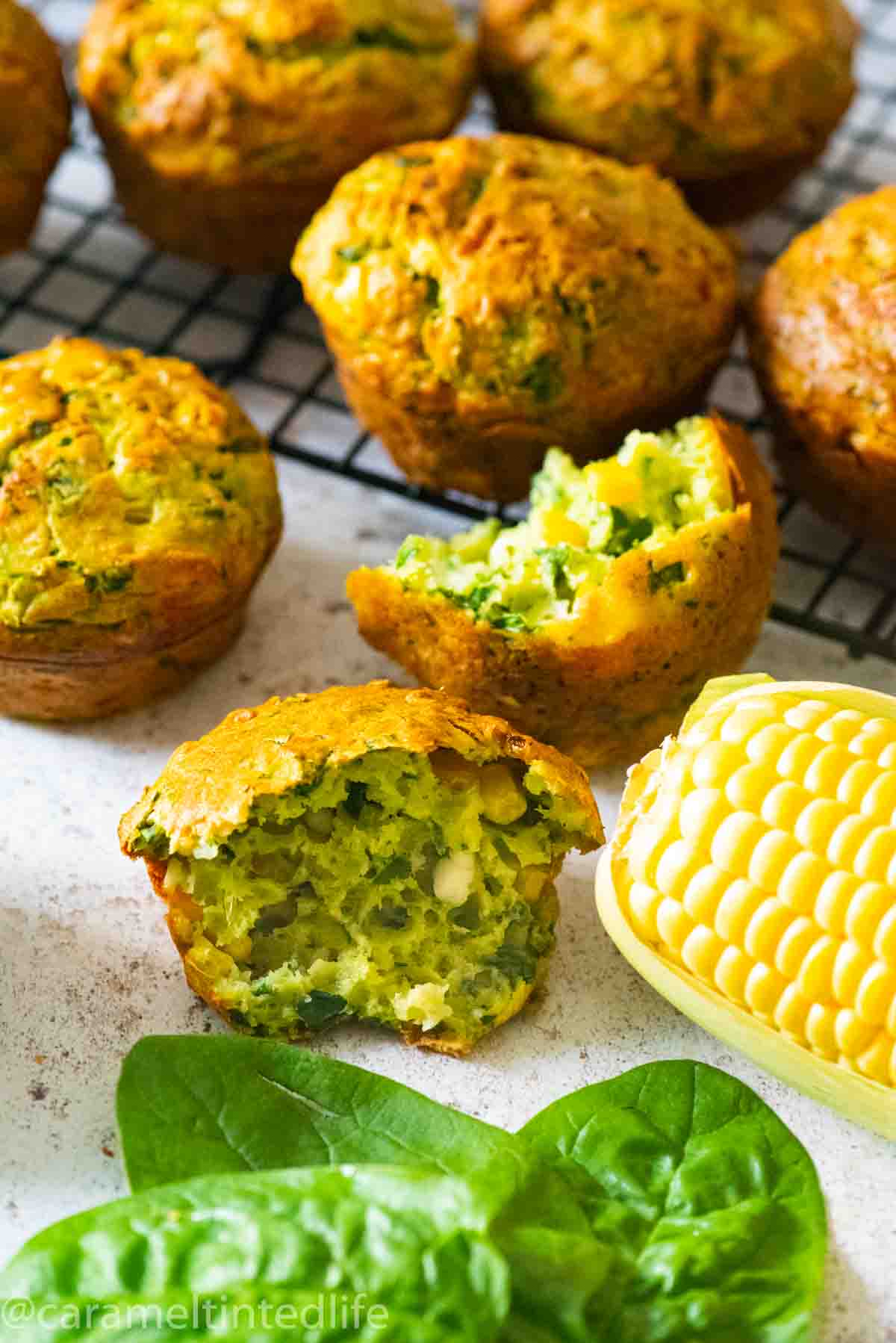 Hang on, why should kids have all the fun? These muffins also make a great side for parties, picnics, and barbeques. One savory breakfast muffin, so many ways to enjoy!
Why this recipe works
Perfect for a school lunch box or after-school snack
Adults and college kids canhave it as a quick meal-on-the-go
Play around with ingredients, add more veggies to suit your taste and nitritional needs
Ingredients
To make these spinach and feta muffins, you will need: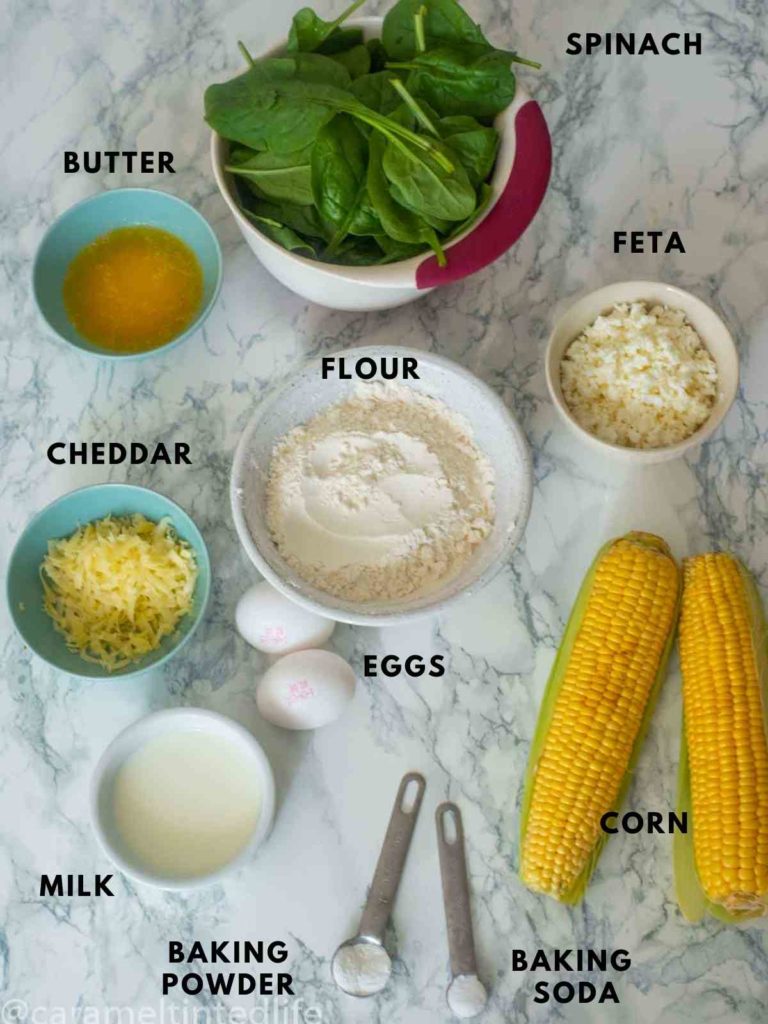 Ingredient Notes
Spinach - I have made this recipe with both fresh and frozen spinach and they work well either way. If using fresh spinach, chop the leaves and add to the batter. If using frozen spinach, thaw before using.
Feta - Use crumbled Feta and shredded Cheddar in the muffin batter, You can also add grated parmesan or even shredded mozarella in the mixture.
Corn - Use fresh corn for best results. Substitute with canned corn kernels if you can't get fresh corn.
Flour - I have used white flour for this recipe. You can also substitute the white flour with spelt flour or whole wheat flour.
Step-by-Step Instructions
Preheat the oven to 350 F (180 C). Grease a muffin mould or muffin pan by brushing it with melted butter.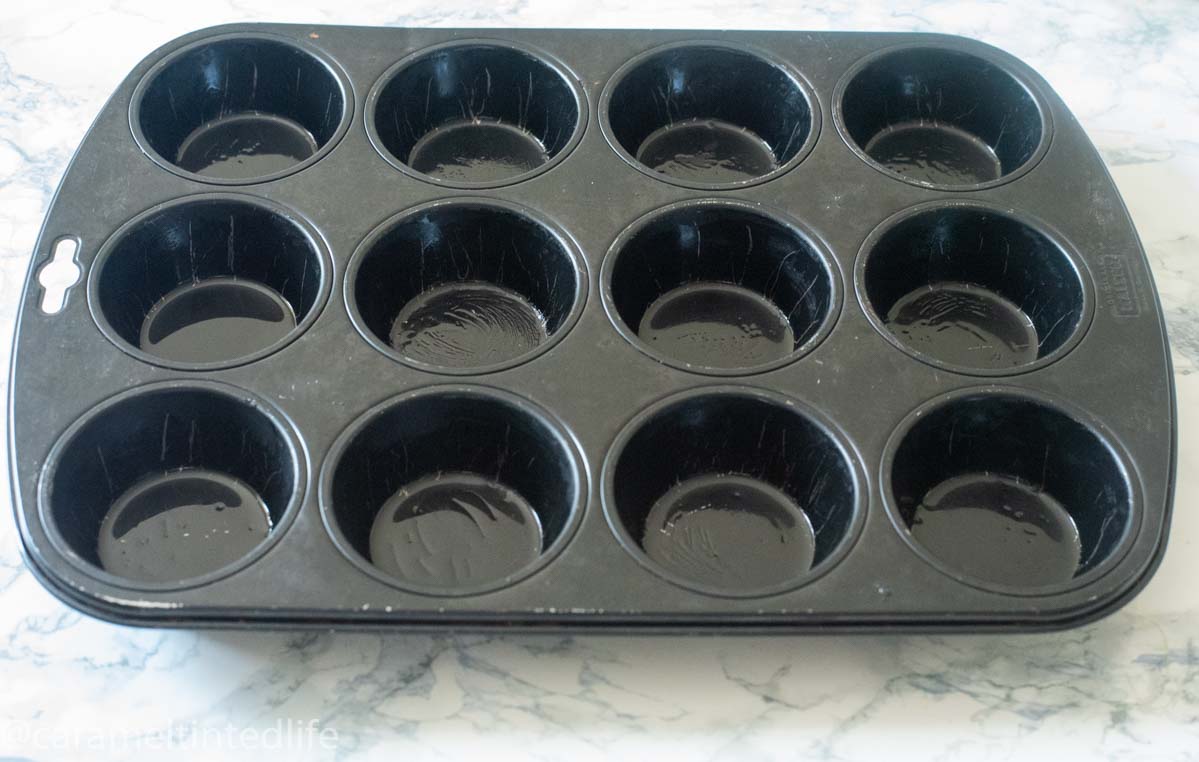 In a nowl, add the flour, salt, baking powder and baking soda. Give it a whisk to combine. Set aside.
In a separate large mixing bowl, add the chopped up spinach leaves, melted butter and two eggs. Whisk gently to combine.
Add in the sweet corn kernels, feta cheese and cheddar cheese. Gradually add the flour mixture that you kept aside earlier, and add it followed by the milk, whisking gently to combine.
Once the muffin batter is just combined, stop whisking. The batter will look like this:
Add around 2 heaped scoops of batter to each muffin mould (I used ice cream scoops to do this easily). Rap the muffin pan on the counter a coupld or times to release any air bubbles that may be trapped.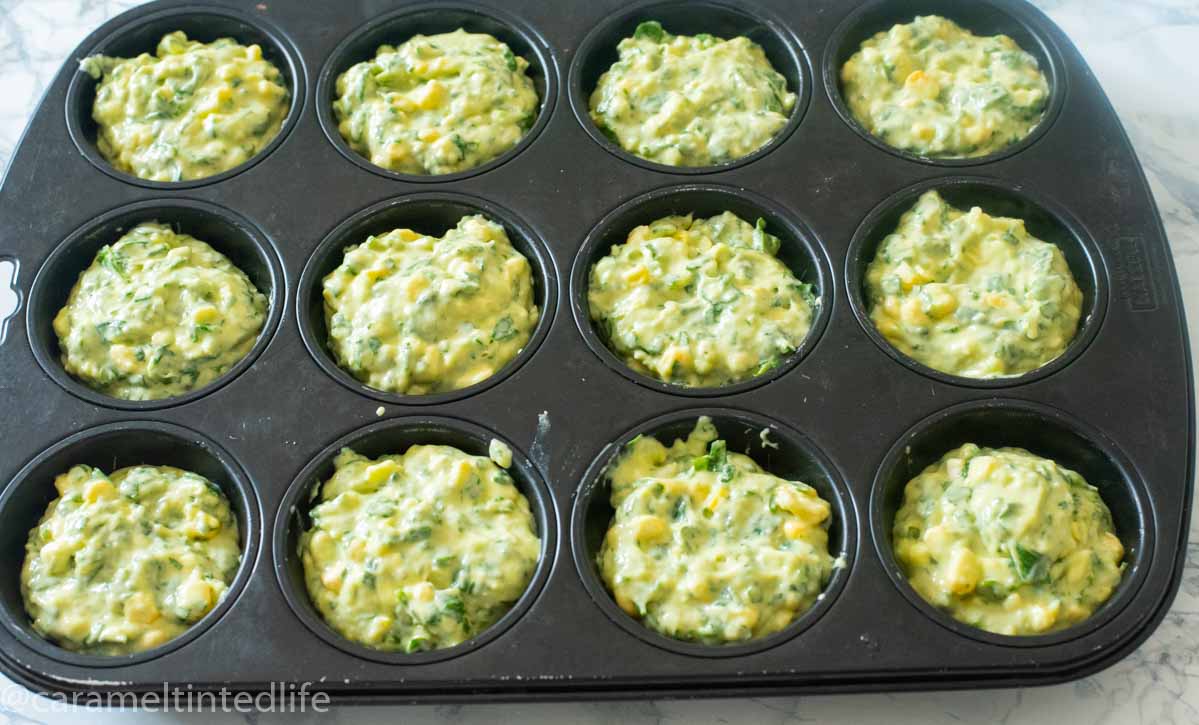 Bake at 350 F for 20-25 minutes until the muffin tops turn a light golden brown.
Your spinach and feta muffins are now ready! Take the muffin pan out of the oven and let it cool down for 5 minutes, then take out the muffins gently, place on a cooling rack and let them cool before eating, or before you store them in the freezer for future use.
Expert Tips
Do not overmix the batter – This can lead to gluten formation in the batter and the muffin will be stretchy and not spongy and fluffy.
Grease the muffin pan before baking - Brush the muffin tray with enough melted butter or cooking spray before you add the batter. This will prevent the muffins from sticking to the tray. Optionally, you can use cupcake liners.
Recipe Variations
Use whole wheat flour – Refined all purpose flour can be swapped with whole wheat flour, or spelt flour for a more nutritious version of these muffins.
Add veggies - Add grated zucchini, grated carrots and peas if you like more veggies in your muffins.
Add sun dried tomatoes - Chopped up sun tried tomatoes add a lot of flavor. They make perfect sides for a party.
Add bacon or sausages - Chop up some bacon or sausages and add them to the batter for more flavor.
Add Mozzarella Cheese and Parmesan to make the muffin more cheesey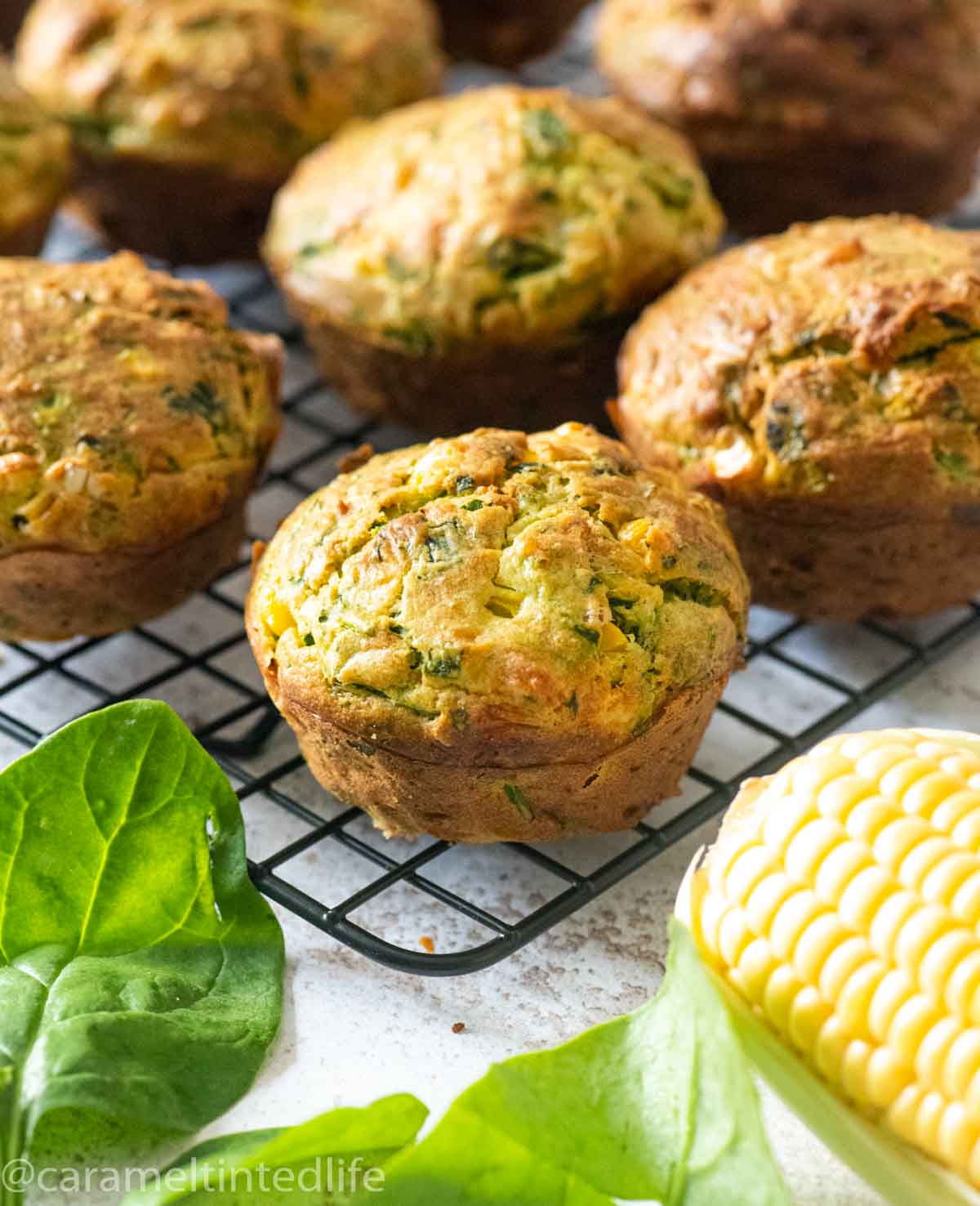 Freezing and storage instructions
These muffins can be made ahead and stored in the refrigerator or in the freezer and then used for school lunch boxes. I make 12 at a time and store them in an air tight container for upto 3 days. But you could also double the recipe, make 2 batches and freeze one for later.
The muffins can stay well for up to 4 days at room temperature when packed in an air-tight box and stored in a cool place. You can also refrigerate them. Once the muffins have cooled down after baking, wrap in cling film or store in an air-tight container and keep refrigerated for up to 7 days.
Freezing these savory breakfast muffins is the best way to store them for future use. Before you freeze the muffins, make sure that you let the muffins cool completely. Use a cooling rack and let the muffins cool completely before you transfer them to freezer bags or freezer-safe containers to store them. They will keep well for 3-4 months in the freezer.
The muffins can be reheated in a microwave or in the oven. If using the oven to reheat, there is no need to thaw them before reheating.
Kid-Friendly Recipes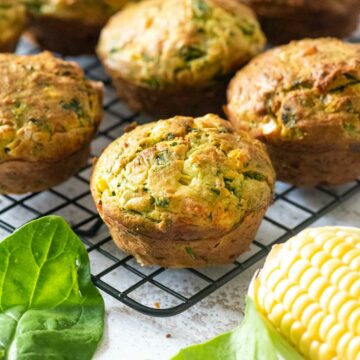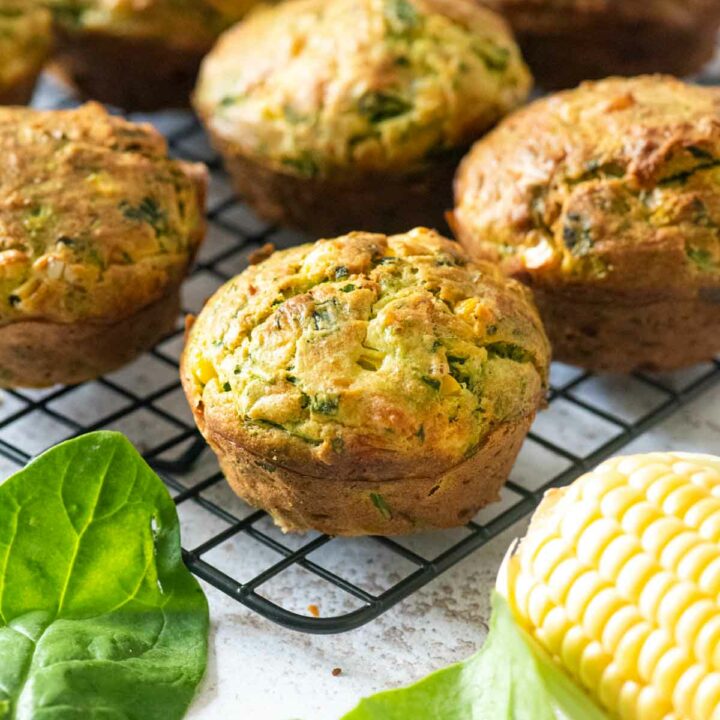 Spinach and Feta Muffins
Savory Corn and spinach muffins are perfect for kids' lunch boxes! An ideal back-to-school recipe for busy parents.


Ingredients
1½

cups

all-purpose flour

200 grams flour or 7 oz.

1

teaspoon

baking powder

¼

teaspoon

baking soda

100

grams

butter

melted

2

eggs

at room temperature

¾

cup

milk

full-fat milk

½

teaspoon

salt

½

cup

fresh corn kernels

or use 1/2 can of corn

⅓

cup

feta cheese

crumbled

1

cup

Spinach leaves

chopped

⅓

cup

cheddar (grated)
Instructions
Preheat the oven to 180 C (350 F)

Prepare a muffin pan, by brushing the muffin tray with melted butter or by spraying with cooking spray.

In a bowl, whisk together the all-purpose flour, baking powder, baking soda, and salt. Set this aside.

In a large mixing bowl, add the eggs, chopped spinach, melted butter, and whisk gently to combine.

Add the corn, feta cheese, and cheddar cheese and mix gently.

Add the milk, followed by the flour mixture slowly, in two additions, gently whisking to combine.

Transfer the batter to the prepared muffin pan, and bake for 20 minutes until the muffins are done. The muffins should be a light golden brown when done. Check with a toothpick to see if the muffins are done, before taking them out.

Let the muffins cool before you serve them or refrigerate or freeze for later.
Notes
You could also replace fresh spinach with frozen spinach cubes. Thaw before using.
Nutrition
Calories:
173
kcal
Carbohydrates:
18
g
Protein:
4
g
Fat:
9
g
Saturated Fat:
5
g
Polyunsaturated Fat:
1
g
Monounsaturated Fat:
2
g
Trans Fat:
1
g
Cholesterol:
50
mg
Sodium:
246
mg
Potassium:
122
mg
Fiber:
1
g
Sugar:
1
g
Vitamin A:
537
IU
Vitamin C:
1
mg
Calcium:
64
mg
Iron:
1
mg