Chef Yotam Ottolenghi is well known to have popularized vegetarian food with un-apologetically bold flavors. I first noticed his style of cooking some years ago when I was scouting around for interesting recipes that would expand my options for cooking vegetarian meals at home. And what an amazing style he has! The humble vegetable is elevated to a celebrity status in his recipes. That strikes a chord with me, as Indian cuisine is also very similar in that underappreciated vegetables are the star attraction of many a dish.
Ottolenghi's food has a heavy Middle-Eastern influence. His recipes call for spices like sumac and za'atar, flavor enhancers like pomegranate molasses and rose water, herbs like mint and parsley and plenty of fruit and nuts. Have you been transported to a fragrant Persian garden yet?
In the words of Ottolenghi himself, the true test of a great meal is if it can take you on a journey. This stew, one that I made yesterday, managed to do just that. The depth of flavor in this stew comes from its many layers - honey and dates add an earthy sweetness, the za' atar makes it pungent, and the cinnamon elevates it. And all of these combined create a delicious fragrance, a whiff of which conjures visions of Morrocan spice souks.
The chickpea and squash are the chief ingredients here. This squash, which my son chose himself from a pumpkin farm over the weekend, is a variety called 'Thelma Sanders' and tastes like a cross between a sweet potato and a pumpkin (good choice Kabir!).
Have this stew as a main with cous-cous dotted with ruby pomegranate seeds. The stew tastes better after a day, as the vegetables get a chance to absorb the flavors of the aromatics. Or have it with some flatbread such as pita or naan.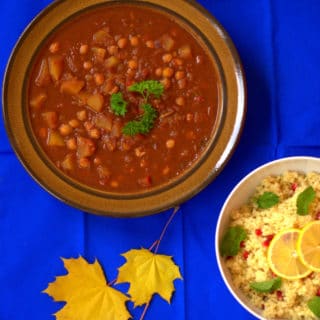 Moroccan Chickpea and Squash Stew - Ottolenghi Inspired Mediterranean Stew
A hearty and aromatic Moroccan stew made with chickpeas and squash, cooked with spices of the Middle-East, served with a lime and mint flavored cous-cous
Ingredients
For the stew:

2

onions

finely chopped

2

garlic cloves

diced

1

tblsp good quality olive oil

1/2

squash

peeled and diced into cubes

1

can of chickpeas

drained

2 to

matoes

chopped

1

tsp

za' atar

available at local Turkish or African stores

3/4

tsp

cinnamon

1

tsp

cumin powder

1/4

can tinned tomato

Juice of 1/2 lime

A couple sprigs of parsley

chopped

A handful of Basil

chopped

Pitted and chopped dates

1/4

cup

honey

Salt to season

For the cous cous:

1.5

cup

cous cous

a handfull pomegranate seeds

Juice of 1/2 lime

A few mint leaves
Instructions
In a pressure cooker or heavy-bottom pot, start by sauteing the onions and garlic in olive oil

Saute till onions are translucent

Add the squash and chickpeas and stir

Add the chopped tomatoes and continue cooking till mixture comes to a simmer, around 5 minutes

Add the remaining ingredients and give it a good stir

If using pressure cooker, pressure cook on 'high' for 20 minutes. If using a stove-top pot, cook with the lid on medium heat for 35 minutes, occasionally stirring

Prepare the cous cous by adding boiling water and letting the cous cous sit in the water for 1 minute

Fluff the cooked cous cous with a fork

Add lime juice and pomegranate seeds and toss

Garnish with mint leaves