Hot Cross buns are traditionally eaten during the Easter weekend - from Maundy Thursday through Easter Sunday. These raisin and spice-enriched buns are best enjoyed warm out of the oven!
Hot cross buns are such a fun Easter tradition! I grew up getting these buns from our local bakery in Goa, India, always on Maundy Thursday - which is the Thursday before Easter Sunday.
Hot Cross Buns are made with an enriched dough - which means we use milk and egg to make the dough rich - similar to traditional dinner rolls, and cinnamon buns. In this recipe, we use warm spices such as cinnamon, ginger, clove and nutmeg (or simply use all-spice) and raisins (sultanas) to give these buns added flavor.
These buns will require a little planning ahead of time, as the dough requires 2 rises - just like with my homemade bread rolls and pav bread recipes, the dough needs to rest twice - the first time, for around 90 minutes until it doubles in size. This step is known as the first proof, and is important for gluten-development.
To speeden up the first rise, I like to use my Instant Pot, which cuts down the time to around 50-60 minutes for the dough to double in size. Remember to keep the dough in the 'Yogurt' setting of your Instant Pot for the first proof (some Instant Pot models such as the Lux-series do not have this setting).
The dough is then shaped into balls, and placed in the greased baking dish for the second rise - this step takes around 40 minutes if kept in a warm place.
The final step before baking is to pipe the crosses onto the dough - for this, we use a mixture of flour and water, to form a paste with a pipe-able consistency. Pipe the flour over the dough and bake for 20-25 minutes at 350F (180C).
After the buns are baked, we make a simple orange-based glaze and brush that over the tops of the buns before serving. You should serve these buns warm, and fresh out of the oven - enjoy with some butter slathered over, or simply as is!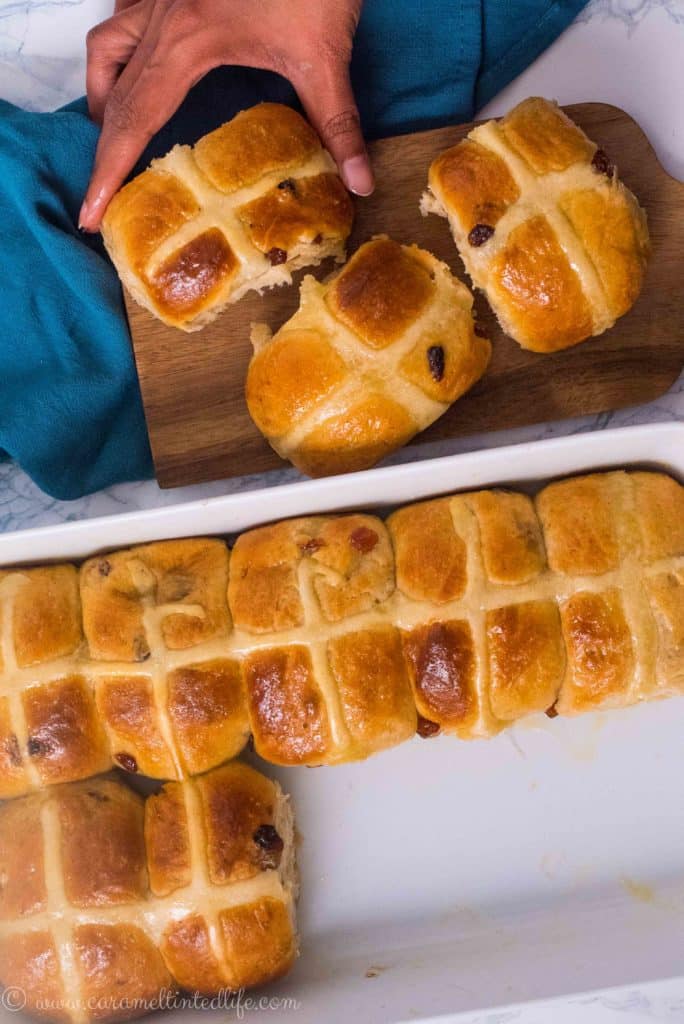 Hot Cross Buns
Hot Cross buns are traditionally eaten during the Easter weekend - from Maundy Thursday through Easter Sunday. These raisin and spice-enriched buns are best enjoyed warm out of the oven!
Ingredients
500

grams

Bread flour (or all-purpose-flour)

1

tbsp

active dry yeast (or instant yeast)

approximately 7 grams

1

tsp

salt

⅓

cup

sugar

90

grams

butter

melted, at room temperature

½

tsp

cinnamon powder

1

tsp

all-spice powder

or use a mixture of dried ginger powder, nutmeg powder and clove powder

1

cup

raisins (sultanas)

1

egg

1

cup

milk
For the crosses
1/2

cup

flour

6

tbsp

water
For the Glaze
⅓

cup

orange juice

1

tbsp

sugar

1

tsp

butter, melted
Instructions
Warm the milk very slightly and let it reach lukewarm temperature. Add 1 teaspoon of sugar to the milk and stir to combine. Let the yeast-sugar-milk mixture sit for 8-9 minutes until frothy (if using instant yeast, skip this step and add it directly to the rest of the ingredients).

Add the flour, rest of the sugar, along with all the other ingredients for the dough into the bowl of a stand mixer, fitted with a dough hook. Or use your hands to bring the dough together on a lightly floured countertop.

Mix on medium speed for 3-4 minutes, untill the dough comes together. The dough should not be too sticky, and should release itself easily from the side of the bowl. Knead the dough by hand for a minute more, on the countertop.

Let the dough sit in a bowl covered by a dish cloth for around 90 minutes, or until it doubles in size. This step can be speeded up, by using an Instant Pot in the 'Yogurt' setting. If you are using an Instant Pot, lightly brush the steel pot with butter and place the dough inside. Cover with a glass lid, and hit the 'Yogurt' setting. After 50-60 minutes, take out the dough, which should have doubled in size.

After the dough has doubled in size, take out the dough and knead with your hands on a greased counter-top for a couple more minutes. Keep a rectangular baking dish ready by brushing it with softened butter.

Divide the dough into 10 almost-equal portions. Roll each portion into a ball and place all 10 rolled dough portions into the baking dish, leaving space between the portions.

Cover the tray with a dish cloth and let it sit in a warm place for 40-45 minutes. This is the second proofing, just before the dough is baked. Preheat your oven to 180C (350 F). After 40-45 minutes, the dough would have risen again.

Brush some melted butter over the buns. Pipe the flour crosses (See below)
To make the flour crosses:
Whisk the flour and water for making the cross. This will create a somewhat thick paste. Use a piping bag or ziplock bag to pipe out the flour crosses on top of each bun.

Bake for 20-25 minutes or until golden brown on top.
For the glaze:
Mix together 1/3 cup of orange juice, the sugar and butter untill sugar dissolves. Brush this glaze over the baked buns. Serve warm.
Nutrition
Calories:
374
kcal
Carbohydrates:
63
g
Protein:
9
g
Fat:
10
g
Saturated Fat:
6
g
Cholesterol:
39
mg
Sodium:
91
mg
Potassium:
240
mg
Fiber:
3
g
Sugar:
10
g
Vitamin A:
317
IU
Vitamin C:
5
mg
Calcium:
48
mg
Iron:
1
mg
Caramel Tinted Life is a participant in the Amazon Services LLC Associates Program, an affiliate advertising program designed to provide a means for us to earn advertising fees by advertising and linking to amazon.com and affiliated sites.