Shrimp Masala is made with shrimps cooked in a semi-dry gravy of onions and tomatoes, seasoned with curry leaves, mustard seeds, and a blend of spices. A home-style Indian shrimp recipe that you will find hard to resist!
(This recipe was first published in June 2020 and has been updated)
Jump to:
This shrimp masala is a classic Indian dish that is inspired by the popular pepper shrimp masala or pepper prawns recipe. In the coastal parts of India, it is common to cook shrimp in a spicy thick sauce made with onions, tomatoes, chilies, and tempered with a smattering of mustard seeds and curry leaves. This dish is best served with some red rice or appams.
Psst, If you are a beginner to Indian cooking, you need to read my guide to Indian spices and how to use them! I have written all about the various spices, herbs, and essential spice blends used in Indian cooking here. This will help you understand some of the stages of making a typical Indian recipe, and the role of spices.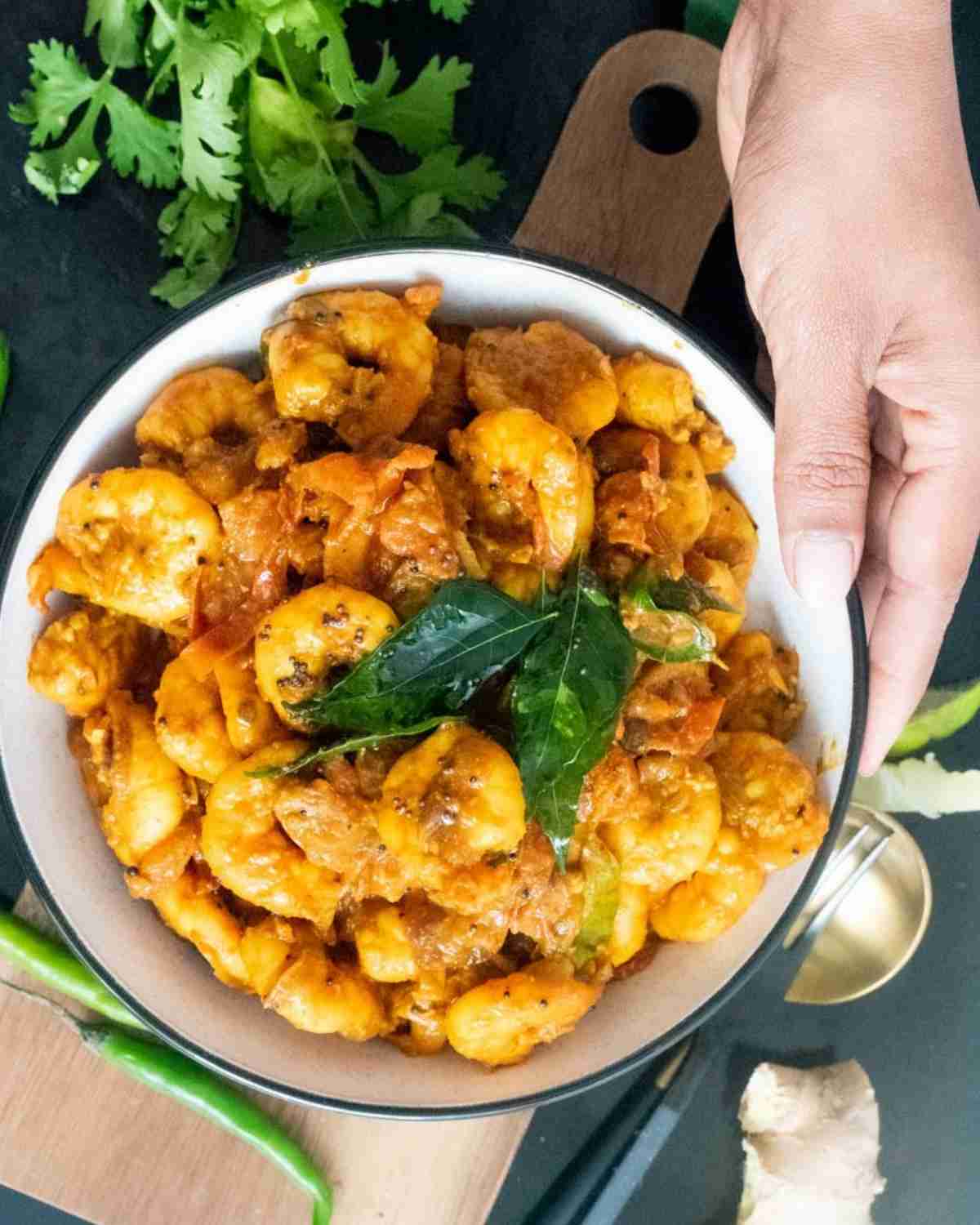 Why this recipe works
This is an authentic recipe, a regional recipe that you won't find at most Indian restaurants
No dairy, no cream, low on calories
Made in under 30 minutes!
List of Ingredients
Shrimp masala is made with:
Shrimp - Used fresh or frozen shrimp. Just thaw your frozen shrimp before using them.
Curry leaves - Curry leaves add such a great flavor to this dish. You can get fresh or frozen curry leaves at your local Indian grocer.
Green chili or bird's eye chili
Tomatoes - Use fresh or canned. If using canned, drain the tomato juices before using.
Garlic & Ginger - Use ginger garlic paste or freshly minced ginger and garlic
Spice powders: Red chili powder, turmeric, cumin powder, fennel and garam masala, fresh black pepper (optional)
Mustard seeds - Use whole black mustard seeds
Onions: Red onions are preferable, but yellow onions are fine too
Vegetable oil or coconut oil: Several traditional Indian shrimp recipes use coconut oil - it adds an authentic taste to the dish
Step-by-Step Recipe Instructions
Start by marinating the shrimp in lime juice, turmeric and red chili powder and salt. Keep in the refrigerator for later (no more than 30 minutes).
Start with making the 'masala' for this dish - In a wok on the stovetop, heat some oil. Add the mustard seeds and wait for them to sputter and crackle. Then add the ginger and garlic. and saute until lightly browned. Add the onions and continue to saute.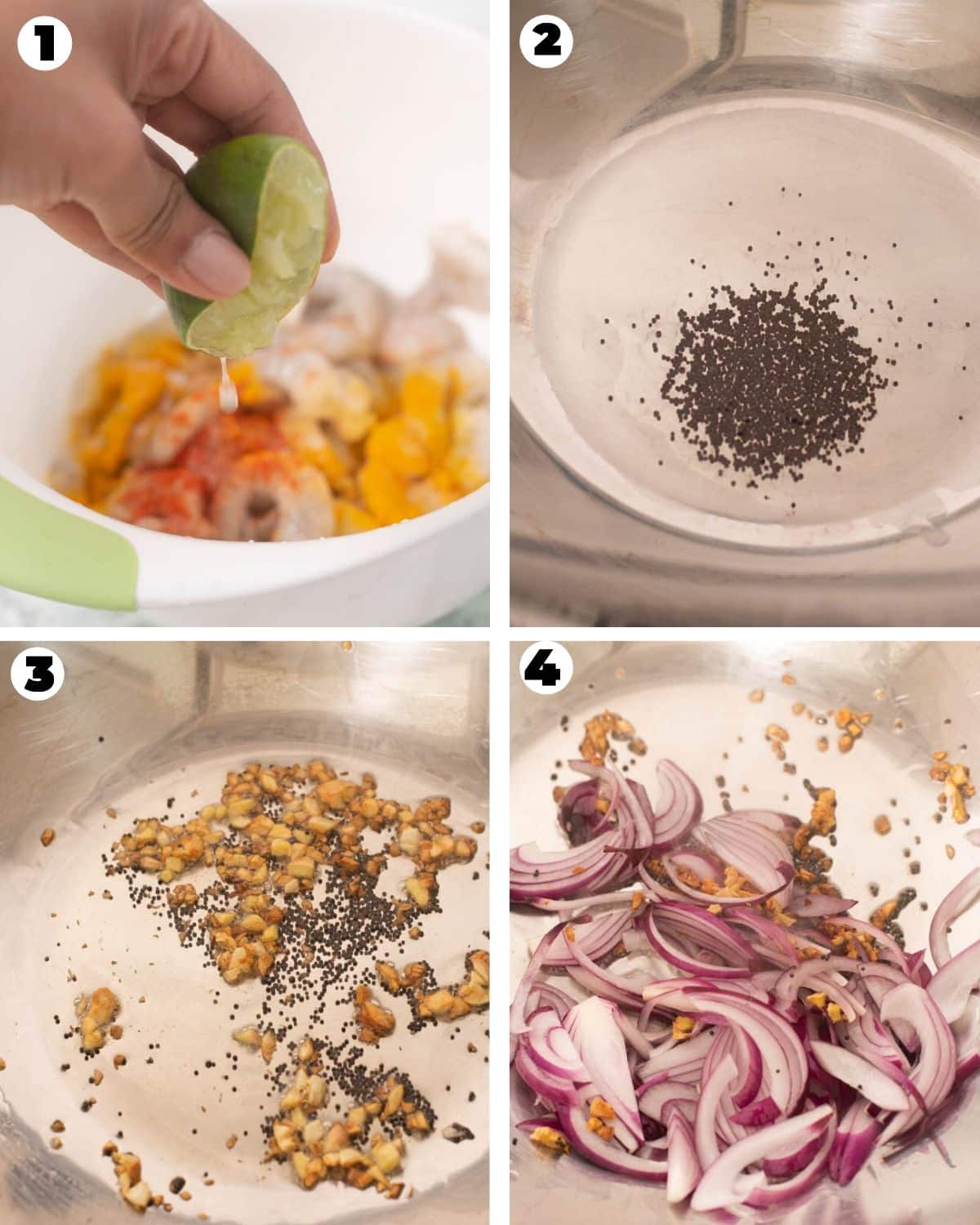 Once the onions are translucent, add the curry leaves. Then add the spice powders and sliced tomatoes. Cook with the lid covered. until the tomatoes are soft.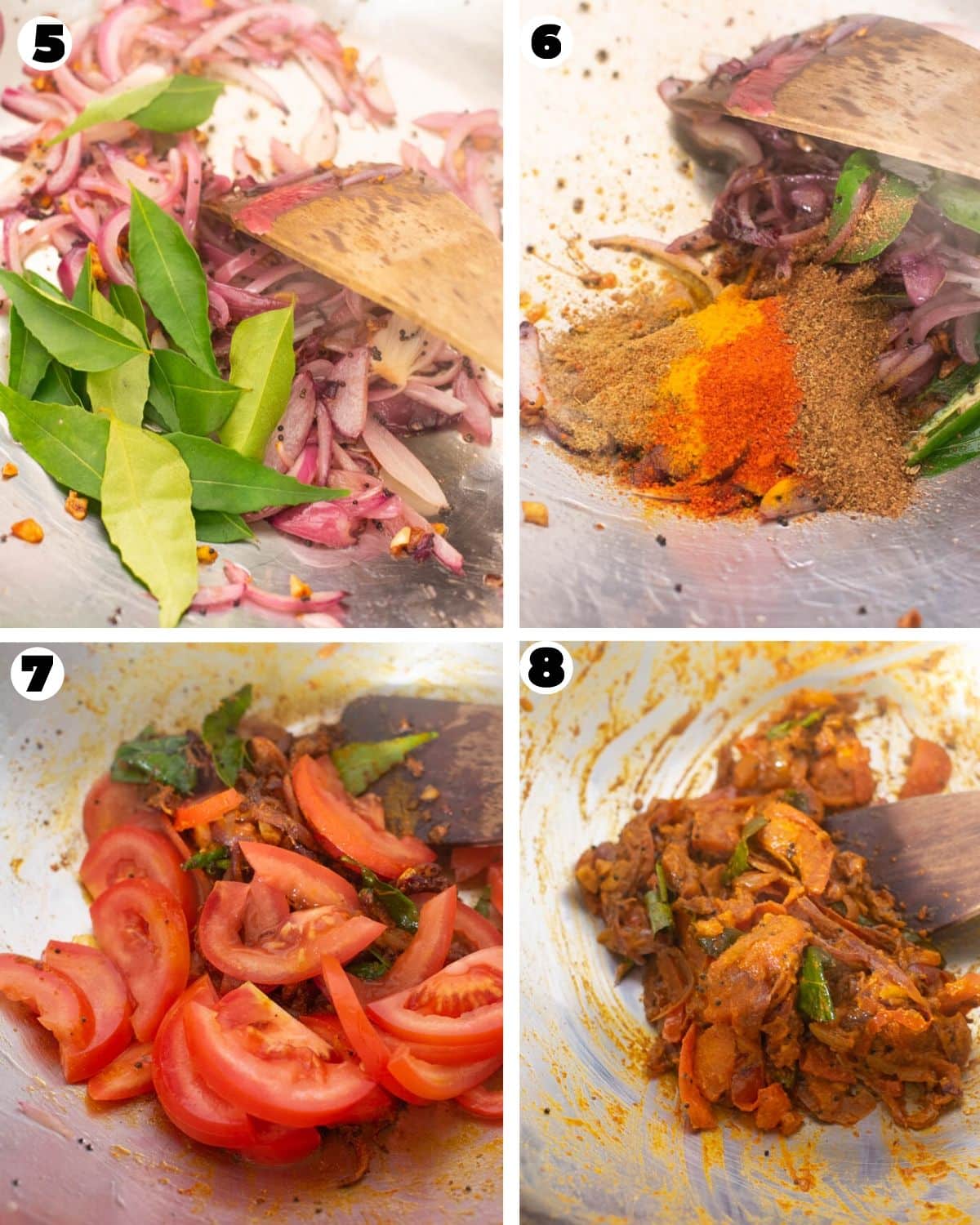 Add the marinated shrimp and mix it well with the rest of the masala. The shrimp needs a maximum of 7 minutes to cook through. Do not overcook, else the shrimp will be rubbery and tough.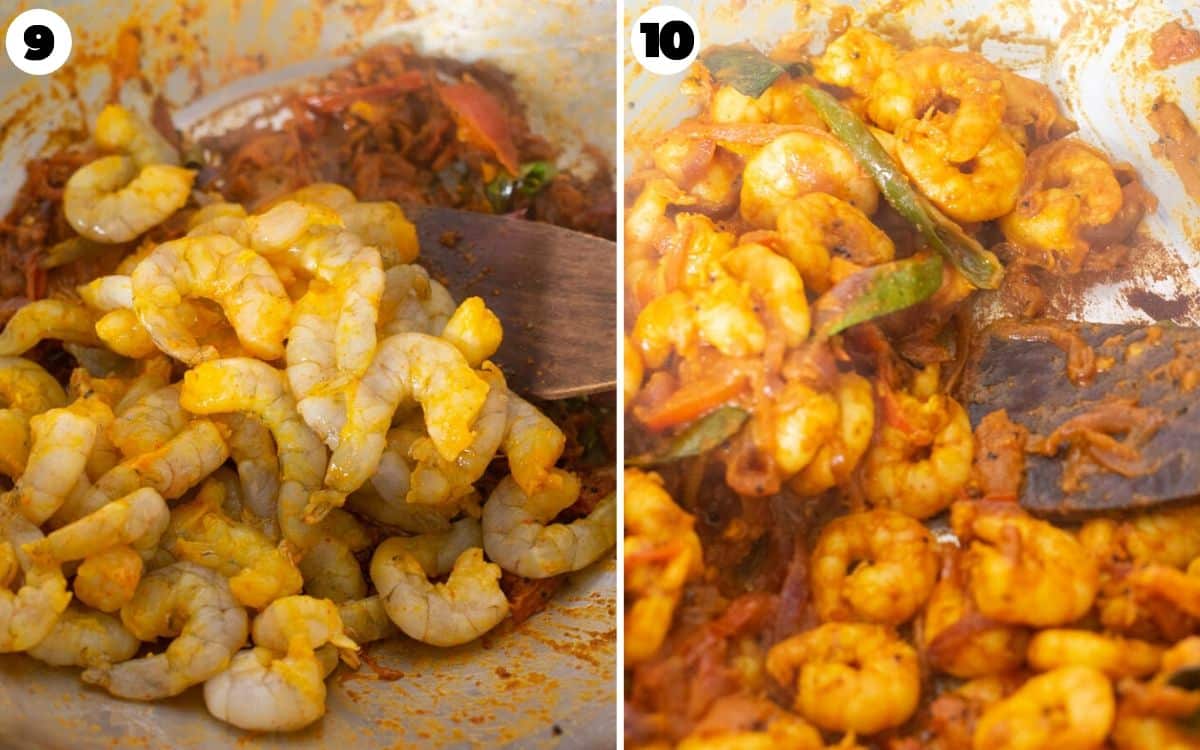 Don't forget the 'tadka' at the end! Just before serving, add a 'tadka' or a tempering to finish the dish. Heat some coconut oil in a small saucepan, and add mustard seeds. Once they crackle, add curry leaves and heat for a minute more. Pour over the oil, mustard seeds and curry leaves over the shrimp masala and serve.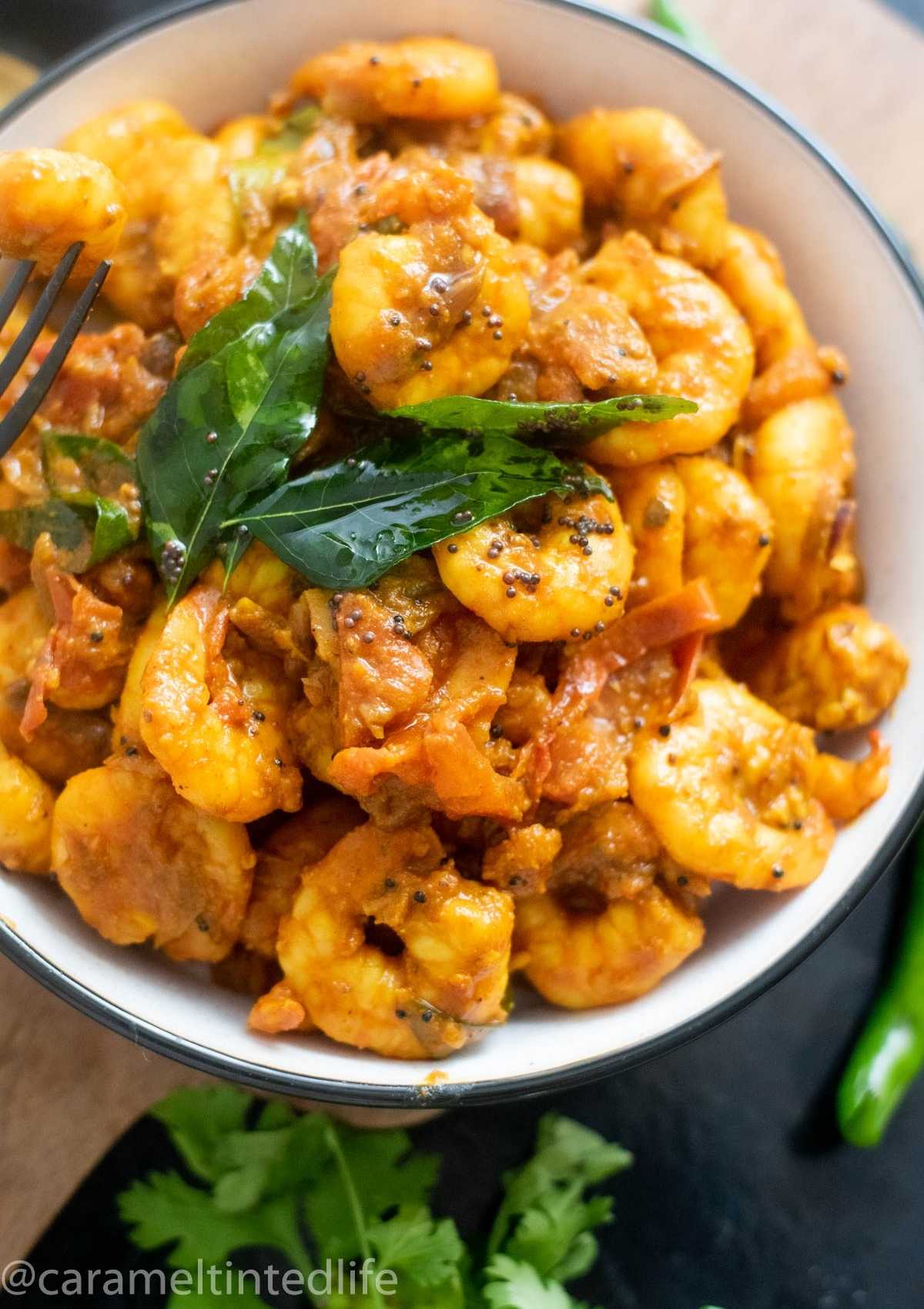 FAQs
How do you marinate prawns for Indian curries?
Since shrimp or prawn is a very delicate kind of protein, you can marinate it with just a few simple ingredients. Do not use tenderizers such as ginger or yogurt. For most Indian recipes that call for marinating the prawns, simply use salt, turmeric, red chili powder and a little lime juice.
Keep in mind that the acid in the mine or lemon juice will break down the shrimp if kept for too long. Keep the marinated shrimp for mot more than 30 minutes before you cook it.
What is prawn masala or shrimp masala?
The shrimp or prawn masala is made by cooking shrimp or prawns in their own juices and the liquid released by the tomatoes. In some recipes, grated and roasted coconut and coconut milk are also added to the dish. Unlike typical Indian curries, this dish is a 'semi-dry' curry, which has little-to-no liquid.
More Indian Sides Recipes
For all my Indian curry fans, I have just the thing for you! Take a look at my collection of 20 Indian curries that range from lamb korma to vegan curries to the classic restaurant-style butter chicken ....if you like Indian food, you wouldn't want to miss this.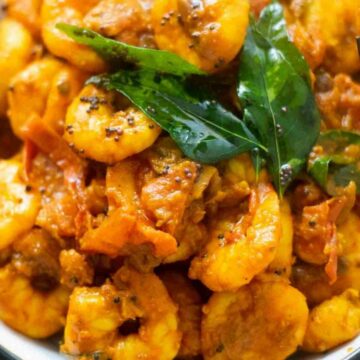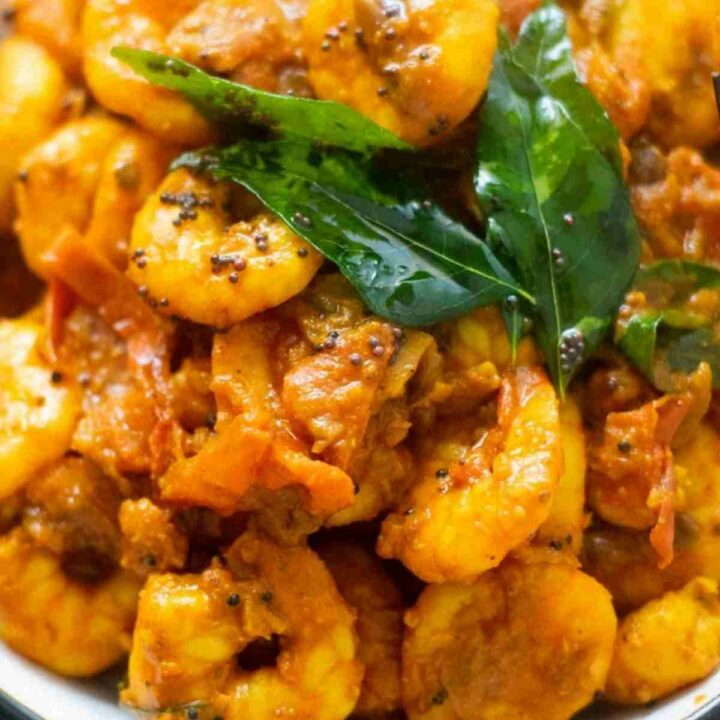 Shrimp Masala
Shrimps are cooked in onions and tomatoes, seasoned with curry leaves, mustard seeds and spices!
Ingredients
Instructions
Marinate the shrimp with the ingredients listed under 'marinade' and keep it in the refrigerator.

In a wok on the stovetop, add the oil and bring to a heat.

Once hot, add the mustard seeds. Once the mustard seeds start to crack and fizzle.

Add the chopped ginger and garlic, saute until garlic is lightly browned.

Add the onions and saute until onions are translucent. add the curry leaves and sauté for a minute. Add the spice powders, followed by the sliced tomatoes.

Cook with a lid on the wok for 5-6 minutes, stirring occassionally, until the tomatoes are softened.

Add the marinated shrimp and cook, mixing gently with the masala for 5-7 minutes, until shrimp is just cooked. Do not overcook.

To make the tempering, heat coconut oil in a small saucepan. Add the mustard seeds and heat until they sputter. Then add the curry leaves, heat for a minute more. Pour this tempering over the cooked prawn masala, and serve.
Nutrition
Calories:
215
kcal
Carbohydrates:
11
g
Protein:
23
g
Fat:
9
g
Saturated Fat:
6
g
Cholesterol:
252
mg
Sodium:
1293
mg
Potassium:
230
mg
Fiber:
3
g
Sugar:
3
g
Vitamin A:
1732
IU
Vitamin C:
664
mg
Calcium:
302
mg
Iron:
3
mg