Pork vindaloo - Juicy and succulent pork is simmered in a delicious curry that is full of flavor. A classic Goan curry that is surprisingly super easy to make in the pressure cooker!
(This recipe was first published in June 2020 and has been updated)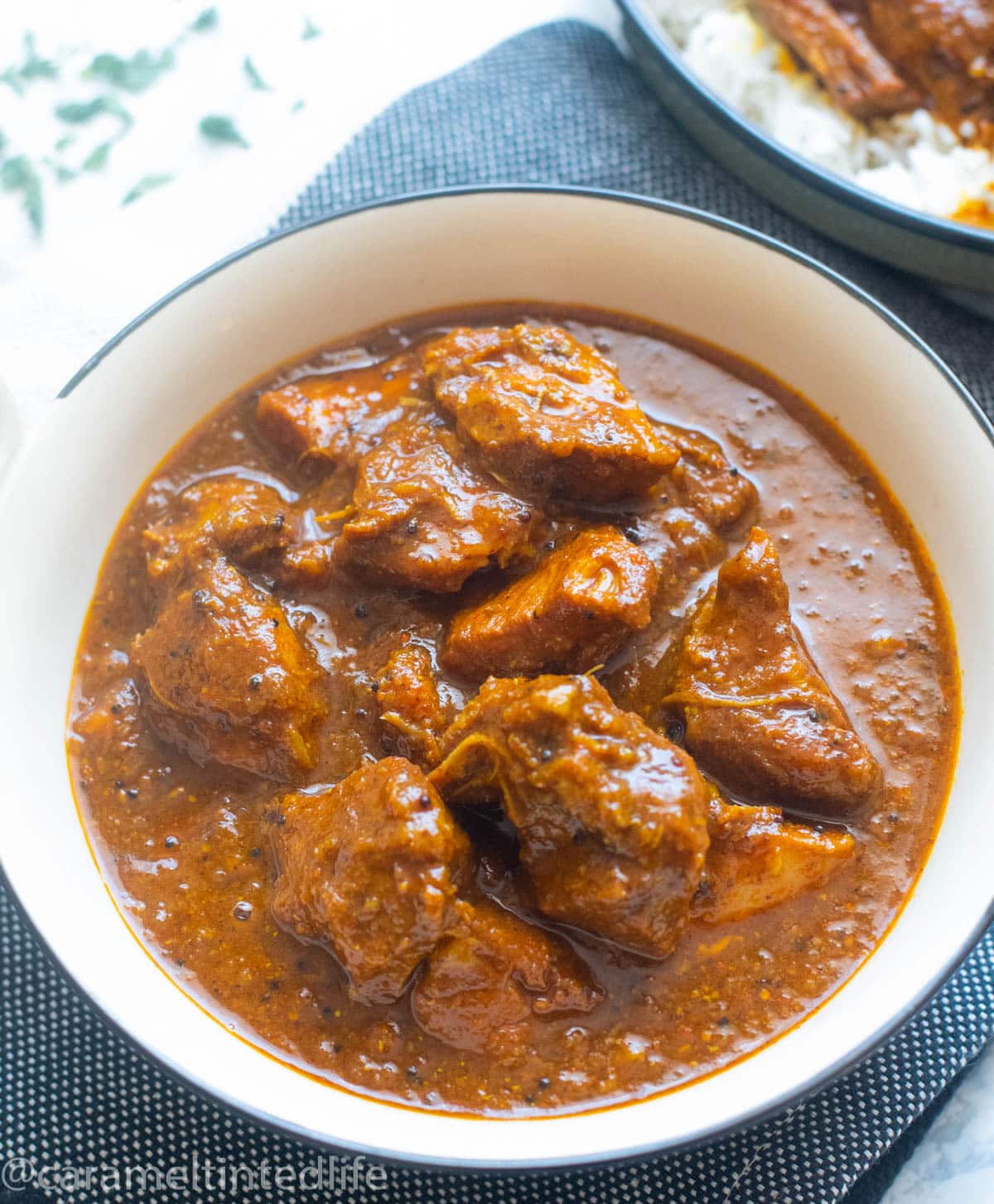 Jump to:
Pork vindaloo has got a reputation of being a fiery, spicy curry with a flavor profile that is largely dependent on red chilies. As someone who was raised in the beautiful state of Goa - the home of the 'vindaloo', I can safely say that vindaloos are not necessarily spicy.
The truth is, vindaloo has a beautifully complex flavor profile, which balances tanginess, spices, heat, and a hint of sweetness, each one enhancing the other, and not overpowering each other. When lapped up with some crusty bread, such as Goan pav or plain basmati rice, pork vindaloo becomes a feast in itself!
What is vindaloo?
Vindaloo is a traditional meat-based curry that originates in Goa (India). Pork vindaloo is one of the many offshoots of the Portuguese occupation of Goa. The original Portuguese dish, Carne de Vinha d' Alhos (which literally translates to 'meat with wine-vinegar and garlic'), was 'Indianised' with tamarind, chilies, cumin, cinnamon, and cloves. Wine, used in the original, was substituted for palm vinegar.
The curry was passed on from the Portuguese during their rule in Goa. The word 'Vindaloo' is derived from the Portuguese word, 'carne de vinha d'alhos' – which . Palm vinegar and garlic are key ingredients in this curry. To know more about this delicious curry, you can read this article on the origins of vindaloo. If you enjoy Goan cuisine, take a look at my recipe for Goan prawn curry.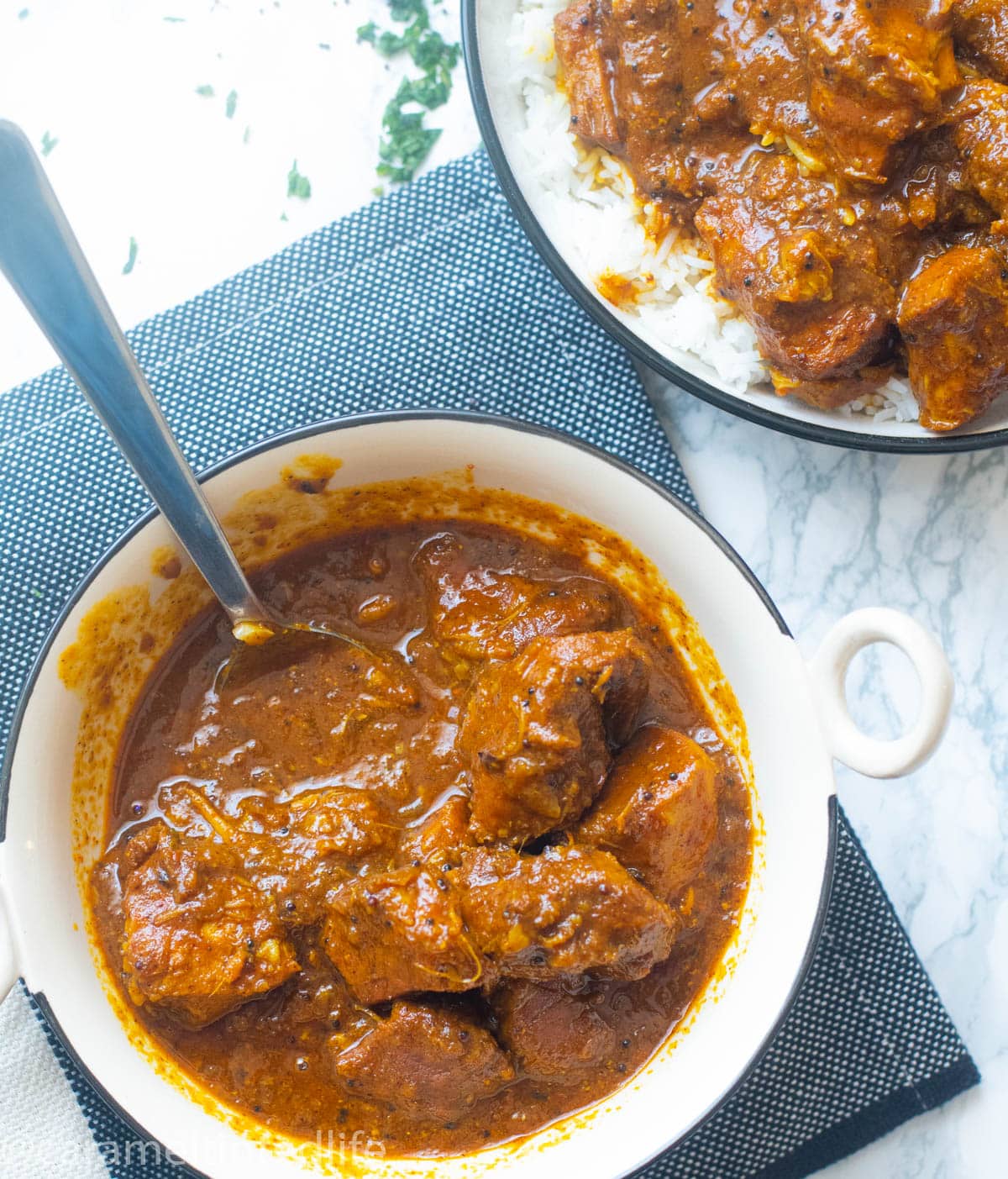 How do you make vindaloo?
Vindaloo is traditionally made by slow-cooking meat in a sauce that is flavored with freshly ground whole spices, vinegar, ginger, and garlic to bring the best out of the rich pork. The meat used to make vindaloo is typically pork, although, duck, beef, and chicken are used to make this dish as well. Pork shoulder is a good cut of meat to use for this dish – ideally, the meat should be well marbled with a little fat, and not too lean.
Vindaloo sauce is made with just a few essential ingredients – the bulk of the flavor in the vindaloo sauce comes from the spice mix that is used to make this dish. For the spice marinade, we use mustard seeds, red chilies, cumin, cloves, and cinnamon.
Vinegar and jaggery (unrefined cane sugar) are used to give the curry a slight tang, and sweetness. The pork is cooked in minimal water so that the flavor of the pork juices are retained.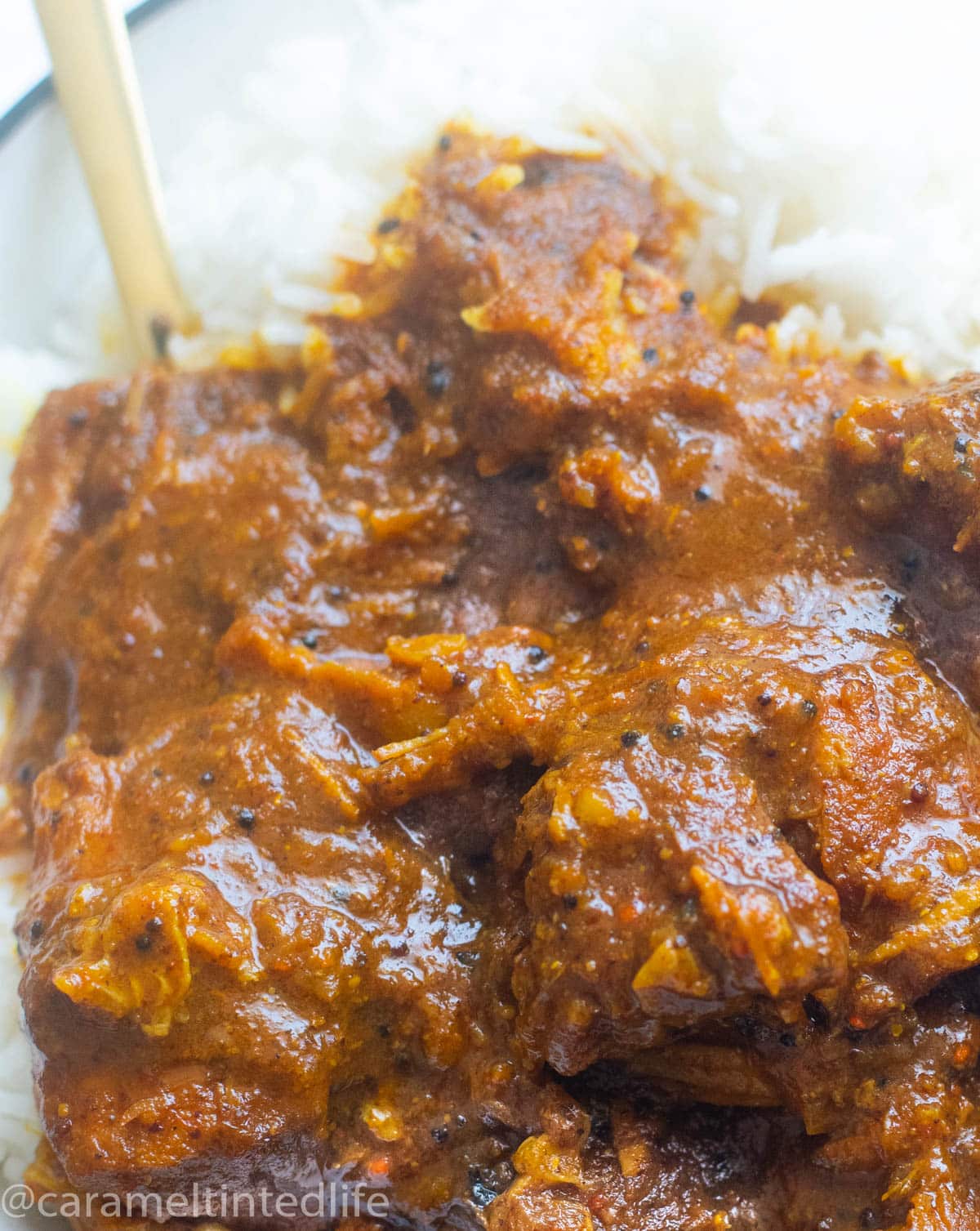 Is Vindaloo spicy?
Vindaloo has a reputation for being very spicy, however, this is not true – the spice level can be reduced to suit your tastes. I highly recommend using Kashmiri Chili powder – which is mild on spice level and gives the curry a deep reddish hue.
You could also use whole red chilies and grind them along with the other whole spices to make the spice mix for the recipe. This curry can be made as mild on the spice- level as you prefer – our kids enjoy it too!
List of Ingredients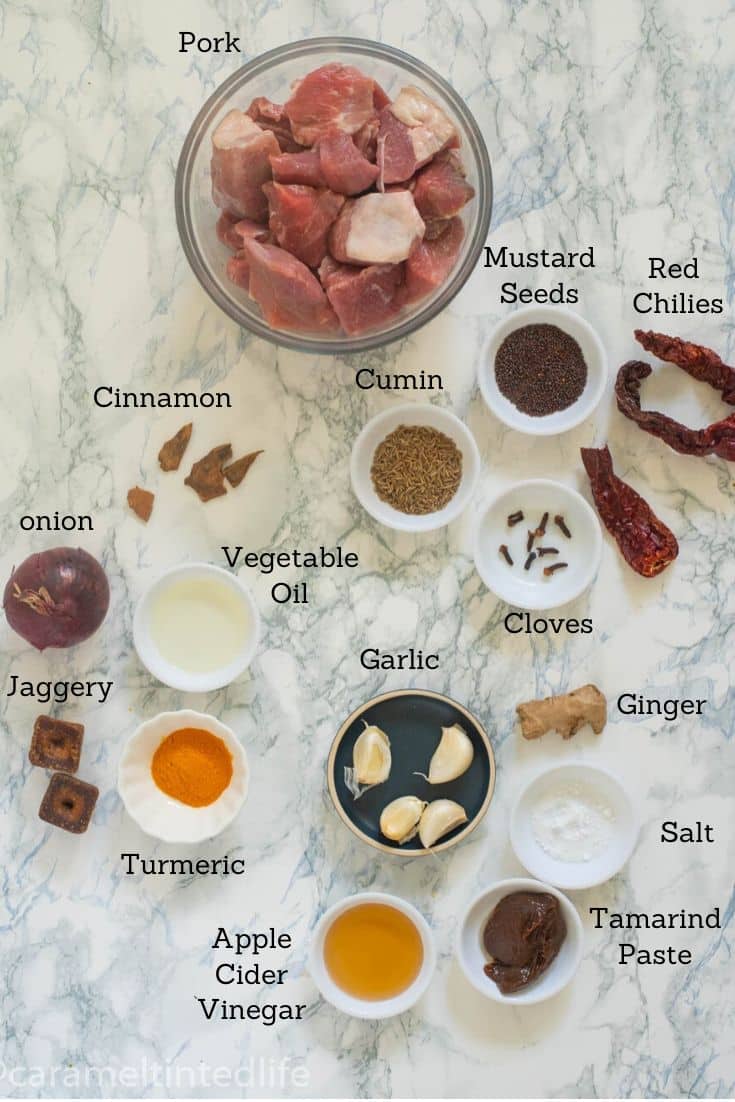 To make this recipe, you will need:
Pork - Marbled pork such as pork shoulder will work well for this recipe
For the spice-mix:

Mustard seeds
Kashmiri Red chilies - Use whole or powdered Kashmiri red chilies
Whole cinnamon
Whole cumin
Cloves
Turmeric powder

For the marinade:

Garlic
Ginger
Vinegar - Ideally, use palm vinegar if you get your hands on it, otherwise use apple cider vinegar or malt vinegar
Tamarind concentrate or tamarind paste / available at all Asian stores

Onions
Jaggery - Unrefined palm sugar can be found at any Indian store
Vegetable oil - Mustard oil is also used to add an extra layer of flavor
Salt
Step-by-step instructions
Start by preparing the dry spice mix - lightly heat the whole spices on a pan grind them together using a spice grinder or blender. Once ground, keep aside. Prepare the marinade by blending together the tamarind, garlic, ginger, and vinegar. Check for seasoning and add salt. Marinate the pork pieces in the spice mix and the marinade. Keep the marinated pork aside for 30 minutes or even overnight.
In the Instant Pot, heat the oil (you can use vegetable oil but I like to add mustard oil for more depth of flavor). Add the mustard seeds and chopped onions. Continue to saute, stirring regularly. In 7- 8 minutes your onions should have turned brown.
Now add the marinated pork and give it a stir. Add 1/2 cup of water and the grated or pounded jaggery and mix well. Make sure to deglaze the pot. Close the Instant Pot with the lid and Pressure Cook for 15 minutes. Let the pressure release naturally for 5 minutes, and then quick-release pressure. Open the Instant Pot and switch to 'Saute' mode. Simmer for 5-7 minutes to reduce the sauce and thicken the curry.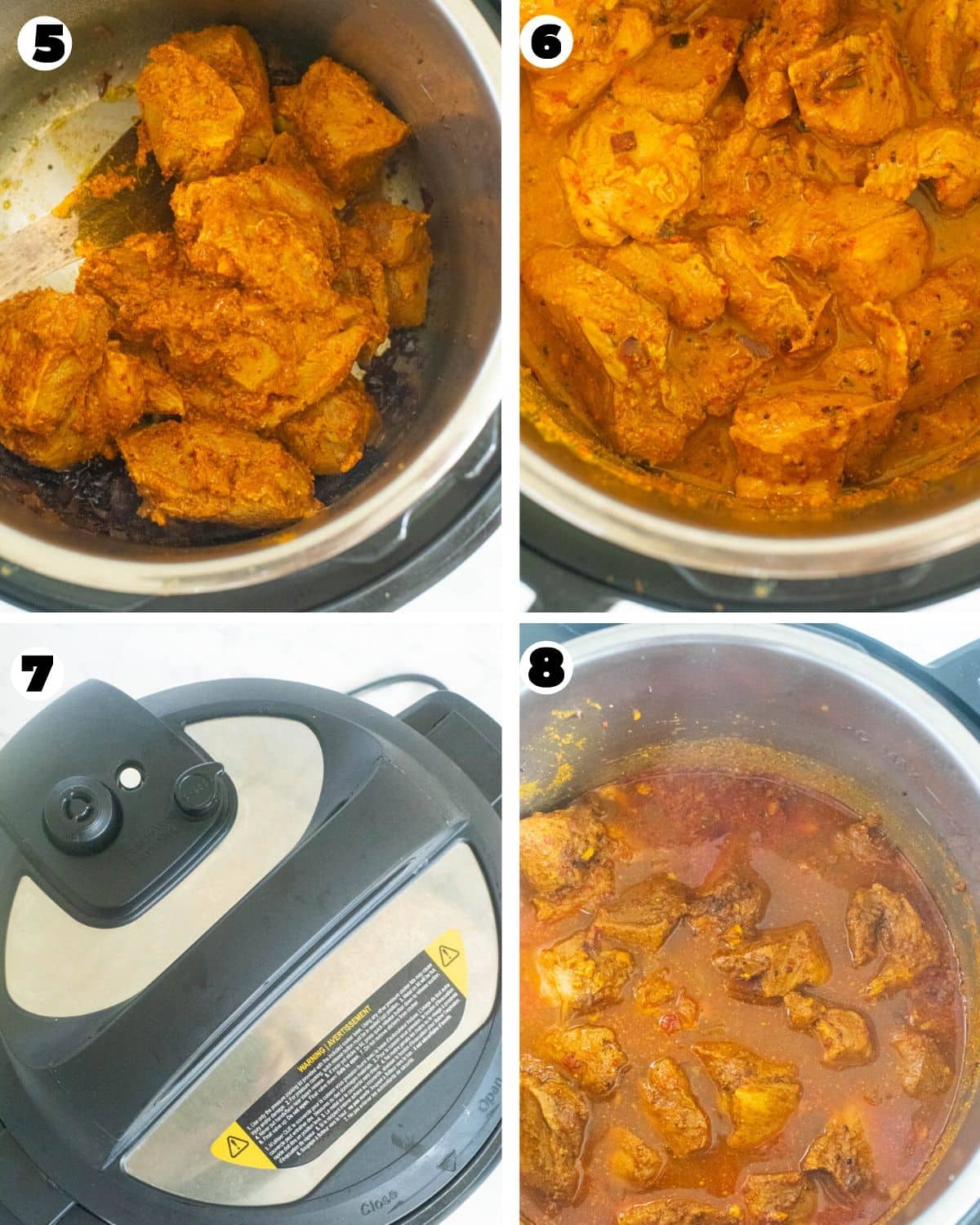 Once the sauce has reduced, serve the pork over plain basmati rice or with a traditional Goan pav bread. The curry matures in flavor overnight - you could make it the night before you plan to serve it and it will taste so good! This is a great recipe for making in advance and freezing as well.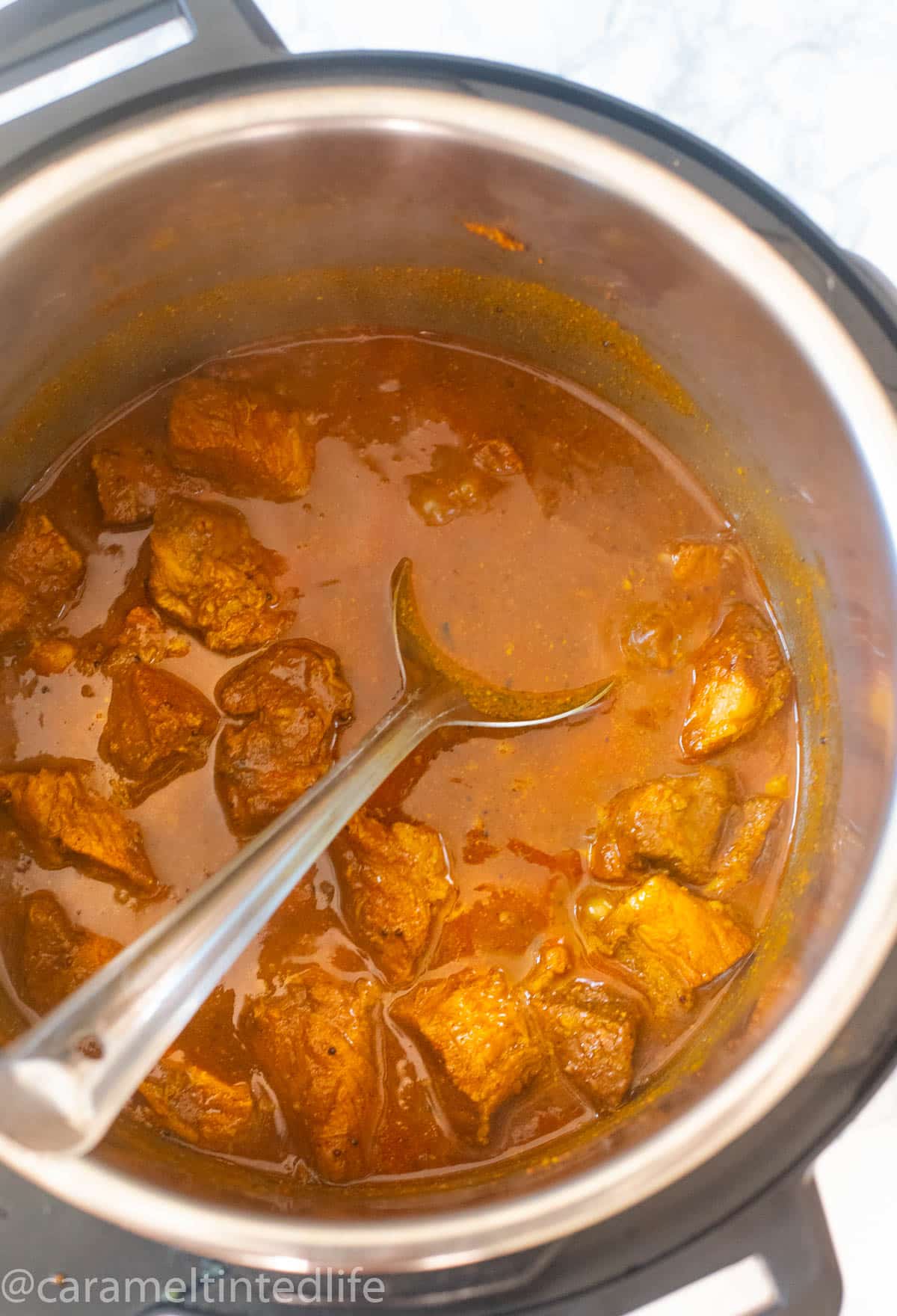 Tips for making pressure cooker vindaloo
When making a vindaloo here are a few things to keep in mind:
Which cut of pork to use? Go for pork cuts which have some amount of fat in them. The presence of a little pork fat helps to cut through the spice and tanginess. Pork shoulder would be preferable to pork belly, which has more fat.
How spicy should the curry be? As with most Indian recipes, you can adjust the level of spices in this curry to suit your preferences. If you prefer a milder curry, reduce the number of chilies. You can use regular dried red chilies or Kashmiri red chilies which impart more red color and less heat. Optionally, use paprika as a substitute.
Why should I add jaggery? A classic pork vindaloo has mild sweet notes, and the use of jaggery and sweet spices such as cinnamon and cloves helps to round off the sourness from the vinegar. Optionally, you can use brown sugar as well.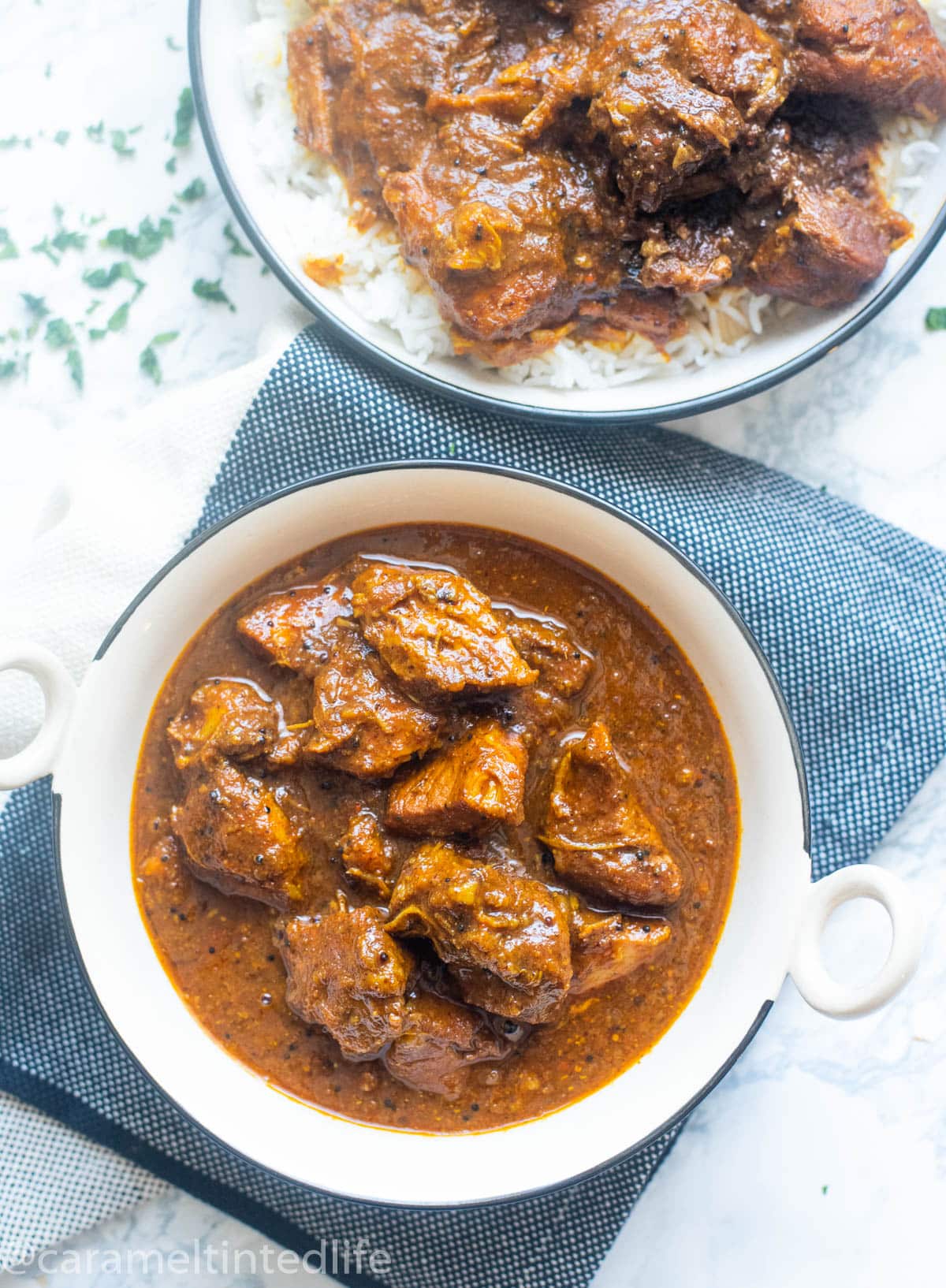 More recipes for you to try
Butter chicken (Murgh Makhani)
Do check out this round-up of 20+ Indian dishes you can make in the Instant Pot!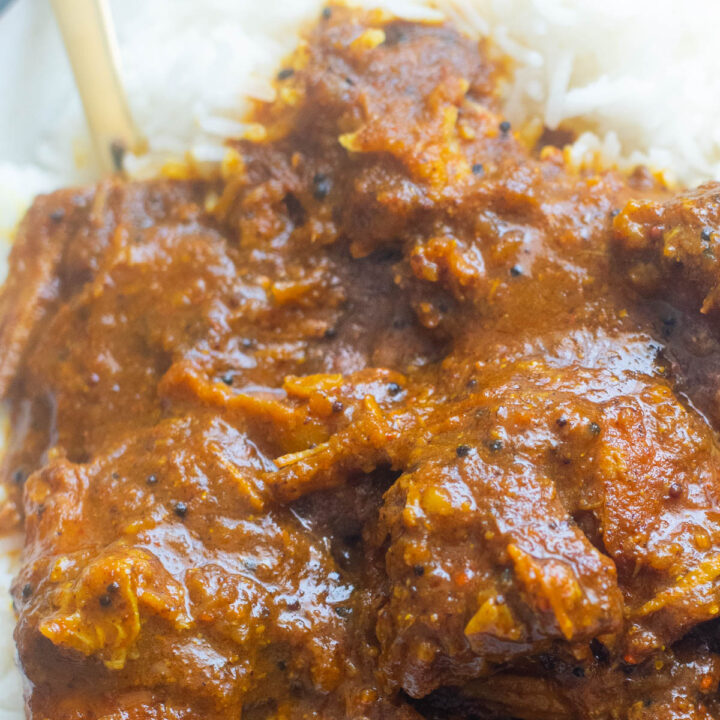 Instant Pot Pork Vindaloo
Pork vindaloo - Juicy and succulent pork is simmered in a delicious curry that is full of flavor. A classic Goan curry that is surprisingly super easy to make in the pressure cooker!
Ingredients
750

grams

pork shoulder, cut into chunks

1-2

red onion

chopped

2

tbsp

Vegetable oil

You could also use mustard oil

¼

cup

Jaggery

pounded or coarsely grated

1

teaspoon

whole black mustard seeds

1

large red onion

finely chopped

½

cup

water
To be ground to a powder:
To be blended together:
¼

cup

tamarind paste

Available in Asian or Indian stores

5-6

garlic cloves

1

inch

piece ginger

1/3

cup

vinegar

use white vinegar or palm vinegar

1

teaspoon

salt
Instructions
Using a blender, grind together mustard seds, red chilies, cinnamon stick, cumin, cloves. Add turmeric to the ground spices and keep aside.

In the same blender jar, blend together the tamarind paste, garlic cloves, ginger, vinegar and salt, until it forms a slurry. You can add a couple of tablespoons of water to make it a smooth slurry.

In a large mixing bowl, add the cleaned pork pieces, and mix it well with the spice powders and the slurry of the marinade. Keep the pork in the fridge to marinate for at least 30 mins.

Turn on the IP and hit 'Saute' mode.

Once hot, add the chopped onions and 1 teaspoon mustard seeds

Sauté the onions for 7-8 minutes, until they caramelise.

Hot Cancel, and add the marinated pork pieces to the browned onions.

Add 1/2 cup of water. Add the crushed or grated jaggery and mix well. Deglaze the Instant Pot to make sure there is nothing stuck to the bottom of the Instant Pot.

Pressure Cook for 15 minutes. Once the cooking cycle is complete, let the pressure release naturally for 5 minutes. Then manually release pressure by opening the vent.

Once the pressure is released, open the Instant Pot, and give the curry a mix.

Hit Saute mode and let the curry simmer for 5 minutes to reduce the sauce. Once the sauce has thickedd a little, hit Cancel. Serve the vindaloo with basmati rice or pav bread
Notes
Tamarind paste is available at most Asian grocery stores.
If you cannot find Kashmiri red chilies, use cayenne or paprika
Nutrition
Calories:
287
kcal
Carbohydrates:
21
g
Protein:
20
g
Fat:
13
g
Saturated Fat:
7
g
Cholesterol:
61
mg
Sodium:
544
mg
Potassium:
474
mg
Fiber:
2
g
Sugar:
16
g
Vitamin A:
15
IU
Vitamin C:
6
mg
Calcium:
55
mg
Iron:
3
mg
If you liked this recipe, do comment below and rate the recipe! If you make this recipe, please post a pic on INSTAGRAM -tagging @carameltintedlife and follow along on FACEBOOK and PINTEREST