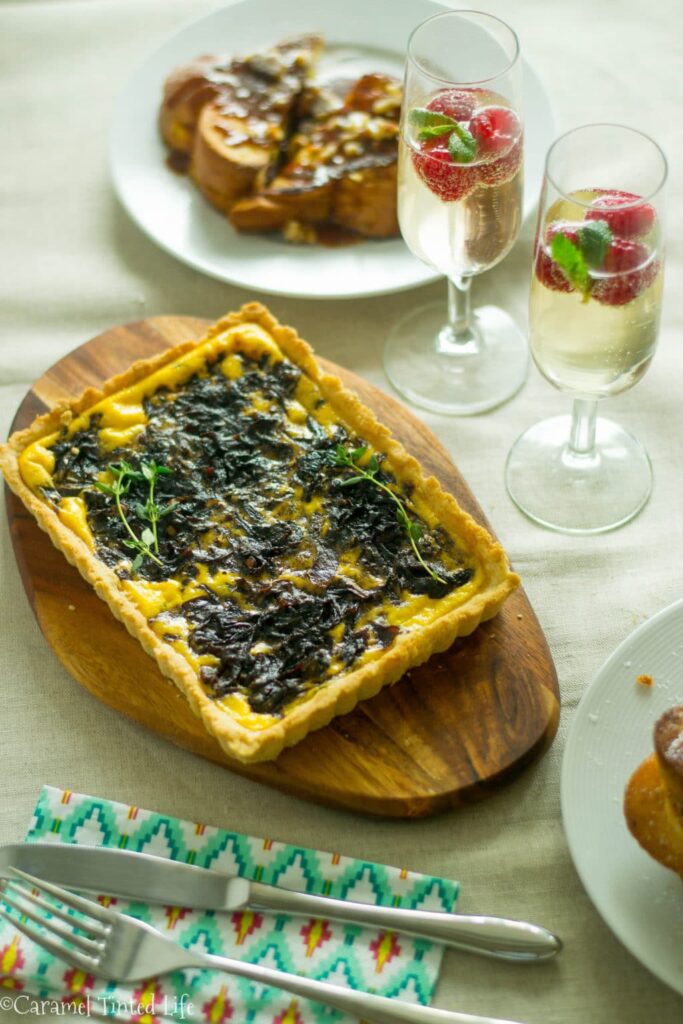 This post is one of three posts on a brunch menu for Mothers day. I made this onion jam, thyme and goats cheese tart, along with some elderflower mimosas and some French toast with Baileys Irish cream sauce and candied walnuts. Raise your hands if you love caramelised onions! I do, perhaps a little too much (my blog's name should be proof enough!). I think caramelised onions go perfectly with pretty much everything. This jam is a mushier version of caramelised onions, with added balsamic vinegar that is used to bring out every bit of flavour from those delicious browned onions. You could use caramelised onions and its jammy variant in everything from tarts, to canapes, to sandwiches, etc.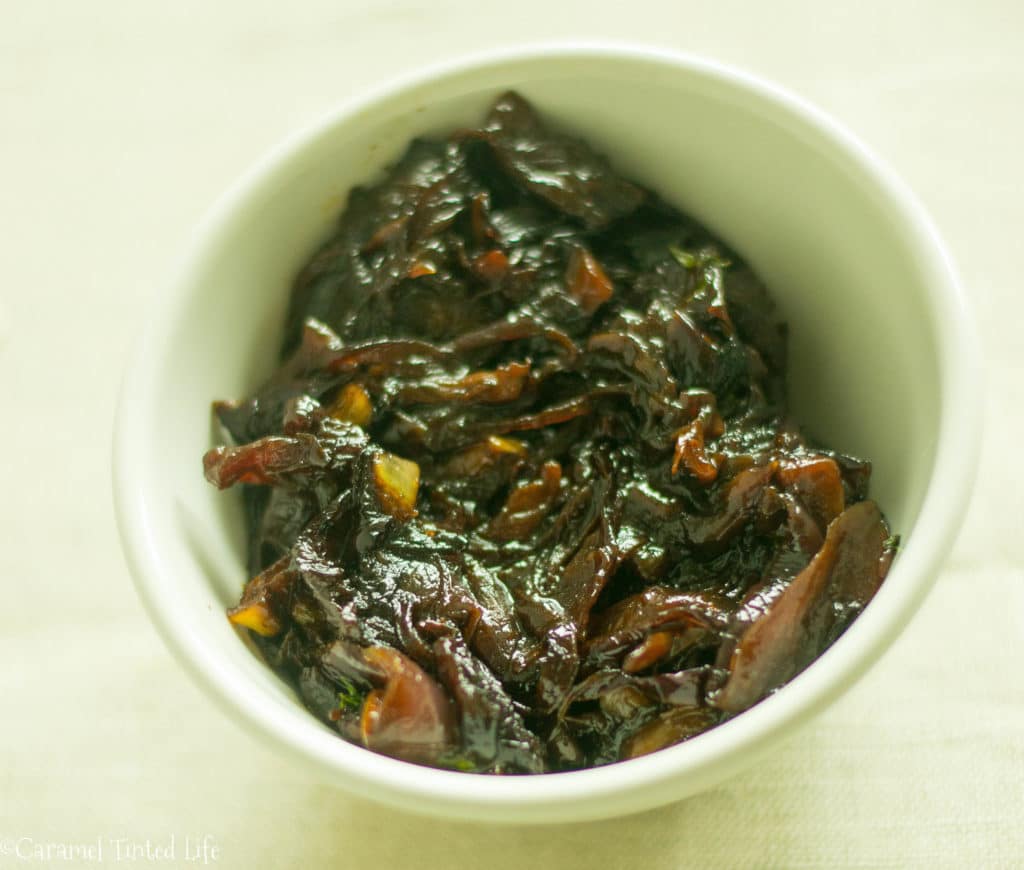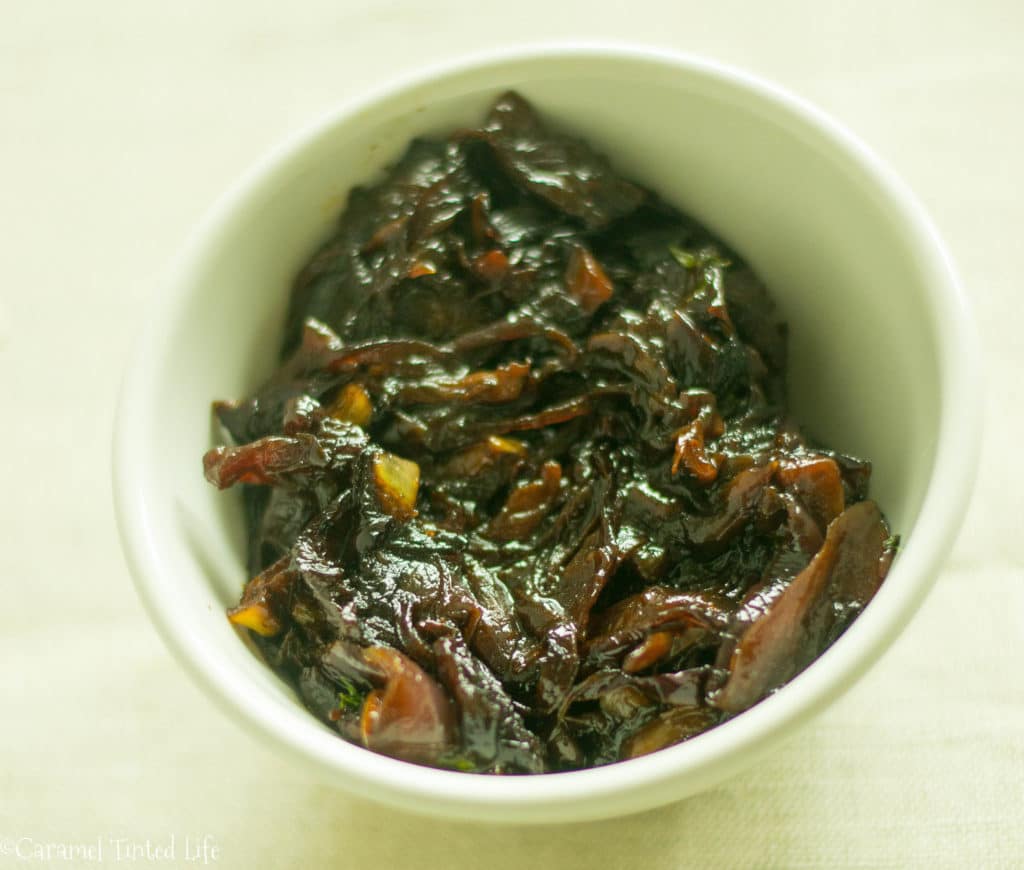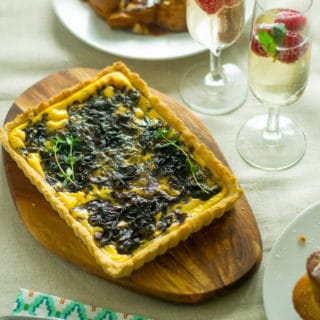 Onion jam, thyme and goats cheese tart
Tart made with caramelised onions, roasted garlic flavoured with thyme, perfect for a brunch menu!
Ingredients
Good quality olive oil

4

medium red onions

sliced thick (slicing them too thin will make them brown too quickly)

3

large cloves garlic

diced

Leaves

picked from 2 sprigs of fresh thyme

or use dried thyme

1

teaspoon

balsamic vinegar

a pinch of salt to taste

For the filling:

1/4

cup

soft goats cheese

1/3

cup

grated Parmigiano-Reggiano

2

eggs

For the tart crust:

120

grams

flour

I used spelt flour, but you could use all purpose flour

60

grams

cold butter

cut into small cubes (keep the butter chilled right till the time you need to use it)

1/3

cup

ice cold water

a pinch of salt to taste
Instructions
Start by preparing the tart crust. You could optionally use store-bought crust as well.

Pulse the cold butter pieces with the flour in a food processor, or optionally, use your hands to combine, working quickly to avoid softening the butter.

Turn out the flour mixture on a work surface and add the ice-cold water and quickly mix it with the processed flour.

Bring it together like a dough, and let it chill in the fridge for 10 minutes. Once chilled, gently roll it out between two sheets of cling film, and transfer the rolled out dough into a tart or pie baking pan.

Press the dough into the pan, and let it chill in the freezer for 20 minutes. You can prepare the onion jam in the meantime.

For the onion jam:

In a hot pan, add the olive oil and turn the heat to low-medium

Add the onions, and let them cook.

While the onion is cooking, roast the garlic cloves in the oven, for 10 minutes on 180C.

Make sure you stir the onions at regular intervals and continue cooking for 20 minutes until the onions are softened. Add in the roasted garlic, balsamic vinegar, a pinch of salt and 1/2 a cup of water.

Lower the heat and continue to cook for another 20-30 minutes on low heat until the onions are dark brown and very soft. The onion jam is done. Keep aside.

When you are ready to prepare the tart, take the tart pan with the crust out of the freezer and bake it for 10 minutes at 150 C.

Now prepare the filling. Whisk together the goats cheese, grated Parmigiano-Reggiano, eggs, thyme leaves and a pinch of salt. Pour this into the baked tart crust. Top with the onion jam.

Bake for 10 minutes at 150C.
Notes
I made the tart crust pastry in this recipe, however, you could use a store-bought crust, or puff pastry sheets as well.