Baileys French toast makes for a wonderful, indulgent breakfast. Top it off with a caramel sauce made with Baileys Irish Cream, and candied walnuts for a treat!
This Baileys french toast recipe is perfect for brunching at home - be it a special ocassion such as Mothers Day or a gathering with friends, or a leisurely weekend taken a notch up, make it extra decadent with this French toast!
For a menu pairing, I recommend these elderflower mimosas and a tart made with red onion jam and goats cheese. This is an easy, yet indulgent recipe that would be perfect for a leisurely brunch.
The French Toast is made with brioche bread - challah bread or Swiss Zopf are close substitutes (I have written about Zopf bread and why I think it is ideal for French Toast, here). My favourite part of this recipe is the sauce which is a caramel sauce spiked with Baileys Irish Cream. You could substitute the liqueur with rum, or bourbon or any liqueur of your choice. I imagine a sauce made with any of these would be perfect with this French Toast! I topped it all with some candied walnuts, for some crunch and texture.
How to make Baileys French Toast:
This decadent French toast is made by first filling brioche bread or challah bread with Nutella. Use as much or as little Nutella as you like, you could opt for any filling of your choice here.
Each Nutella sandwich is then dipped into an egg-cinnamon mixture and fried on a skillet on the stovetop, and then kept aside for the final assembly. After the French toast is done, we make the Baileys cream sauce.
To make the sauce, I have used a basic caramel recipe, and then added the star ingredient here – Baileys Irish cream. The caramel sauce is easy to make and requires a few basic ingredients – water and sugar. While making caramel, it is important to use a saucepan with high sides, and to take care that the hot caramel doesn't splatter. Keep observing the caramel, as it can go from light amber to dark very quickly. Take it off the heat as soon as it turns amber in color.
I like to add candied walnuts to the sauce, as it gives some texture and crunch and adds to the decadence factor of this French toast! Be cautious while added the Baileys cream to the caramel, it can splutter. Once the sauce is cool enough to handle, spoon it over the French toast and serve up warm.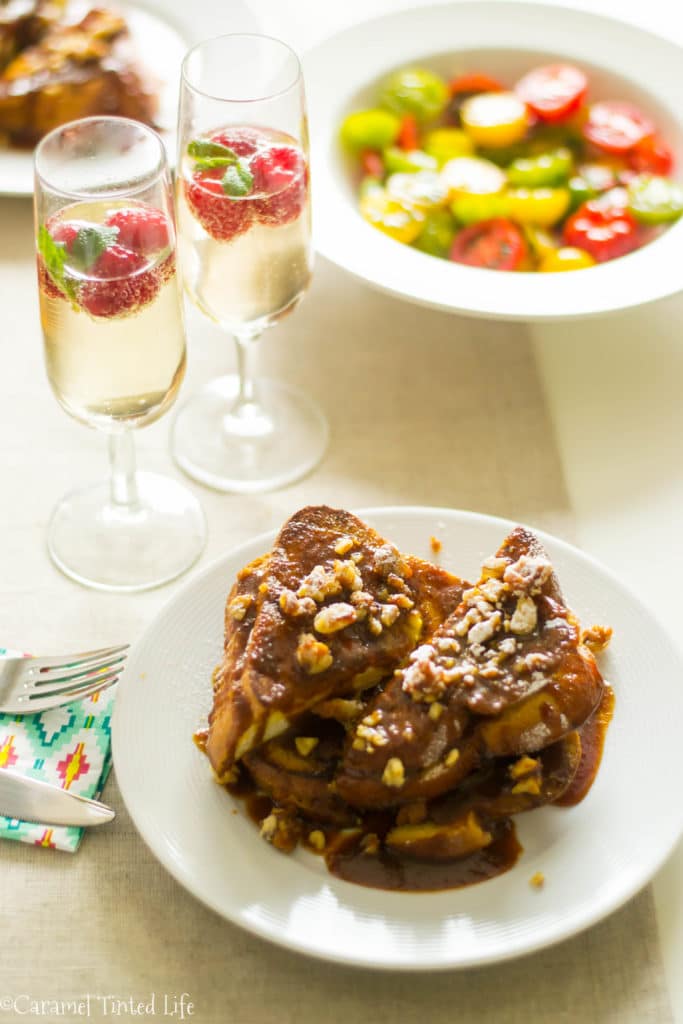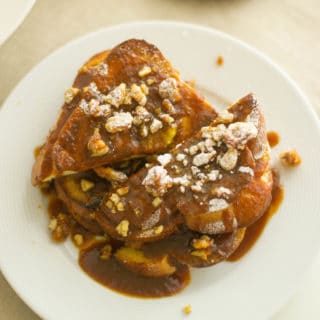 Baileys French Toast
French toast makes for a wonderful, indulgent breakfast. Top it off with a caramel sauce made with Baileys Irish Cream, and candied walnuts for a treat!
Ingredients
1

loaf Brioche bread

Challah can be used as a substitute for brioche bread

2

tbsp

Nutella

or filling of your choice

1

egg

¼

tsp

vanilla extract

¼

tsp

cinnamon powder

½

cup

milk or cream

Butter

to fry the toast

1

cup

sugar

3

tablespoons

water

1/2

stick

butter

1/3

cup

Bailey's Irish Cream

1/2

teaspoon

table salt

1/4

teaspoon

vanilla extract

1

tsp

confectioners sugar

to dust over
Instructions
Slice the briche loaf width-wise into ½ inch thick slices

Using a knife, generously spread some Nutella (or your spread of choice) on a slice of bread and sandwich it with another slice. Do the same with all the slices. Keep the sandwiched slices aside.

In a wide bowl, beat together the egg, vanilla extract, cinnamon powder and milk

Simultaneously, heat butter in a frying pan on low heat

Dip each sandwich into the egg mixture, coating it well and draining off the excess. Fry the coated bread in the pan, giving one side around 3 minutes to lightly brown and then flipping it over on the other side for another 3 minutes. Once all bread is done, keep the slices aside.

Make the sauce:

Add the water and sugar to a pot with high sides. Heat the pot on medium heat, until the sugar dissolves. Continue to heat on medium heat, as the liquid changes colour to amber (be careful, the caramel can overheat and turn dark). The caramel is ready now.

Gently, spoon out a couple of tablespoons of the caramel into a bowl. Working quickly, add the chopped walnuts to the bowl and quickly mix them into the caramel, before it sets. Keep the candied walnuts aside.

Turn off the heat in the pan, and add the butter carefully to the hot liquid. The mixture will foam. Whisk in the butter untill the mixture stops foaming. Finally, add in the Irish cream and whisk.

Once cool, pour over the french toast. Top with the candied walnuts and dust with confectioners sugar.
Nutrition
Calories:
448
kcal
Carbohydrates:
63
g
Protein:
4
g
Fat:
19
g
Saturated Fat:
12
g
Cholesterol:
75
mg
Sodium:
426
mg
Potassium:
93
mg
Fiber:
1
g
Sugar:
61
g
Vitamin A:
462
IU
Calcium:
54
mg
Iron:
1
mg