Here's how to make ice-cold strawberry lassi, the perfect summer refresher!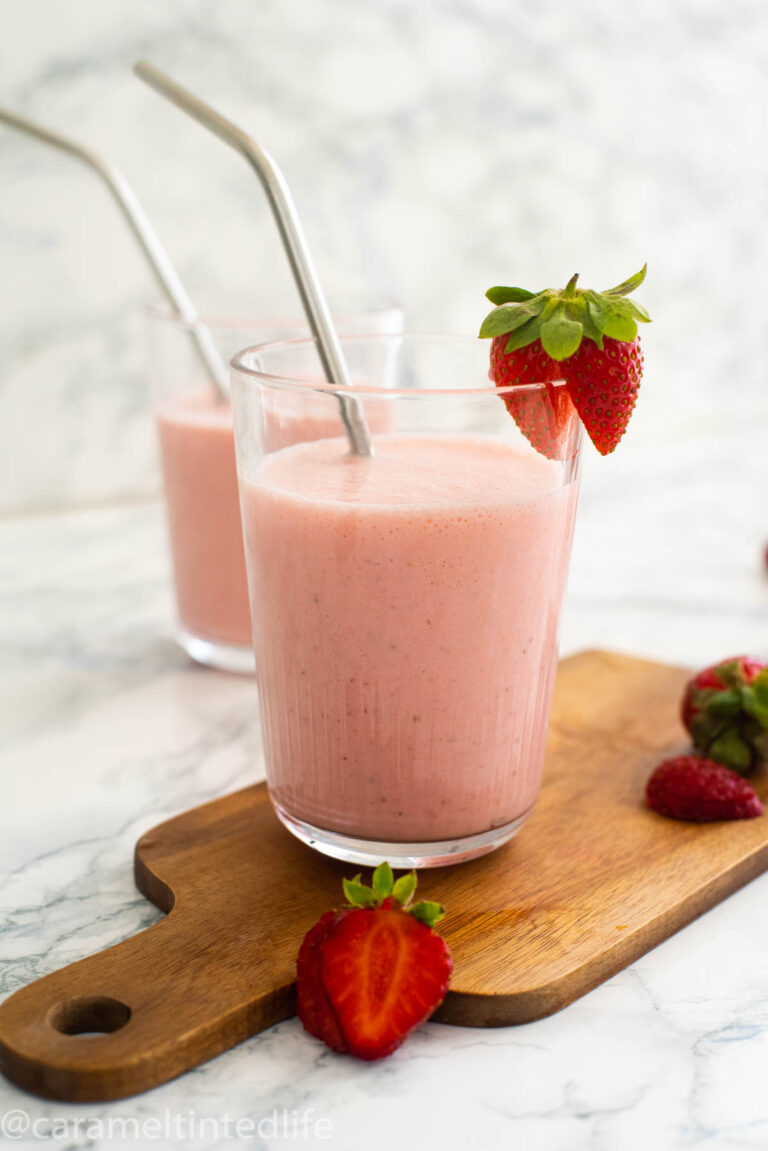 Lassi is such a summer-appropriate drink – it's the Indian version of an ice-cold smoothie. Lassi has been around before smoothies were even a thing. Traditional lassi is made without fruit, but the addition of strawberries makes this a delicious drink that both kids and adults can enjoy in equal measure.
If you are looking for more delicious recipes for summer, check out my Mango Cheesecake recipe and Mango Lassi recipe
What is lassi?
The classic version of lassi – the ice-cold one I'm used to gulping down in tall steel glasses back in India – doesn't typically have any kind of fruit in it. It's made with yogurt, salt and sugar, ice, and sometimes buttermilk and cardamom are added as well. The drink is churned thoroughly, giving it some serious froth.
In Punjab, in India, which is where lassi originates from, lassi is often made by local restaurants in a small top-loading washing machine - yes you read that right. Churning it in the washing machine gives it that much-needed froth, and is the best way to make large batches of lassi quickly. Genius, right?
The more popular version of lassi that we know today is perhaps mango lassi, and other variants of fruit lassi. Mango lassi is made by blending together chunks of sweet mango (such as Indian Alphonso mangoes) with yogurt, cardamom powder, and sugar and ice. Mango pulp can be used as well.
The best mango lassi is made with fresh mangoes – and the mango season in India, unfortunately, lasts just a few months. But you can make fruit lassi with just about any seasonal fruit, such as strawberries.
Ingredients used for making strawberry lassi:
This recipe is as simple as it can get. Lassi is basically made with a handful of basic ingredients:
Fresh strawberries, hulled and chopped
Yogurt
Ice
Sugar
Salt
Additionally, you can choose to add any or all of the following ingredients:
Whipping cream – Adding whipping cream makes for a thicker, richer lassi
Cardamom powder
Vanilla essence
How to make strawberry lassi:
Lassi is made by blending together all the above ingredients – strawberries, yogurt, ice, sugar, and a pinch of salt in a blender until well combined and frothy. You can choose to add whipping cream for a thicker and richer lassi, or cardamom powder and vanilla essence, if you want to add more flavor to your lassi (cardamom is commonly used in restaurants to add flavor to lassi).
To complete your summer menu, take a look at these recipes: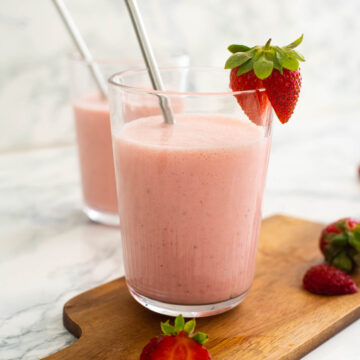 Strawberry Lassi
Here's how to make ice-cold strawberry lassi, the perfect summer refresher!
Ingredients
2

cups

strawberry

chopped

1.5

cups

yogurt

¼

cup

milk

2.5

tbsp

sugar

ice, as required
Instructions
Add the strawberries with the yogurt, milk (or cream) , sugar to the jar of your blender. You could also add vanilla extract and cardamom powder, if you prefer.

Blend together untill well combined and frothy. If you like more frothy lassi, you can dd more cream.

Pour into tall glasses, add ice and serve.
Nutrition
Calories:
491
kcal
Carbohydrates:
74
g
Protein:
17
g
Fat:
15
g
Saturated Fat:
9
g
Cholesterol:
54
mg
Sodium:
199
mg
Potassium:
1091
mg
Fiber:
6
g
Sugar:
65
g
Vitamin A:
463
IU
Vitamin C:
171
mg
Calcium:
560
mg
Iron:
1
mg