If you're looking for an easy and delicious lunch or dinner option, to plate up on the table in 30 minutes, this Instant Pot
rigatoni with chicken ragu is a winner!
If you're not aware of how the Switzerland school system works, here's a little nugget of information about Swiss schools that may interest you. In Switzerland, all public school students (which is a large majority of school students) are assigned schools within walking distance of their homes and are supposed to walk back home after lessons. They are also expected to have lunch at home, and so the kids head home between 12 pm to 1 pm, and have lunch with mom (or dad) at home.
Good, bad, or ugly, whatever you make of it, what it boils down to is that you, as a parent, are responsible for preparing your school-going kid a meal during their lunch break. Raise your hands if you've ever scratched your head, wondering what to cook for lunch that day? I usually meal-plan for the week, because even my usual procrastinating self has woken up to the benefits of a meal-planned week. So, on Sunday's evenings I make my meal plan for the week (big hug for all the help, Pinterest!). And grocery shop on Mondays. Of course, there is no military precision here, and occasionally, I ditch the plan for one day, and just order-in.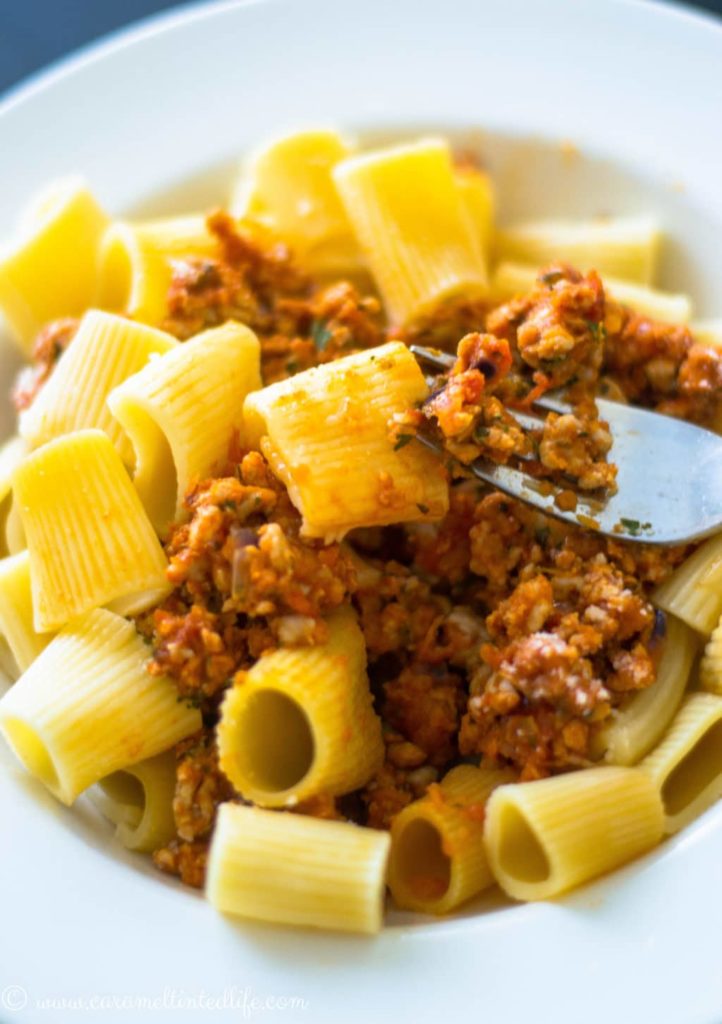 For all those Swiss moms (or any mom, or basically anyone who's trying to multitask a hundred things at a time) who are racking their brains for lunch menu ideas, I thought I'd share with you some recipes that would be perfect for family meals, and add some variety to your lunch or dinner menu.
This chicken ragu with rigatoni is made in 30 minutes, is a kid-pleaser, and is quite nutritious to boot. This is a kid-friendly version of ragu, which uses chicken stock cubes to add depth and flavor instead of wine - a staple in classic ragu. It may be obvious already but let me say here that you can play around with this ragu recipe all you want - use any variety of pasta that you like, substitute ground chicken for any other meat, or if you like living life on the wild side, throw in some chopped bell peppers and (dare I say it?) brocolli! The world is your oyster, girl.
Rigatoni with Chicken Ragu
If you're looking for an easy and delicious lunch or dinner option, to plate up on the table in 30 minutes, this chicken ragu with rigatoni is a winner!
Ingredients
1

tablespoon

extra-virgin olive oil

1

large onion

finely chopped

2

cloves

of garlic

chopped

1

small carrot

grated

400

grams

ground chicken

1/2

can

200 grams canned peeled tomato

1

tablespoon

tomato paste

1/2

a chicken stock cube

1/2

teaspoon

each of dried parsley

oregano, nutmeg, paprika

Salt and fresh ground pepper to taste

300

grams

rigatoni pasta
Instructions
Cook the rigatoni as per the instructions on the pack. I use my Instant Pot and pressure cook it for 5 minutes with water and salt for perfectly cooked rigatoni.

While the rigatoni is cooking, prepare the ragu.

Heat the oil in a large saucepan over low-medium heat.

Cook onion and garlic for 5 minutes in the pan, until the onions have softened.

Increase the heat to high, add grated carrots, ground chicken and cook for 5 minutes more, stirring and breaking up the lumps of chicken with a whisk.

Add the canned tomato, tomato paste, 1/2 stock cube, all the dried herbs, salt and pepper and cook on low-medium heat for 15 minutes, stirring occasionally.

Serve the ragu with the cooked rigatoni and a sprinkling of grated parmesan.
If you like this recipe, pin here for later: