Make stuffed bread rolls at home with this easy recipe! Stuffed with spinach and cheese, these bread rolls are a meal in themselves. Made with easily available pantry and freezer ingredients, this is an easy recipe to make at home!
Jump to:
Homemade stuffed bread rolls are my favorite way to enjoy bread at home! These pillowy, soft pull-apart bread rolls are stuffed with a cheese and spinach filling and are made with just a few basic ingredients. I use grated mozzarella cheese and frozen spinach for the filling – ingredients that I find extremely handy to keep around.
What's more, they are very filling, more nutritious than plain old bread rolls and can be had as a meal in themselves. We don't need anything to accompany these rolls – although they do go well with a salad or a soup on the side.
I have made various versions of these bread rolls with several variations of filings. Take a look at my recipe for feta and sun-dried tomato stuffed bread rolls for a twist on this recipe.
We can't decide which filling we like more – spinach and mozzarella cheese or sun-dried tomatoes and feta cheese – though I have to say, I'm leaning towards the spinach and mozzarella filling these days, due to the added nutritional value (there's spinach in there people!).
List of Ingredients
Both these spinach and cheese rolls and my recipe for feta cheese and sun-dried tomato rolls use the same basic bread dough recipe. This dough is an enriched dough which means it has egg, milk and butter, unlike in the chewier and crustier 'pav' bread. By adding egg and dairy the dough becomes softer, and has more of a rich taste to it.
For the bread dough, you will need:
Bread flour – Bread flour is always preferable because of its high protein content, but use all-purpose flour if you can't get your hands on bread flour. All-purpose flour is just fine!
Yeast – I use active dry yeast, but you could also use instant yeast as well.
Sugar – Always add a little sugar to help activate the yeast.
Milk – Milk is needed to get the yeast to activate and to bind the dough together.
Egg
Butter – Melted butter is used both in the dough and to brush over the top of the dough before baking and right after the bread is taken out of the oven.
Salt – Salt is needed to season the dough. Use around 1 teaspoon for 500 grams of flour.
For the filling you will need:
Frozen spinach, thawed

Grated cheese – My cheese of choice is mozzarella, but you could use any cheese that you like. I like to add some cream cheese or herb-ed cheese spread for added flavor to the filling.
Salt to season
Optional seasonings – I like to add garlic powder, onion powder and white pepper to add more flavor to the filling, but you could play around with this and add seasoning as you like.
Step-by-Step Instructions
Most bread recipes are made with the same basic steps – make the dough, let the dough rise once (this is called the first proof), shape the dough, let the dough rise for the second time (called the second proof) and then bake.
Here's how you make these stuffed bread rolls:
Make the dough:
The dough is made with basic ingredients (see above for detailed ingredients used). I use a stand mixer to bring the dough together. Knead with your hands if you don't have a stand mixer with a dough hook. Once the dough comes together, knead for 3-4 mins on a lightly flour-dusted counter. Shape the dough into a ball before you let the dough rise.
First proof:
For the first proof or rise, keep the dough in a lightly-greased large mixing bowl, covered with a clean towel. Leave the dough for 1.5 hours in a warm place. Optionally – and this is my preferred method to speed up this process - I use my Instant Pot to let the dough proof. Hit the 'Yogurt' setting on your Instant Pot. The dough will need around 50-60 minutes for the 1st proof in the Instant Pot. The dough should double in size.
Shape the dough:
Take out the dough and punch it down to release the air. For this recipe, I have used 500 grams of bread flour which makes 8 stuffed bread rolls. I like to make 2 batches of 4 rolls each. I divide the dough into two parts and roll out each part into a rough rectangle (see image below) using a rolling pin (you can choose to roll out both batches of dough or keep one in the fridge for use later).

Once rolled out, spread the filling out on the dough. Use a pizza cutter or a knife to cut the dough lengthwise into strips. Roll up each strip of dough (see image below). Place each rolled up section of dough (with the seam on the side) in a round cake tin (or use any baking tin you prefer).
Second proof:
Once the dough is shaped, it is ready for the second proof (second rise). Let the dough rest again in a warm place, covered with a clean towel for 1 hour. If you are using your Instant Pot, let it proof in the 'Yogurt' setting for 30 minutes. Once proofed, the dough is ready to be baked. Brush over melted butter and transfer to a preheated oven.
Bake the dough:
Bake the dough for 20-25 minutes, until the tops are golden brown. Take out the baked bread rolls and brush over a little more melted better. Serve warm.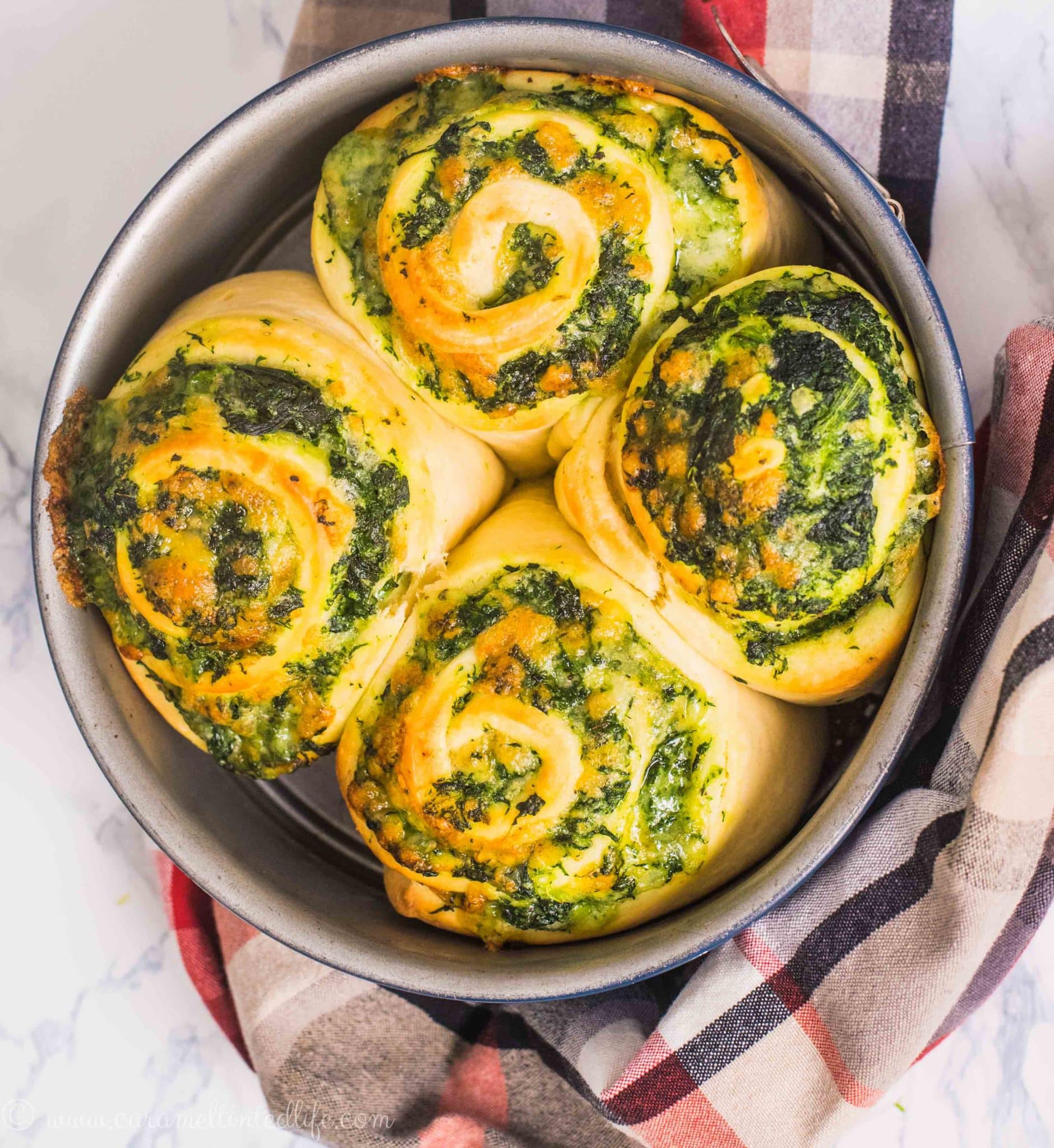 More easy snack recipes
Homemade Bread Rolls
Pillowy soft homemade bread rolls stuffed with spinach and cheese - a delicious and filling meal that can be made with simple ingredients!
Ingredients
For the bread dough
500

grams

(approx. 1 lb) bread flour

7

grams

active dry yeast

or use instant yeast

1

cup

milk

1 cup=250 ml

1

teaspoon

sugar

1

egg

80

grams

butter melted + extra butter for brushing the dough

olive oil can be used as a substitute

¾

teaspoon

salt
For the filling
¾

cup

spinach

if using fresh - finely chopped, if using frozen, thaw before using

½

cup

grated mozzarella cheese

½

teaspoon

dried herbs

½

teaspoon

garlic powder

½

teaspoon

white pepper

salt to season

1

tablespoon

cream cheese

optional
Instructions
Make the dough
Warm the milk until it is a little over room temperature. Mix in the sugar and the sachet of yeast.

Stir and let the yeast activate for 8-9 minutes. It should be frothy once activated. Optionally, use instant yeast.

In a mixing bowl, add the flour, the activated yeast+ milk mixture, the egg, salt and butter. Using a stand mixer or your hands, mix well until the mixture forms a dough. Knead the dough for a few minutes on the countertop.
Let the dough proof once
Place the dough back into a lightly greased mixing bowl and cover it with a clean tea towel. Let it double in size (around 90 mins). If you are using an Instant Pot, lightly grease the inner pot with olive oil and set the Instant Pot to 'Yogurt' mode. Let the dough sit inside for 50 minutes, until double in size. Use this time to make the filling for the bread rolls (see recipe below).
Shape the dough
Take out the dough, and on a lightly floured surface, knock out the air, and roll out the dough with a rolling pin until it is around ¼ inch thick and roughly shaped like a rectangle.

Spread out the filling over the rolled out dough.

Using a knife or pizza cutter cut the dough into strips of similar width (2-3 cm wide).

Roll up each strip and stack them in a baking pan or cake tin. I used 2 x 7-inch round cake tins, each holding 4 dough rolls. Do not stack them too tight, give the rolls a little space to rise.
Let the dough proof for the second time
Keep the cake tins in a warm place, covered with a clean tea towel to rise for the second time for 50 mins-1 hour. If you are using an Instant Pot, you can stack the cake pans and keep them inside the Instant Pot. Hit the 'Yogurt' setting and let it proof for 30 minutes. During this time, pre-heat the oven at 350 F (180C).
Bake
Once proofed, brush the tops of the dough with melted butter and transfer to the pre-heated oven. Bake for 20 minutes at 350 F (180C), until golden brown. Once baked, brush with more melted butter right after you take the rolls out of the oven.
For the filling
Combine all the ingredients listed under filling and keep aside to use while shaping the dough. Proceed with the steps as explained above.
Nutrition
Calories:
358
kcal
Carbohydrates:
48
g
Protein:
11
g
Fat:
13
g
Saturated Fat:
7
g
Cholesterol:
53
mg
Sodium:
364
mg
Potassium:
140
mg
Fiber:
2
g
Sugar:
2
g
Vitamin A:
664
IU
Vitamin C:
1
mg
Calcium:
89
mg
Iron:
1
mg
If you liked this recipe, do comment below and rate the recipe! If you make this recipe, please post a pic on INSTAGRAM -tagging @carameltintedlife and follow along on FACEBOOK and PINTEREST
Caramel Tinted Life is a participant in the Amazon Services LLC Associates Program, an affiliate advertising program designed to provide a means for us to earn advertising fees by advertising and linking to amazon.com and affiliated sites.