These Halloween Deviled Eggs look just like bloodshot goblin eyes! These spooky snacks are fun to make and a treat to eat!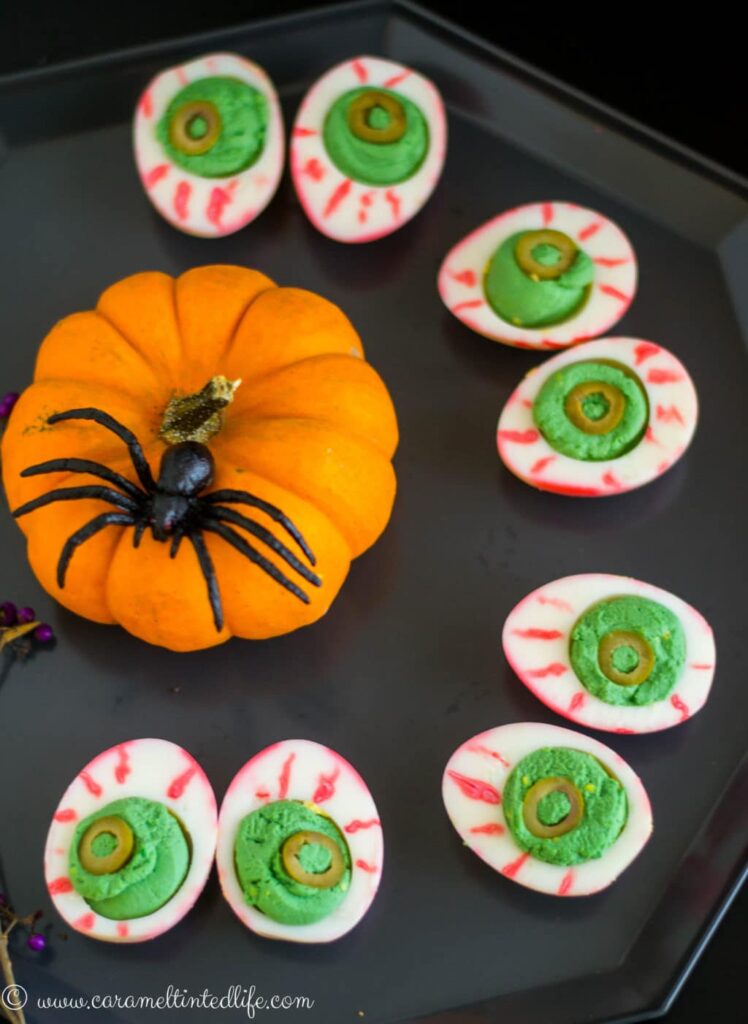 (this post was originally published in October 2017 and has been updated with new content)
It's nearning Halloween, and my son and I were on the look out for an easy way to make some Halloween-themed treats. We started making these goblin eye deviled eggs with another goal in mind - to make them look like these veined dinosaur eggs.
To make colored veined eggs, you need to keep the eggs in food color, preferably overnight. We didn't want to wait a whole day to get our eggs ready, and so, we changed plans to make something a little quicker. And that's how we landed up making these bloodshot goblin eyes!
How to make Halloween deviled eggs?
Make these eggs couldn't be simpler. Simply boil a few eggs - for this I recommend you use an Instant Pot, as it is by far the most convenient way to boil a large batch of eggs in one go.
Once boiled, shell the eggs and let the shelled eggs sit in some red food color solution for a few minutes. This will give the outside of the shelled eggs a little reddish tinge.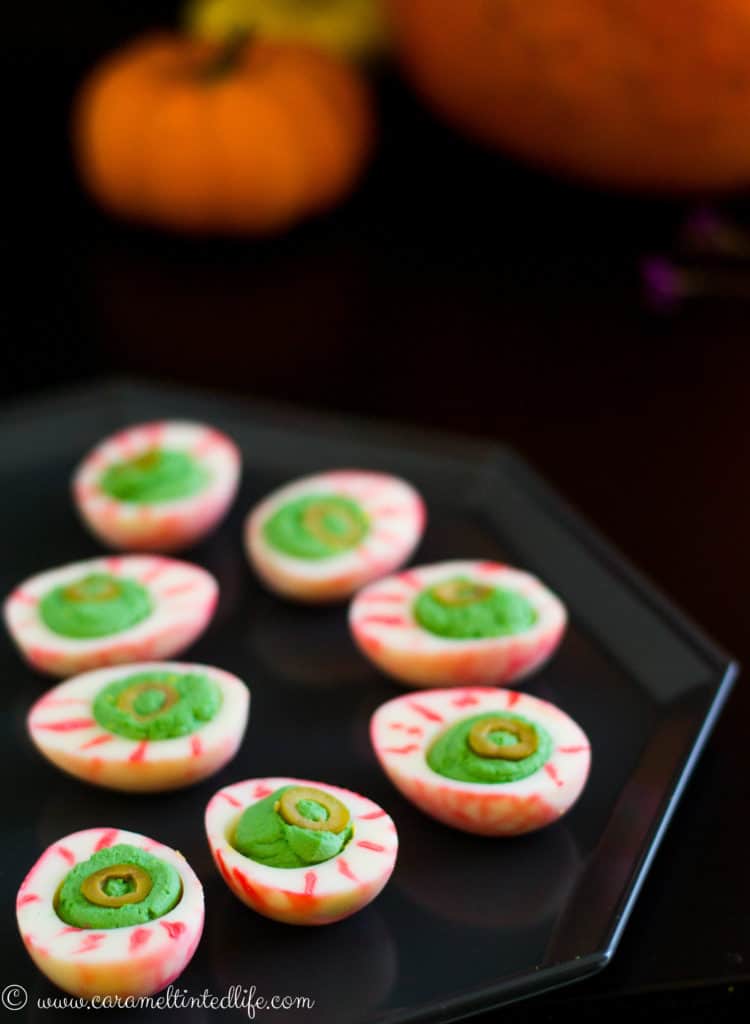 Then, mash up the egg yolks with cream cheese, mayonnaise and some herbed butter, mixed with a little amount of green food coloring ( I use the Americolor brand of gel food coloring, but you can use liquid food color as well). Once the mixture looks green enough (spooky enough!), spoon it into piping bags.
Pipe the mixture into the hollow eggs and decorate with a piece of olive (you can use either green olives or black olives to decorate). These goblin eyes took us under 30 minutes to make, and decorate, not counting the time spent laughing at each other's green mouths!
Can I just say how fun it was to set up for this photo shoot? I've mentioned before that Halloween isn't really big in Switzerland, where we live and decorating for Halloween is more the exception than norm. But when I saw these gorgeous pumpkins from Jucker Farm on sale at the local Coop supermarket, I had to get one of these babies home!
This was my first time carving a pumpkin for Halloween (although I've done it several times in my mind), and as you can clearly see, I'm as excited as a little child to attempt my first one this year.
If you're looking for more Halloween-themed snacks, you might like these mini pizza mummies!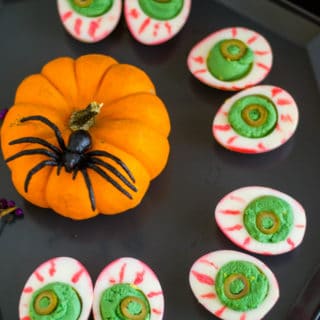 Halloween Deviled Eggs - Goblin Eyes
Ingredients
4 - 6

eggs

Red and green gel-based food color

I used Americolor gel food colors, liquid color is also fine

1

tablespoon

cream cheese

1

teaspoon

softened herbed butter

1

teaspoon

mayonnaise

1

teaspoon

milk

A few

pitted green or black olives

cut into rings
Instructions
Instant Pot method for boiling eggs:
Place a steaming rack such as this one on the base of the Instant Pot.

Pour in a cup of water.

Set the Instant Pot to Manual or Pressure cook mode. Set the time for 5 minutes. Once the cooking cycle is complete, let the pressure release naturally for 5 minutes, and then perform a quick release of steam. Transfer the eggs immediately to an ice bath or a basin with cold water and let them cool off for another 5 minutes. (Do not peel yet)
Stove top method for boiling the eggs:
Alternatively, to make hard boiled eggs on the stove-top, place eggs in a pot and pour in water to cover. On high heat, let the water boil, as soon as it begins boiling, turn off heat, cover pot with a lid, and let it stand for 12 minutes.

Transfer the eggs immediately to an ice bath or a basin with cold water and let them cool off for another 5 minutes. (Do not peel yet)
If you like a veined look for your eggs, follow the steps below. Alternatively, you could also skip this part entirely and simply dab a bit of red color over the egg whites.

Gently crack the eggs with a spoon, without peeling them.

Mix some of the red food color in a small bowl of water and let the cracked eggs sit in the colored water for 20-30 minutes.

After 20-30 minutes take out the eggs and peel them. They should have a slightly veined red color running over them.
To make the deviled eggs:
Scoop out the egg yolks and transfer to a bowl.

Mix in the cream cheese, butter, milk, mayonnaise and green food color. Mix well until well combined.

Using a piping bag, pipe in the colored egg yolks into the hollows of the egg whites.

Place a green or black olive ring over each piped egg yolk mixture.

Using a thin toothpick dipped in the red food color, mark out the radiating veins of the eyes.

Place the egg yolks on a tray and serve with a side of spider and pumpkin!
Nutrition
Calories:
93
kcal
Carbohydrates:
1
g
Protein:
7
g
Fat:
7
g
Saturated Fat:
2
g
Cholesterol:
208
mg
Sodium:
92
mg
Potassium:
76
mg
Sugar:
1
g
Vitamin A:
337
IU
Calcium:
33
mg
Iron:
1
mg