When I decided to revive my blogging journey, one that has seen more than its share of fits and spurts (such as this), the question on top of my mind was what should I name my blog? And it didn't take me long...
Yep, there had to be caramel involved, because caramel isn't just something that tastes good, to me it has therapeutic properties, in fact caramel makes everything better, be it cupcakes or a blog name.
Now, fall isn't my favorite season, give me the heat of summer (more lukewarm than hot as summers tend to be in Switzerland) anytime, this is definitely my favorite time of year for indulgent foods that we can eat guilt-free in the name of comfort food. This is also the season when the internet goes manic with pumpkin recipes. And I really can't complain. Well, discounting Instagram feeds flooded with #PSL thanks to Starbucks.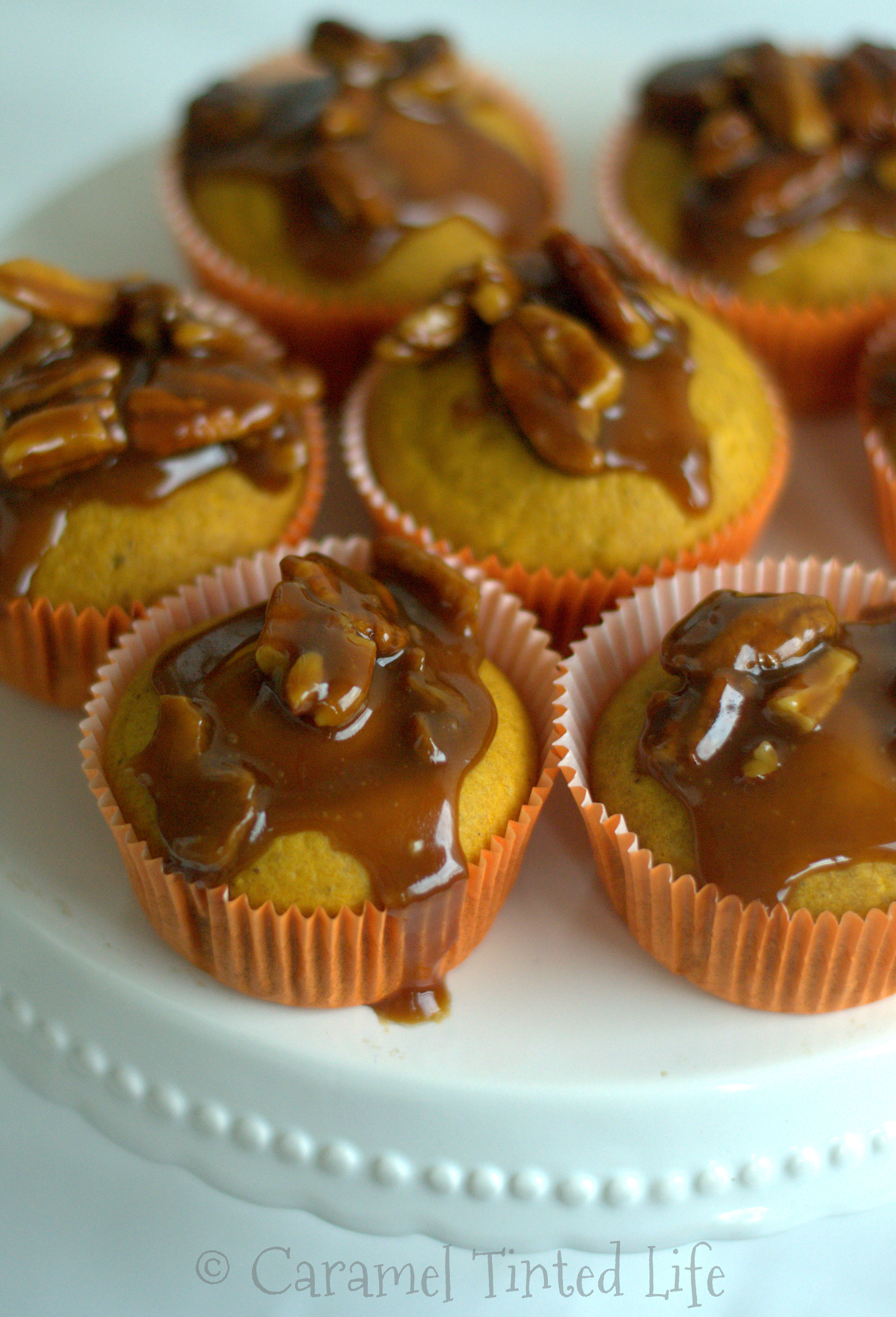 I have made salted caramel several times before, and very often in combination with a pumpkin-based dessert. The two are such a great combination. Throw in some pecans or walnuts for texture and the result is pure perfection. Here in Switzerland, I haven't come across canned pumpkin or pumpkin pie filling, and I haven't bothered to search too much for these, because making a pumpkin puree from scratch is really quite simple. I just pressure cooked the pumpkin for 5 minutes, or optionally, you could bake the pumpkin in the oven at 350 C for 40-45 mins.
Swiss supermarkets stock a Lebkuchen (gingerbread) spice mix which can be used as a pumpkin spice mix. The Lebkuchen mix contains coriander, star anise, cinnamon, cloves and ginger, whereas the spice mix I used for this recipe includes nutmeg and omits coriander and star anise. By all means, use any spice mix of your preference, store bought or home made.
But what really bring this all together is the brown butter, or beurre noisette, aka a caramelized version of desi ghee (oh how we love all things caramel!). The nutty flavor of brown butter takes the spiced pumpkin cupcake to a whole new level, try brown butter once and you won't turn back.
Author: Caramel Tinted Life
Recipe type: Dessert
Serves: 12
Ingredients for the Brown Butter Pumpkin Cupcakes
1/2 Kurbis (Red Kuri) pumpkin de-seeded and chopped into chunks, pressure cooked and cooled
1 1/4 cup all purpose flour
1 tsp baking powder
1/2 tsp baking soda
Spice mix: 1/2 tsp ground clove + 1 tsp each - cinnamon powder, nutmeg powder, ginger powder
150 gm butter
3/4 cup brown sugar (brown sugar isn't available at most supermarkets in der Schweiz, and so I used this handy tutorial by Swiss Eats)
2 eggs
1 tsp vanilla extract
1/4 cup full fat milk
Make the brown butter - heat the butter in a saucepan till the milk solids separate and caramelize, and turns amber in color. This could take 8 to 10 minutes on medium heat. A great resource to understand this process a little better is here. Let the brown butter cool and come to room temperature.
Preheat the oven to 300 F (150 C) and line cupcake tin with cupcake liners
In a mixing bowl, sift together dry ingredients - Flour, baking soda, baking powder, spice mix. Keep aside
In a separate mixing bowl using a hand mixer or in a stand mixer, mix together the brown butter and sugar till well combined. Add eggs, and beat on medium speed for 2 minutes until the mixture is fluffy
Add vanilla extract and the pre-cooked and cooled pumpkin and beat gently till just combined
Add the dry ingredients and the milk and mix on low speed till just combined. Do not overbeat
Spoon into paper-lined cupcake tin, filling just about 3/4th of each liner
Bake at 300 F (150 C) for 30-35 minutes. Baking it at this low temperature will ensure cupcakes don't crack, and have even-mounds. While the cupcakes are baking, prepare the salted caramel pecan topping
Transfer to a wire rack to cool completely
Ingredients for the Salted Caramel Pecan Topping
1 cup brown sugar (you can use regular sugar, which will result in a slightly lighter color to the caramel)
75 gms butter
1/2 cup heavy cream
1/2 tsp table salt (or sea salt, if you have it on hand)
Heat the sugar in a saucepan on medium heat, until it melts and turns a light amber. Be cautious because the sugar can burn very quickly and goes from melted to burnt carbon (as I have learnt the hard way a few times). Turn off the heat.
Add the butter and mix , the mixture will foam gently
Add the cream and keep stirring, till the mixtures is evenly combined
Add salt and crushed pecans and mix
Let the mixture cool
Assemble: Top the cupcakes with the caramel-pecan topping, then stare longingly at the leftover caramel sauce and spoon it into your mouth. Or if you have the willpower, bottle up the leftover caramel sauce and use it as a topping for your cereal, or just about anything. Its autumn after all!
If you like this recipe, pin here for later: