What better day than Valentine's day to indulge in a leisurely breakfast in bed! While that may not exactly transpire, considering Valentine's day is on a Tuesday and a regular, busy weekday for most of us, it doesn't hurt to dream, does it? I made these stuffed french toasts for breakfast earlier this week, and I think if breakfast in bed was a possibility, this is exactly what I would wish for this Valentine's day.
These French toasts are delicious to the last drop of blueberry compote that they are covered in. My son is extremely fond of berries, and our freezer always has a stash of frozen berries, our resident berry-lover can be seen very often dipping into the freezer, grabbing a few and sneaking away to his room to snack on them in peace.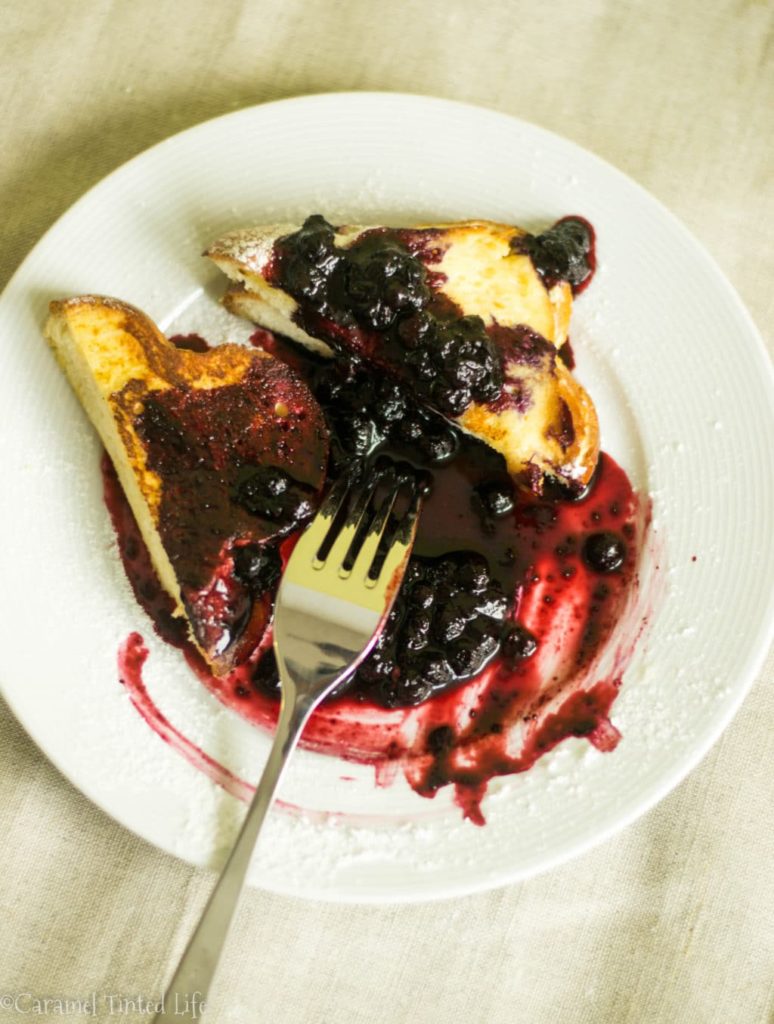 I made these French toasts with a store-bought traditional Sunday Zopf bread. Zopf bread is a plaited Swiss bread with a lovely golden crust. I read somewhere that Zopf originates from a custom in which widows cut off their braided hair and buried them with their husbands. As unappetizing as that sounds, Zopf is a perfectly delicious loaf and a favorite in our household. It lends very well to French toast as well.
Cream cheese, mildly sweetened, and some sweet and tart blueberry compote, come together with Zopf bread to make this a perfect leisurely breakfast. Making it is child's play, which makes it perfect for Valentine's day because even the most culinarily challenged spouse or other half can whip up some!
Blueberry and Cream Cheese Stuffed French Toast
Cream cheese and blueberry compote come together with Zopf bread to make for an indulgent breakfast, perfect for Valentine's day
Ingredients
1

loaf Zopf bread

Zopf is similar to Challah bread, and similar in texture to Brioche as well. Either can be used as substitutes. You could use fresh bread or day old bread

1

egg

1/4

tsp

vanilla extract

1/2

cup

milk or cream

Butter to fry the toast

1

cup

cream cheese

1

tsp

confectioners sugar

1.5

cups

blueberries

1

tsp

sugar

1

tsp

confectioners sugar to dust over the French toast
Instructions
Slice the Zopf width-wise into 1/2 inch thick slices

In a bowl, using a hand whisk, beat together the cream cheese and confectioners sugar, until the cream cheese is fluffy

Using a knife, generously spread a layer of whipped cream cheese on a spice of Zopf and sandwich it with another slice. Do the same with all the slices. Keep the sandwiched slices aside.

In a wide bowl, beat together the egg, vanilla extract and milk

Simultaneously, heat butter in a frying pan on low heat

Dip each cream cheese stuffed sandwich into the egg mixture, coating it well and draining off the excess. Fry the coated bread in the pan, giving one side around 3 minutes to lightly brown and then flipping it over on the other side for another 3 minutes. Once all the stuffed bread is toasted and done, keep the slices aside.

In a saucepan, on low heat, add the blueberries and the sugar. Give it a gentle stir and let the juices release. Cook on low heat for around 5 minutes let it cool down. The juices thicken as it cools down. The compote is ready.

To serve, plate up the stuffed toast, pour over the blueberry compote (be generous!) and dust with confectioners sugar. Wake up your loved one and share!