Air Fryer Bacon wrapped dates are made with sweet Medjool dates and salty, smoky bacon. A simple 2-ingredient air fryer appetizer for the holidays.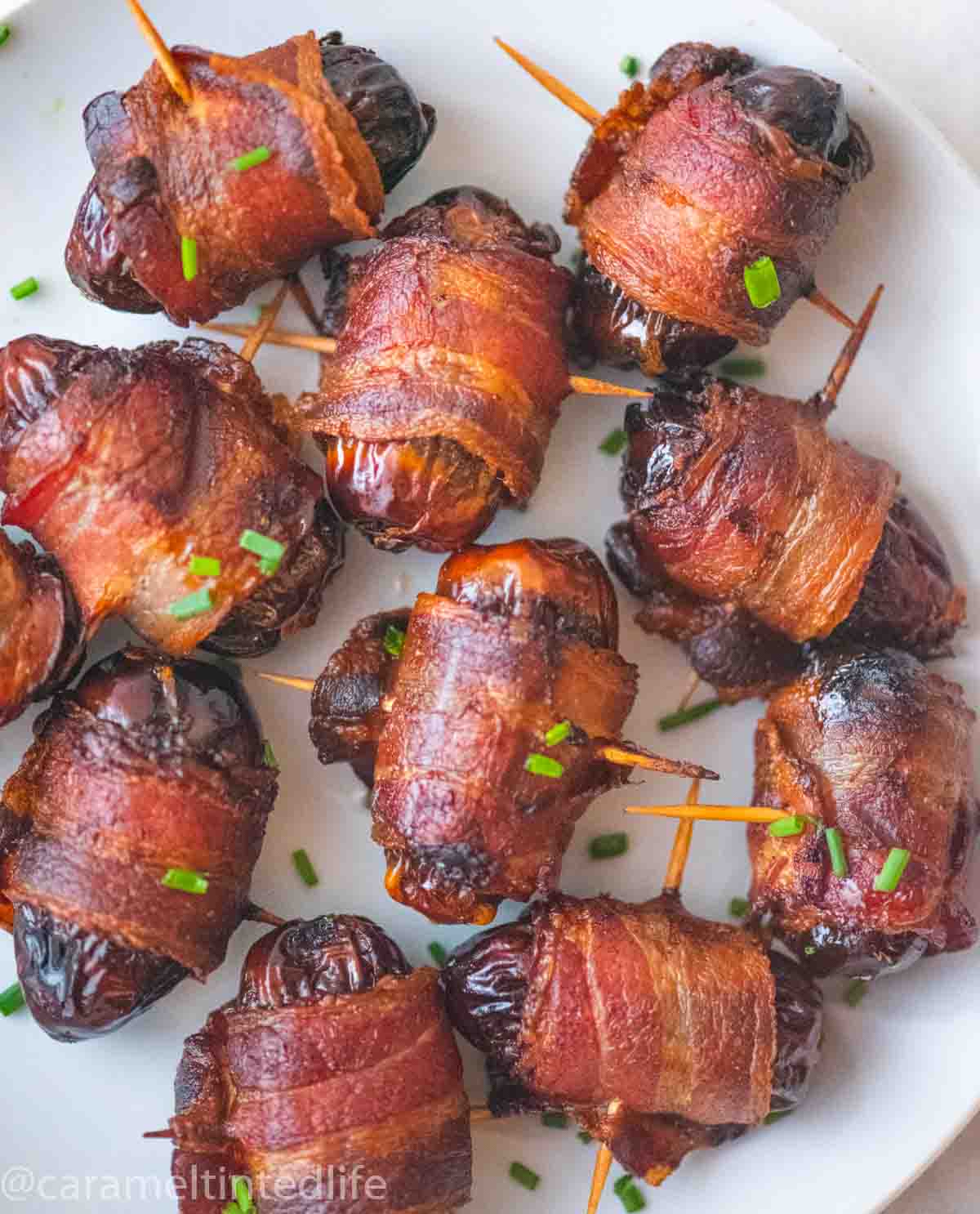 Jump to:
About this recipe
Bacon wrapped dates are probably the easiest appetizers you can make for the holidays! This super simple, decicious appetizer has been a constant on my Christmas menu for several years now. I'm finally putting up the recipe here, after trying them out in my air fryer, and absolutely loving the results!
There are plenty of ways you can make variations to this recipe. You can stuff the Medjool dates with goats cheese and then wrap them in bacon. Optionally, try stuffing them with nuts - almonds, pecans and walnuts work well.
I prefer the classic 2-ingredient recipe - the bacon crisps up so well and when paired with the plump Medjool dates, this bite-sized appetizer disappears from our Christmas table whenever I serve them. Always a hit a with friends and family!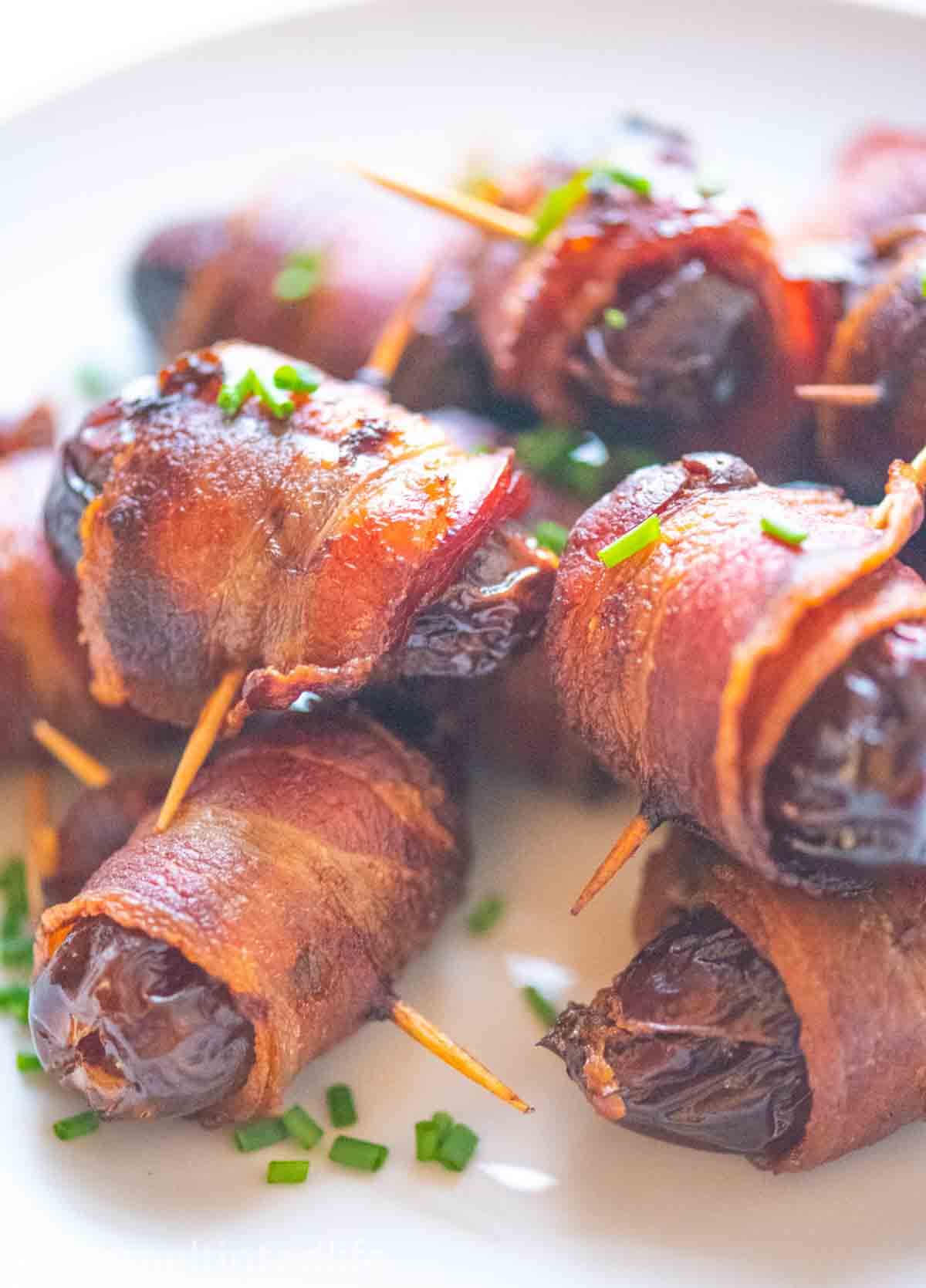 Ingredient Notes
To make these 2-ingredient bacon-wrapped dates, all you need are: Medjool dates and bacon.
(head to the recipe card at the end of this page for exact ingredients measurements)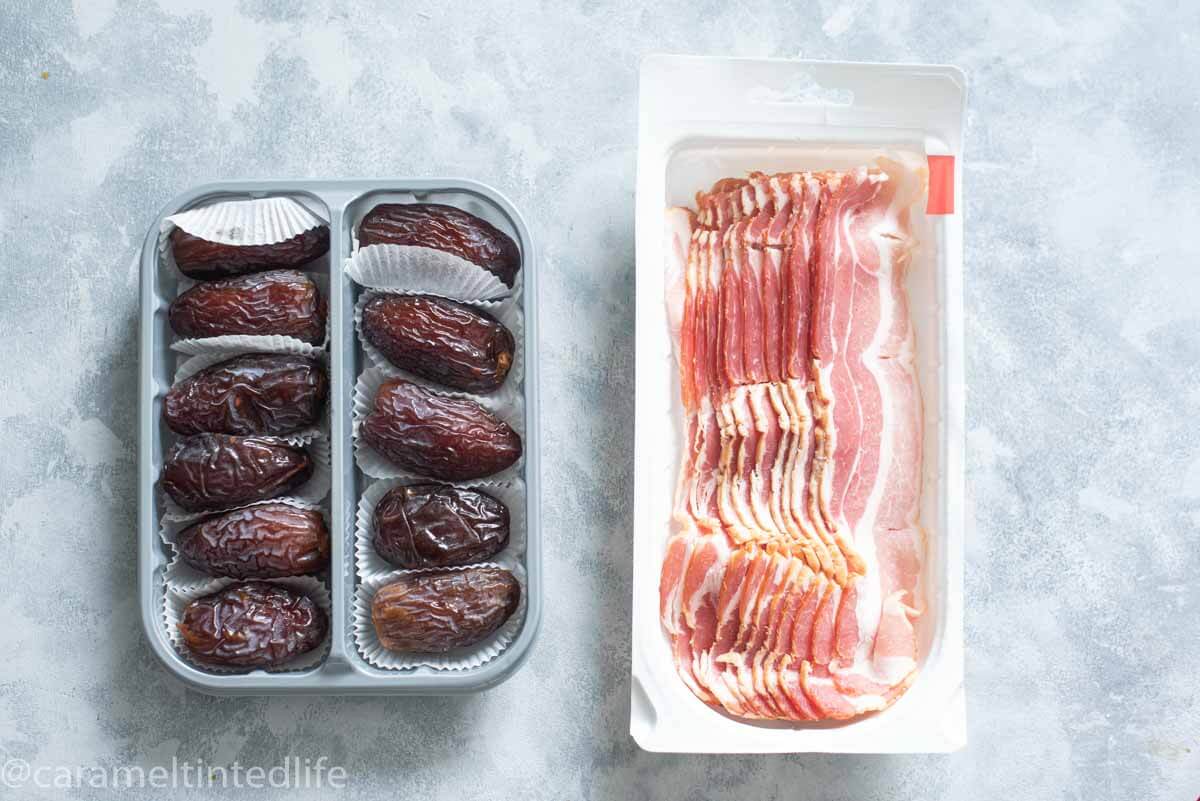 Medjool dates - I've made these bite-sized appetizers every year for nearly 10 years now, and I definitely recommend using Medjool dates instead of regular dates. They are larger, darker, and have a caramel-like taste. Before using them, make a slit on the side, and take out the pit/seed.
Bacon - Use American-style streaky bacon (not precooked). If you bacon is cut too thick, you might need to air fry it for longer, so that it cooks through.
Step by step instructions with images
Bacon wrapped dates can be made in either the air fryer or in the oven. I just prefer to make them in the air fryer for several reasons -
They come out super crispy
Less time to cook compared to an oven
Frees up oven space if you have many things to cook together
To start with, keep a chopping board handy, along with toothpicks. Lay out the dates, and pit them if they have pits/seeds. Simply slit thee dates along the side and take out the pit.
Then wrap a single strip of bacon around the date and secure it with the toothpick. Do this for all the strips of bacon and dates.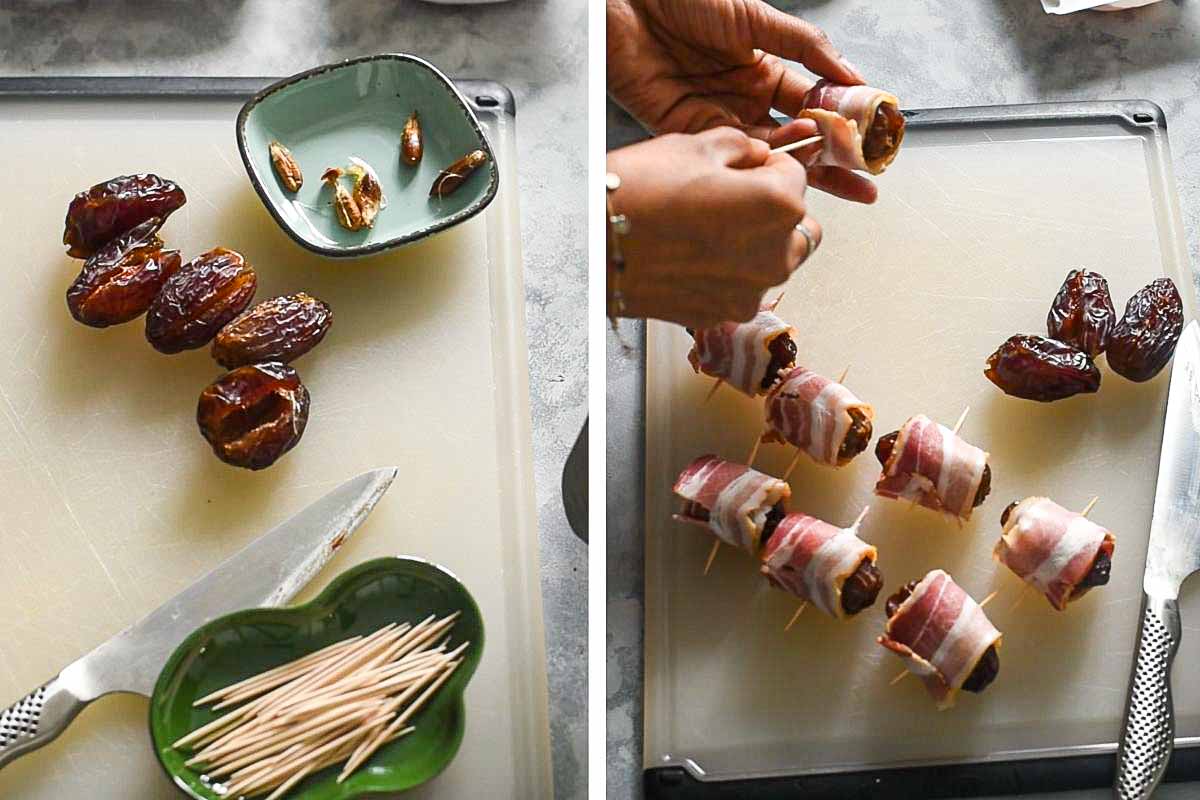 Preheat the air fryer at 350F for 3 minutes (I have used an Instant Vortex for this recipe). Place the bacon wrapped dates in the basket of your preheated air fryer.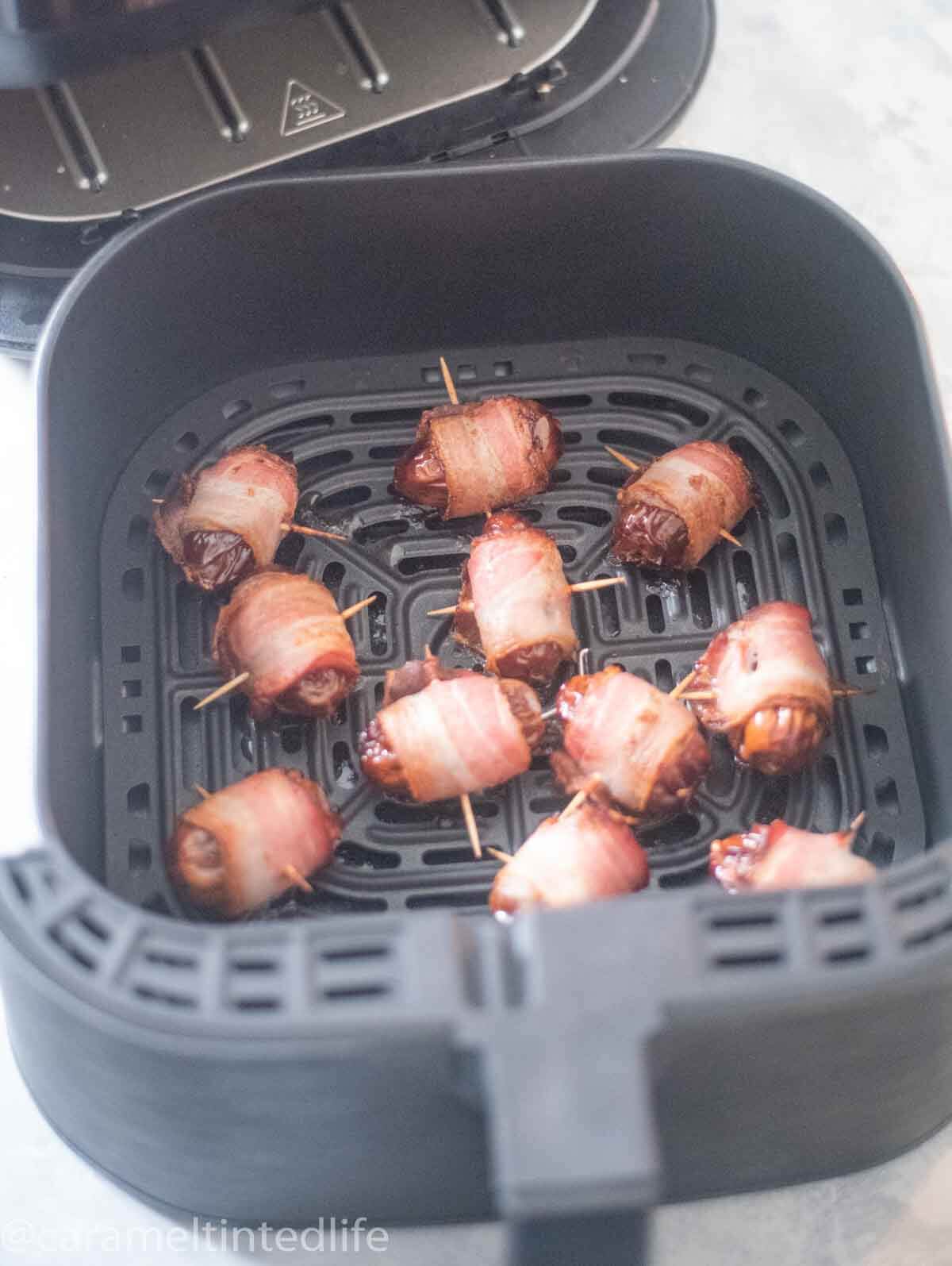 Air fry them at 350 F for 9 minutes. I found that there was no need to flip the dates over unlike most of my other Air Fryer recipe, because here the bacon cooks evenly during the air frying cycle (yaay!).
Once done, the bacon wrapped dates should look like this: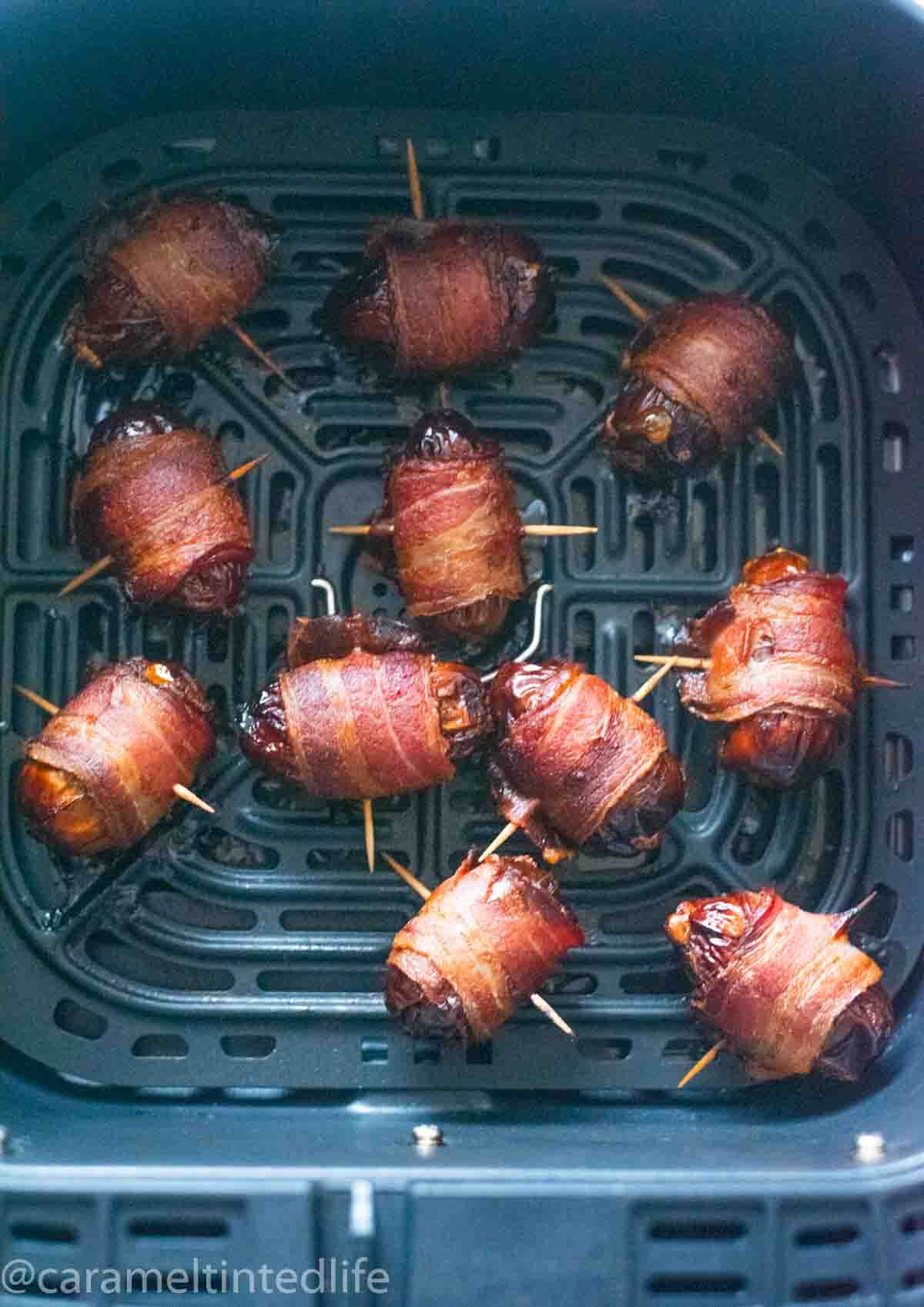 Recipe Variations
I have tried this recipe with several variations, and while I quite like the simple, 2 ingredient recipe with just bacon and dates, you can also try these variations of the recipe:
Goats cheese stuffed bacon wrapped dates - Add goats cheese in the dates gives it a creamy, tangy taste that offsets the texture and saltiness of the bacon and the sweetness of the dates very nicely.
Almond stuffed bacon-wrapped dates - You can also stuff a single almond into the date before wrapping them in bacon. The crunch from the almond adds some nice texture. Optionally, use pecans or walnuts.
Maple syrup glaze - If you like added sweetness, you can brush maple over the bacon before air frying them. The maple glaze pairs well with the salty, smoky bacon.
More easy Air Fryer recipes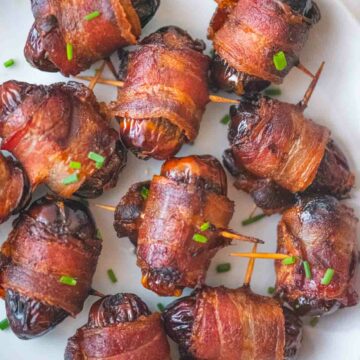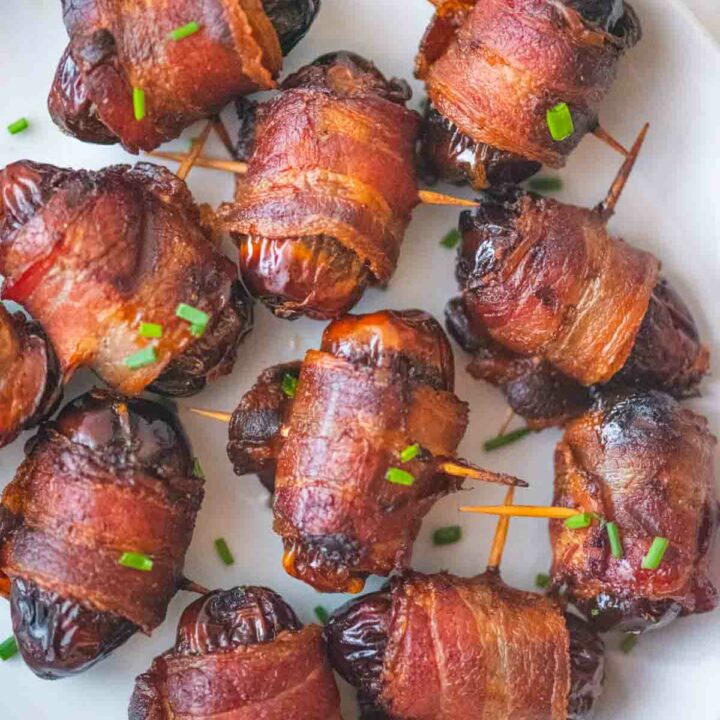 Air Fryer Bacon Wrapped Dates Recipe
How to make the easiest holiday appetizer! 2 ingredient air fryer bacon wrapped dates for your holiday party
Ingredients
12

strips

Streaky Bacon

12

Medjool dates
Instructions
Start by pitting the dates - using a knife, slit the dates are remove the pits.

Take each strip of bacon and roll the date in the bacon. Secure with a toothpick.

Do this for all the bacon and dates. Keep aside.

Preheat the air fryer at 350F for 3 minutes.

Take out the air fryer basket, and place the bacon-wrapped dates in the basket. Do not overcrowd the basket.

Air fry for 9 minutes at 350 F.

Once done, take out the bacon-wrapped dates and serve them.
Nutrition
Calories:
111
kcal
Carbohydrates:
6
g
Protein:
3
g
Fat:
9
g
Saturated Fat:
3
g
Polyunsaturated Fat:
1
g
Monounsaturated Fat:
4
g
Trans Fat:
1
g
Cholesterol:
15
mg
Sodium:
146
mg
Potassium:
89
mg
Fiber:
1
g
Sugar:
4
g
Vitamin A:
9
IU
Vitamin C:
1
mg
Calcium:
4
mg
Iron:
1
mg